In this MyEtherWallet v5 (MEW) review, I take you through the new look interface, which connects users to the Ethereum Blockchain. MEW is an open-source platform enabling users to generate secure wallets. Once created you can send and receive Ethereum and Ethereum based ERC20 tokens.
MyEtherWallet Review
What is MyEtherWallet?
With MyEtherwallet, tokens and funds are not stored on the platform (as they would be on an exchange). Therefore, you have control over your assets, making it a secure way to access your funds. It's also a great wallet for users who are getting into ICOs as it supports ERC20 Tokens with the use of one Ethereum address.
If you are new to MyEtherWallet v5 and want to create a new wallet, the recommended way is to do this using MEWConnect.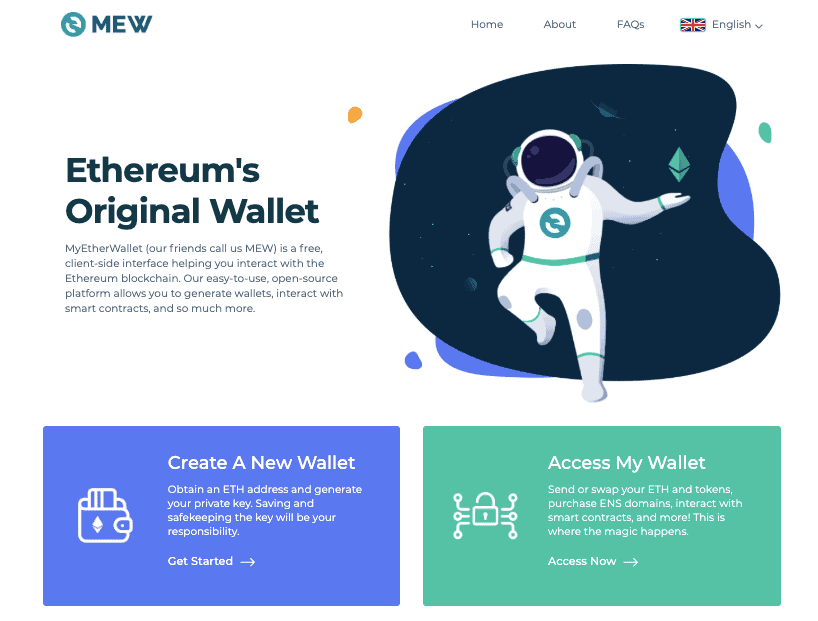 How to Access MyEtherWallet
You can connect to MyEtherWallet using several different forms, this includes the likes of MEWconnect, Hardware devices, the chrome extension Metamask or via your Keystore file/private key (not a recommended way).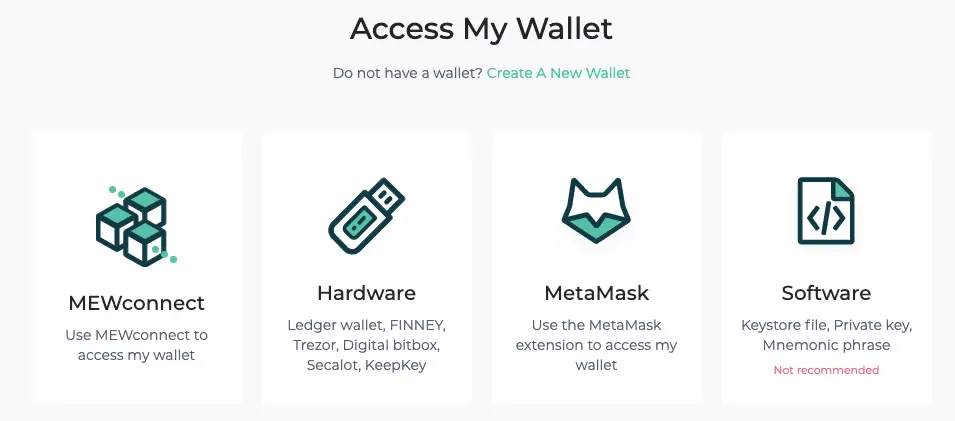 Accessing MyEtherWallet via MEWconnect
MEWconnect is a "no hardware", hardware wallet that you can use to connect to MyEtherWallet v5 securely. Your private keys are stored in a secure vault on your device and it is available to download from Google Play or the AppStore.
To access your wallet, select "MEWconnect" from MyEtherWallet.com
Open your MEWconnect app on your mobile device and click "Scan to Connect" from the dashboard in your app.
Scan the QR Code presented on your computer screen.
Your wallet will then appear on the screen, presenting you with your balance and transactions.
Accessing MyEtherWallet via Hardware
You can access your wallet by using a hardware wallet such as the likes of; Ledger Nano S, Trezor or KeepKey.
From MyEtherWallet select "Hardware"
Select your hardware wallet from the list and click "Choose a Hardware".
Connect your Hardware wallet to your computer using your associated cable and follow the steps on the screen.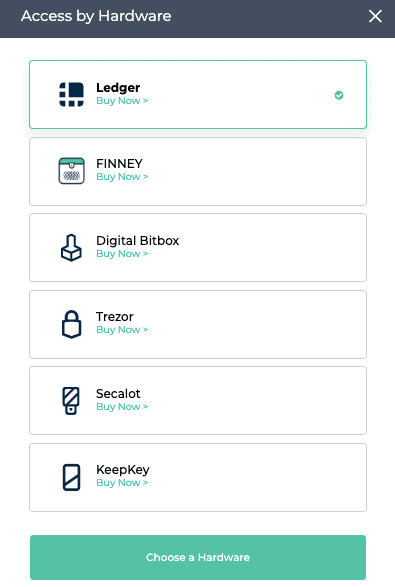 How to Receive Ethereum Using MyEtherWallet
One of the first things you may want to do, once you have initially created your account is to fund it. This is all done using your public address. Once you have accessed/created your wallet, your Ethereum address is displayed at the top of your screen on MyEtherWallet.com
If you want to receive funds this is the address to share. From this "Address" section of the screen, you can Scan the QR code, Print, or Copy the Address.

How to Send Ethereum using MyEtherWallet
When you have funds within your MEW wallet, you may need to send this outside of MEW. For example, you may be sending these across to an exchange or to another wallet. Once you have accessed MyEtherWallet, you will be shown on the dashboard. From the left-hand side of the screen select "Send".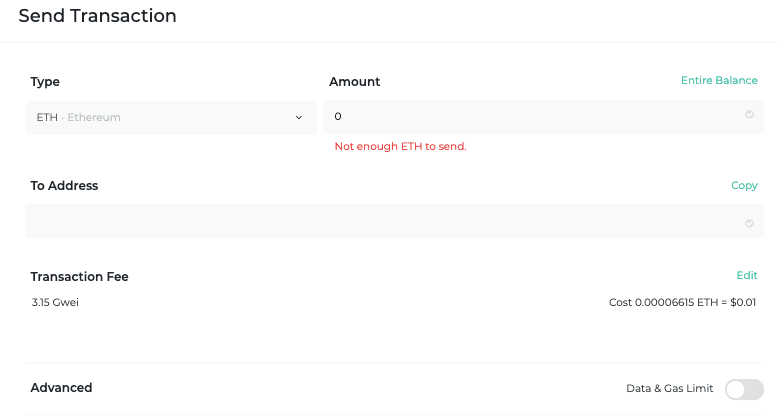 Enter the amount of Ethereum you would like to Send or click on "Entire Balance" to send all funds.
Enter the address you would like to send your funds to, whether this is another individual or exchange platform, etc.
The transaction fee will then automatically show in the field below. You can edit these according to how quickly you need your transaction to complete.
Click "Send Transaction".
Depending on how you have accessed your MyEtherWallet account, you may be prompted to verify the transaction, either via MEWconnect your hardware device.
Your funds have now been sent and you can view the transaction on Etherscan to check its okay.
Tip: Ensure that the address is exact and correct as transactions are not retrievable.
How to Exchange/Swap in MyEtherWallet?
Within MyEtherWallet v5 you have the ability to exchange/swap from 1 cryptocurrency to the other. This is all performed under "Swap" from the navigation pane on the right-hand side, once you have accessed your account.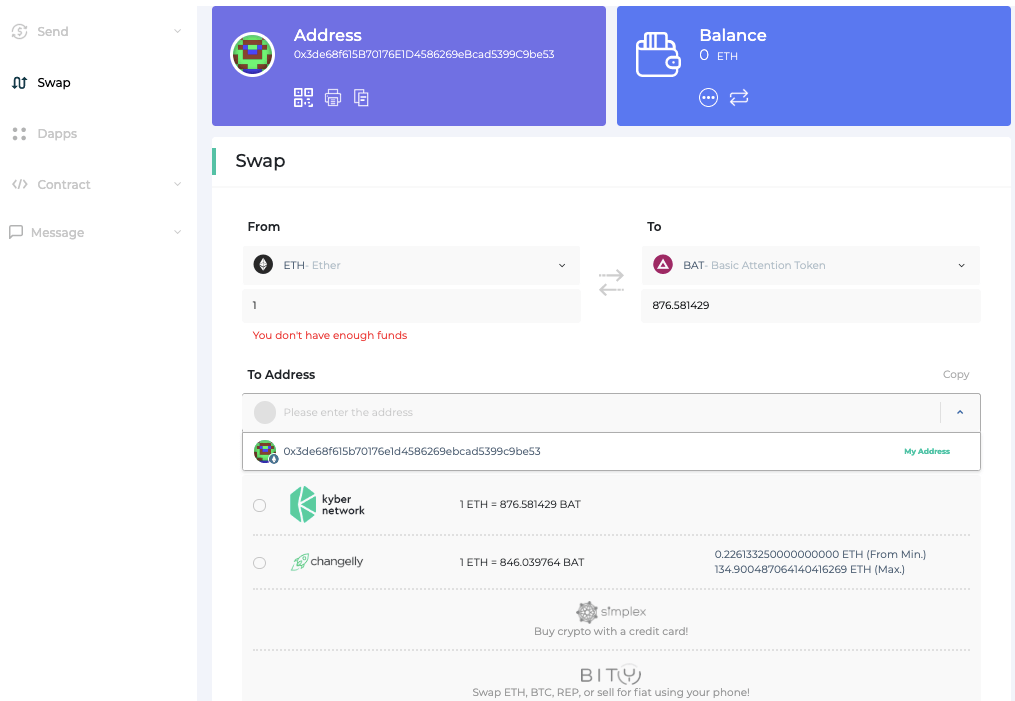 Click onto the "From" dropdown to select the cryptocurrency type that you have and would like to Swap and enter the amount.
Click onto the "To" dropdown and select the cryptocurrency you would like to receive and the amount will automatically convert underneath.
Enter the address where you would like the funds to be sent. This could be your MyEtherWallet address, depending on the type of cryptocurrency you are receiving and whether it is supported by that wallet.
At the bottom, all available exchanges for your Swap will appear with the associated rates and you can select the exchange you would like to use. A timer of 10 minutes will begin for you to review all your information, confirm the details, and send the transaction.
MEWconnect Tutorial
MEWconnect from MyEtherWallet is a "no hardware", hardware wallet that you can use to connect to MyEtherWallet v5 securely. Your private keys are stored in a secure vault on your device and it is available to download from Google Play or the AppStore.