In this Haru Invest Review, we take a closer look at the features, fees, security, support, and pros and cons of Haru Invest.
Haru Invest is a digital asset management platform for crypto asset holders and investors. It promotes itself as "The best way to grow your crypto assets", offering an "effortless yet stable" way to earn more from the crypto you own.
So, let's dive into this Haru Invest Review to help you work out whether Haru is the right platform for you.
What is Haru Invest?
Haru Invest launched in 2019 as a global digital asset management and custody platform. It's a safe and profitable way for investors and anyone holding cryptocurrencies and assets (even without financial knowledge) to earn interest from their holdings.
In a short space of time, people have flocked to Haru from over 130 countries, with over $1 billion in transaction volumes since the crypto investment platform launched. As of 15 March 2022, over 1.5 million earnings have been paid out.
Haru Invest is a Block Crafters company founded in Singapore. Block Crafters operates several businesses in the blockchain industry. Including Block Crafters Capital, a crypto-based investment fund offering investment services to traders using smart algorithms and other solutions.
Block Crafters wanted to bring a similar, advanced solution to the general public. As a result, they launched Haru Invest, opening up a world of exciting investment opportunities to those wanting to earn more from the crypto they own.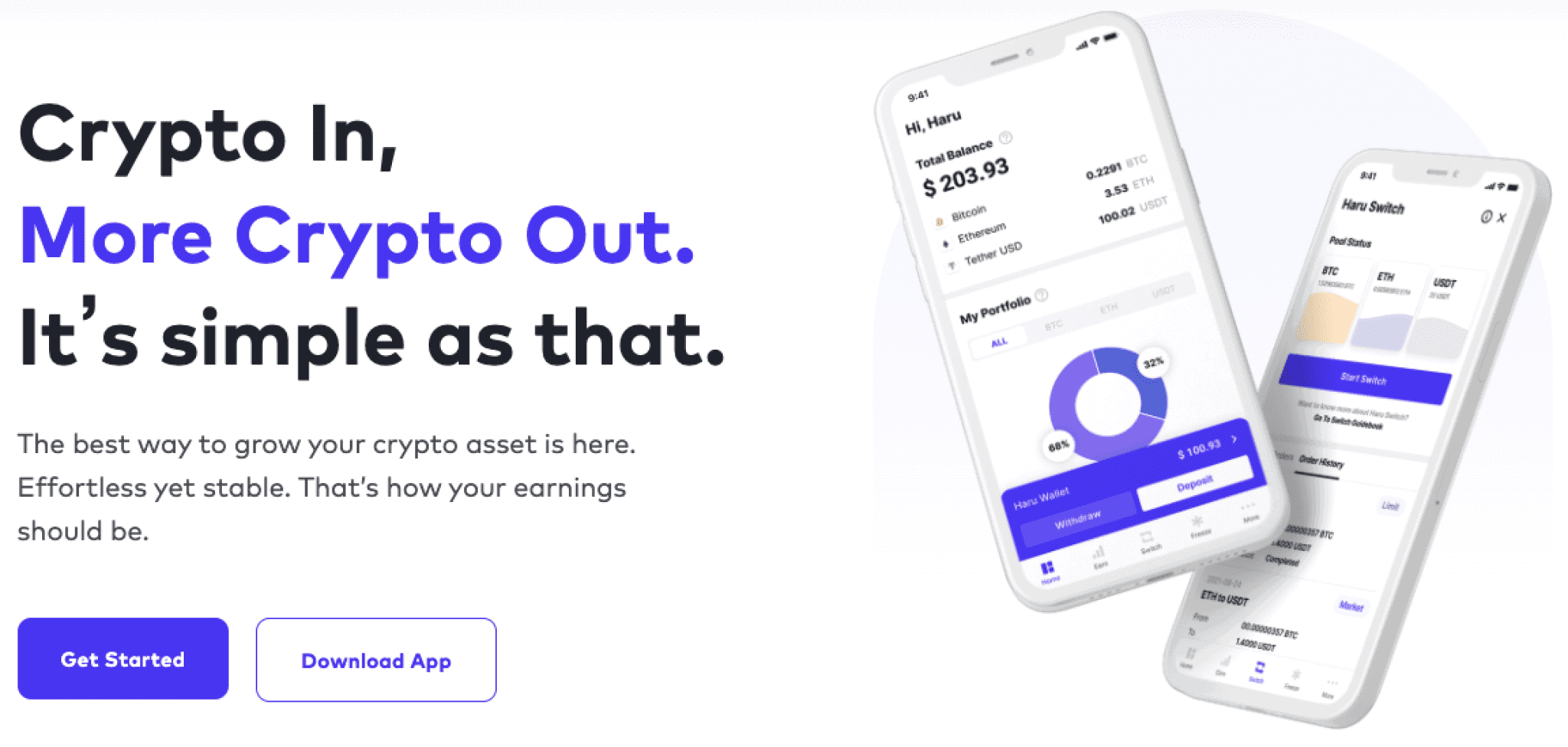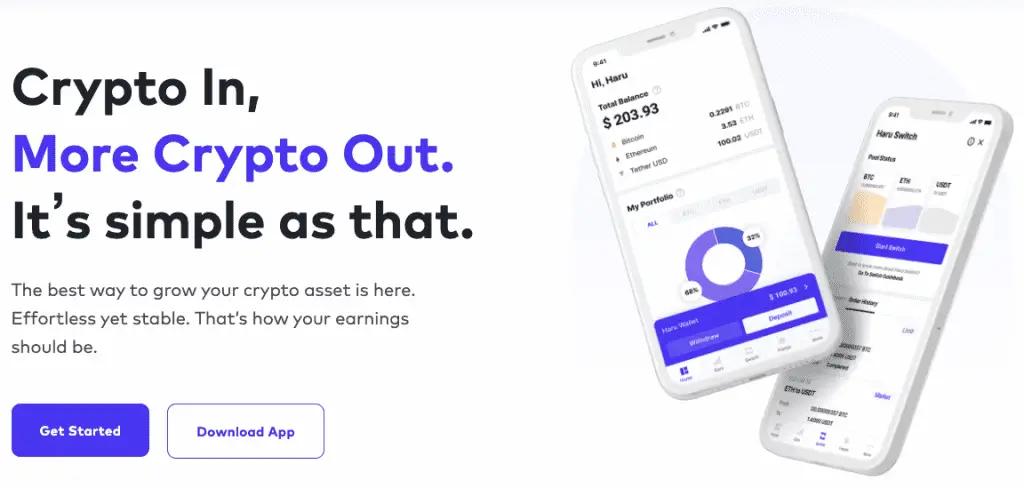 Pros & Cons
Haru Invest Features
Now let's take a closer look at the features of Haru Invest and why crypto investors worldwide are using the platform to earn interest from crypto assets and holdings.
On most earnings-based platforms, other users borrow locked-in funds on the platform. Earning you back interest on the funds that lenders use. Haru Invest is different. Instead, they manage your crypto investments using algorithms and hand-picked investment strategies, similar to a broker or financial trading platform.
Haru Invest keeps risks to a minimum, focusing on generating the maximum possible returns for investors.
Haru Invest uses arbitrage trading and spread trading and takes a market-neutral approach to maximize earnings and reduce risk. Plus, it has its own in-house trading team and works with proven trading partners.
Haru Invest Mobile App
The Haru Invest platform is not only available as a web app but also as a mobile app available for iOS devices via the AppStore or Android devices via Google Play.
The Haru Invest app allows users to manage their investments on the go. It also comes with unique features, allowing you to track the performance of your assets (using app notifications), log in securely with biometric authentication and even reduce your eye strain by allowing you to switch to a dark mode.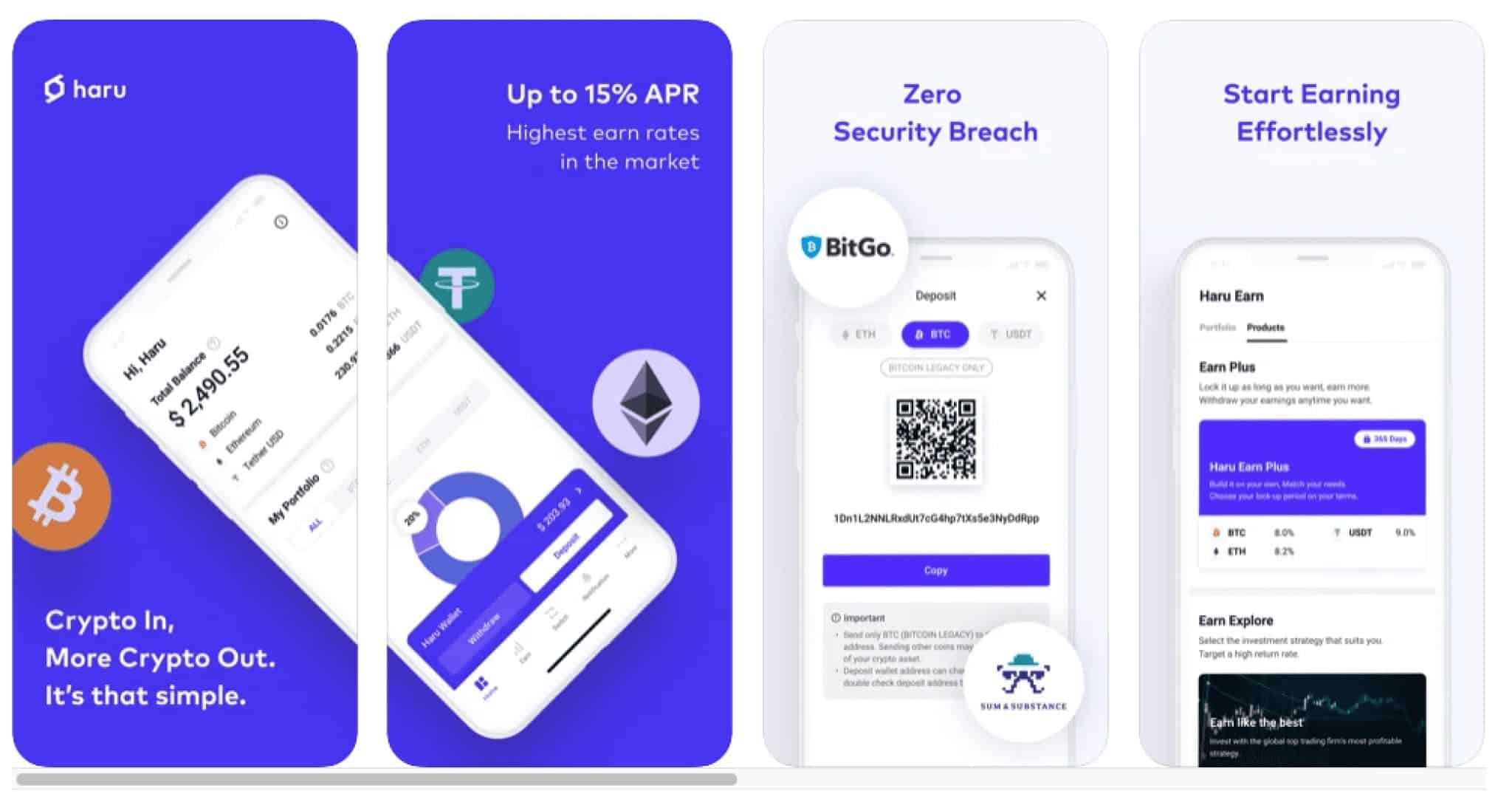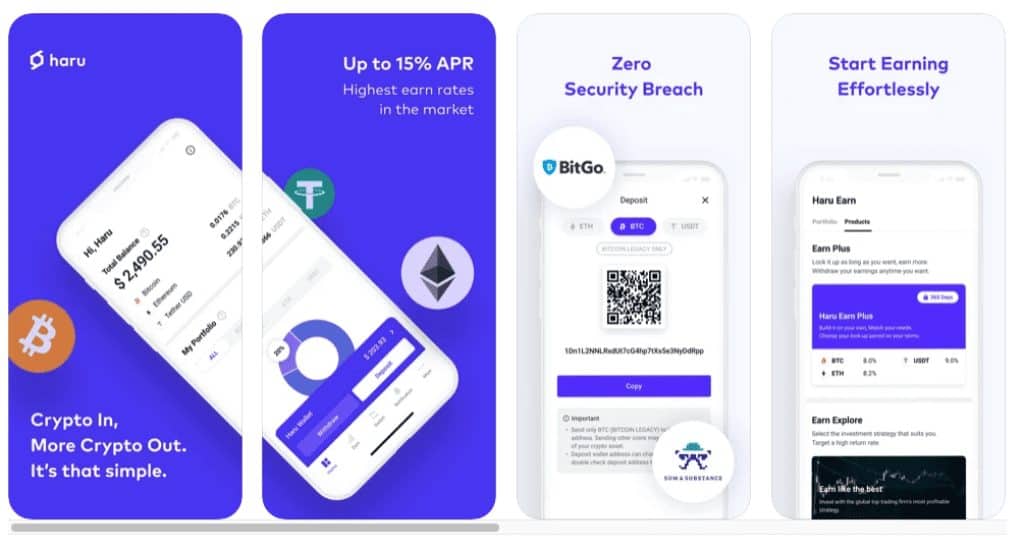 Haru Wallet
The Haru Wallet is the way to start earning passive income with Haru Invest. You can sign-up and get a wallet for free, by going through the usual Know Your Customer (KYC) requirements.
In 10 minutes, you can have a wallet and app (and make an initial deposit into it). The entire process is very easy, and retail investors can earn up to 7.1% APR (interest rate), with no lockup period or restrictions on when or how much you can withdraw.
Once you've got a Haru Wallet, you can benefit from the wider network of Haru Invest features, such as Haru Earn Plus, Earn Explore, Switch, and Freeze.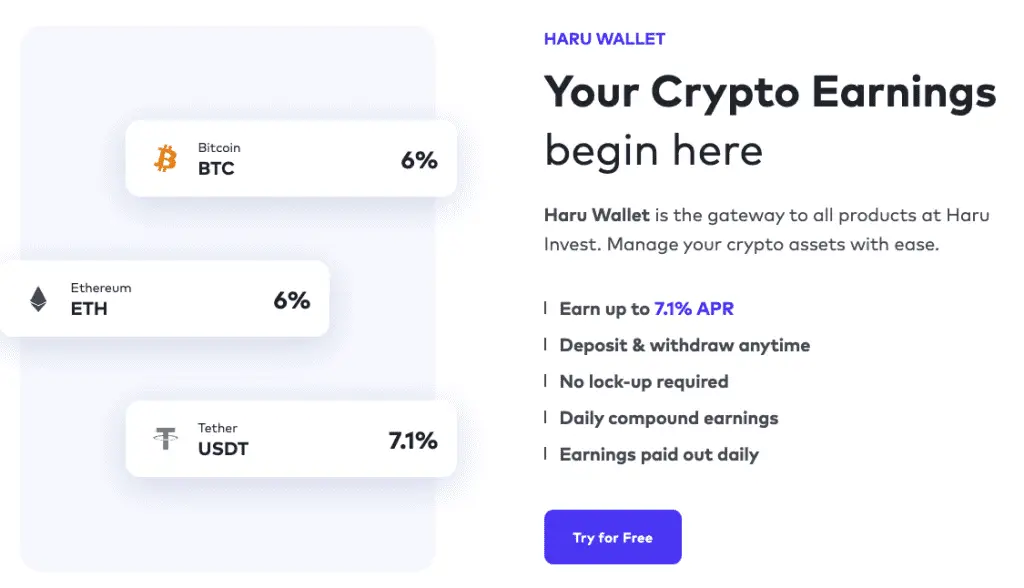 Haru Earn
If you want to earn more interest, you can lock up your assets with Haru Earn with rates up to 35% APR. Haru Earn also provides flexible options, allowing you to choose your amounts and terms.
There are two different ways of earning with Haru Earn, which is Earn Plus and Earn Explore.
Earn Explore (Performance-Based Returns)
With Haru Earn Explore, you can target to earn even more earnings from investing in crypto. Haru Invest works with dedicated and proven crypto trading companies and funds, with algorithms monitoring the market and these investments 24/7. Earn Explore comes with a range of interest-generating options, from 21.5% to 25% (a target rate).
Minimum investment requirements start at $10 worth of crypto being invested, with fees for Earn Explore only when the APR return exceeds 15%. We explain more about fees further down this article.
Pro Tip: Earn Plus is recommended for stable and fixed returns, while Earn Explore is recommended when wanting to target higher returns.
Earn Plus (Fixed Earn Rate)
Haru Earn Plus is a way of earning, even more, providing funds are entered into a lockup period. You can lock in for a minimum of 15 days and up to a maximum of 365 days to earn up to 15% (depending on the lock-in period). Earnings are paid daily and compounded automatically.
March Promotion: From March 17-31, earn up to 17% APR on Haru Earn Plus investments. An extra 2% APR will be automatically applied when locking up for 90 days or more.
Although the APR can fluctuate, Haru Invest offers guaranteed returns and is always updated every 2-weeks.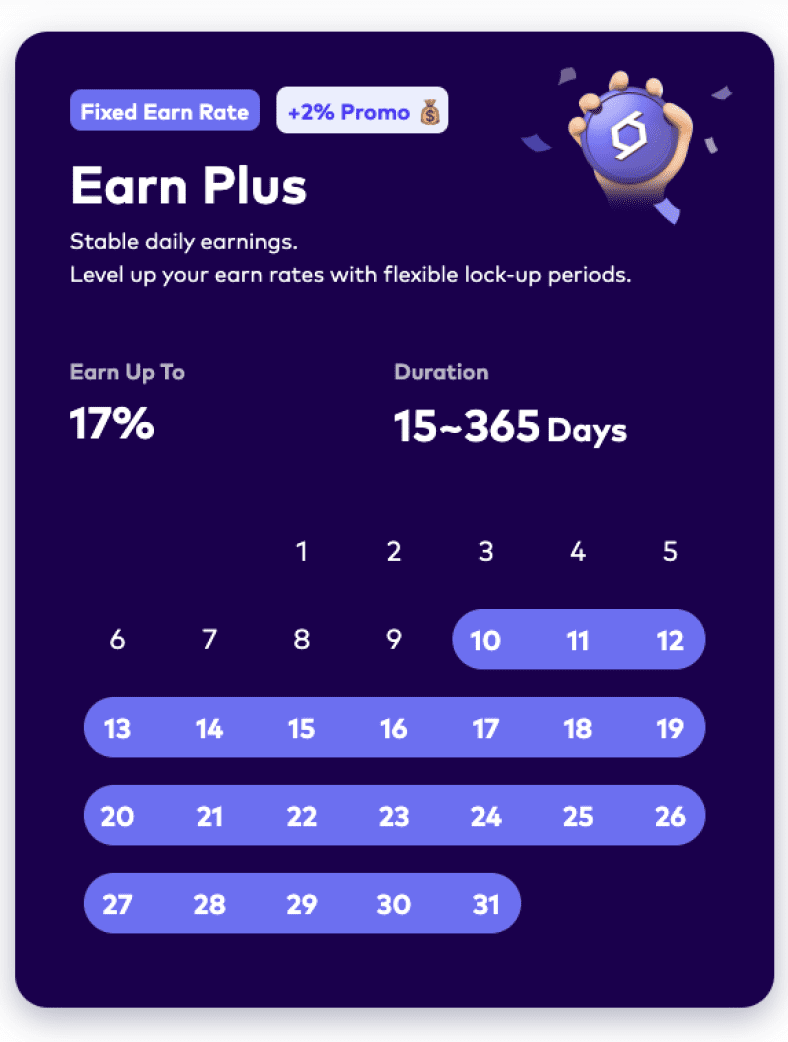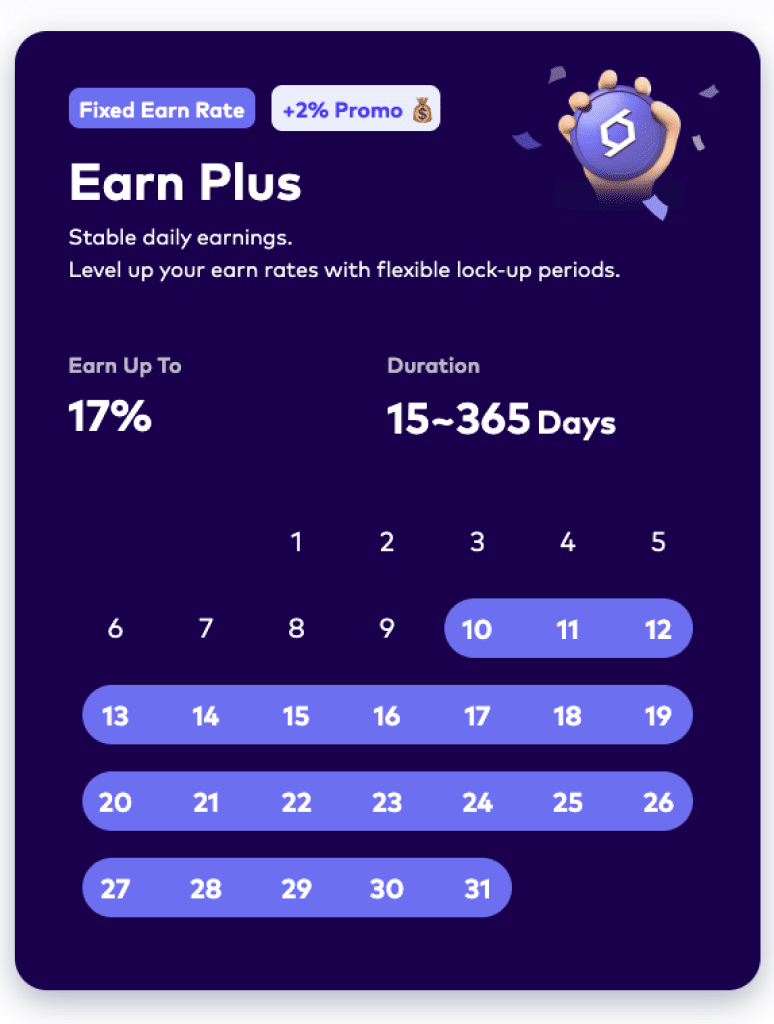 Switch
The Switch feature makes it very easy for users to swap their crypto (BTC, ETH, USDT) without having to leave the Haru Invest platform, which means you can save on gas and transaction fees.
There are two different types of Switches: the Market Switch and the Limit Switch.
Market Switch
In the same way, a Market Order works in trading, a "Market Switch" will swap your crypto instantly at the market price. This option is very useful if you are new to trading or in a rush as it's a very simple swap to perform.
Limit Switch
With Limit Switch, you can choose to swap your crypto at a price that you define. The Swap will complete when the market reaches the price you've entered. This option is good for when you are not in a rush and helps you to achieve the best price for your swap.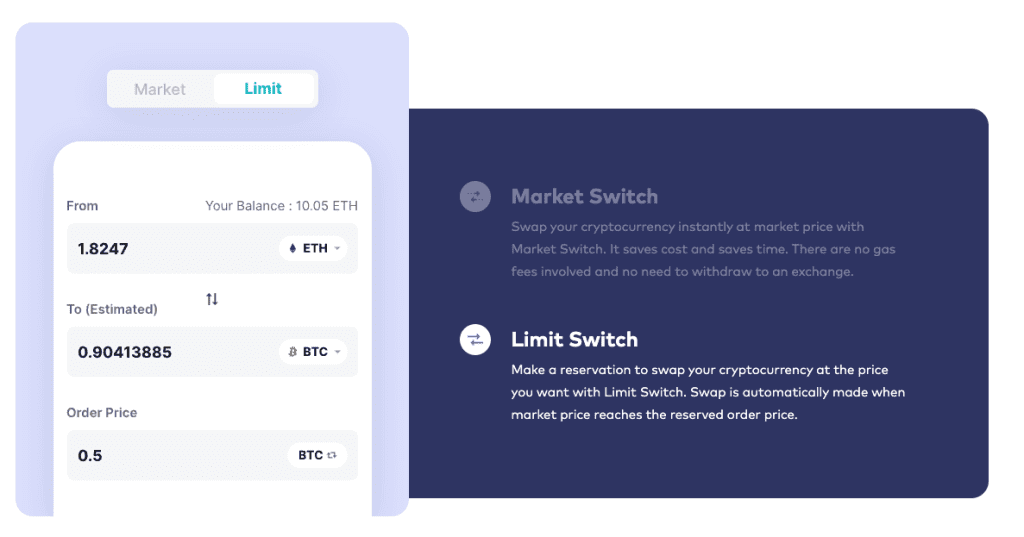 Haru Freeze
Freeze is another Haru Invest product where you can unlock new investment opportunities with digital art (NFTs). Users can convert their Haru Earn Plus products into Frosts and Crystals by "freezing" them. With Crystals, users can boost earn rates or receive discounts on Earn Explore fees.


What Cryptocurrencies does Haru Invest Support?
When it comes to supported cryptocurrencies, Haru Invest supports the world's three most popular: Bitcoin (BTC), US Dollar Tether (USDT), and Ethereum (ETH).
Haru only supports these three cryptocurrencies, and there aren't plans to increase the number on the platform.
Fees
It's free to use the Haru Wallet and other Haru products, such as Haru Earn Plus and Haru Earn Explore (fees apply only when the APR return exceeds 15%).
Users may be charged fees from other platforms and exchanges when transferring funds into the Haru Wallet. There's no way to buy crypto using a credit, debit card, or bank transfer within Haru Invest.
However, there are fees when withdrawing from Haru Invest. These fees will depend on the crypto you are withdrawing:
Bitcoin (BTC) : 0.0001 BTC
Ether (ETH): 0.005 ETH
Tether (USDT) : 1 USDT
Support
Haru Invest provides great customer support, better than what you can expect from a crypto investment and savings platform. It comes with an extensive Help Center, alongside social media channels such as their Haru Medium Page.
If you need to ask a question or have a problem, you can contact live chat customer services within the app and through the website or email support@haruinvest.com.
Security
Haru Invest has taken steps to keep your crypto assets and investments safe. Firstly, it has partnered with BitGo, a third-party platform dedicated to keeping crypto investments secure, similar to an insurance policy.
Alongside this, customers go through all of the usual KYC/AML and verification requirements. Plus, every account is secured with two-factor authentication (2FA).
Is Haru Invest Safe?
Yes, it's certainly as safe as most other crypto interest accounts and crypto savings account platforms. As far as the platform and various security solutions can ensure, your crypto is safe with Haru Invest. So far, they've not suffered any security breaches or cybersecurity incidents since launching in 2019.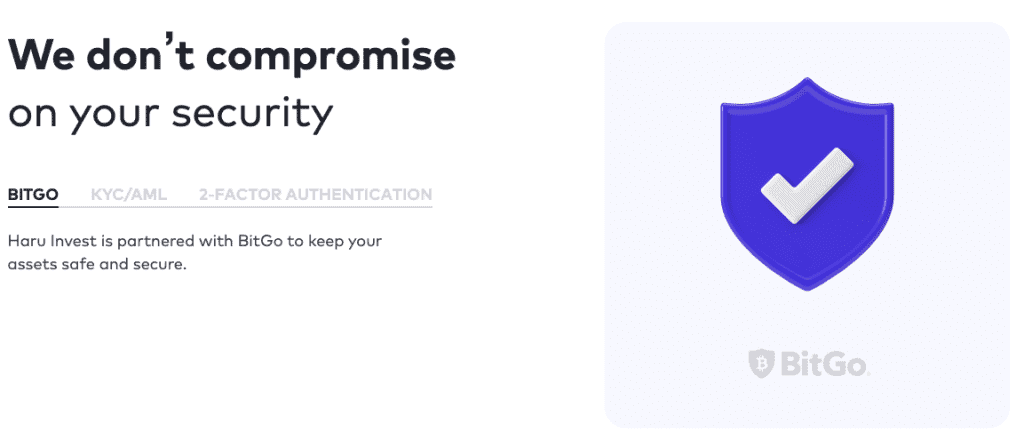 Haru Invest Sign-up
You'll first need to create a Haru Invest account to start earning. This includes providing an email address and a strong, secure password. Plus, this is where you can also add a referral code.
When using referral code: everybithelps or by using this link, you'll get an extra 0.2% earn rate for Haru Wallet & Earn Plus.
With Haru Invest, you will need to go through an element of KYC. This process will take less than 10 minutes and involves providing personal details to comply with KYC/AML regulations.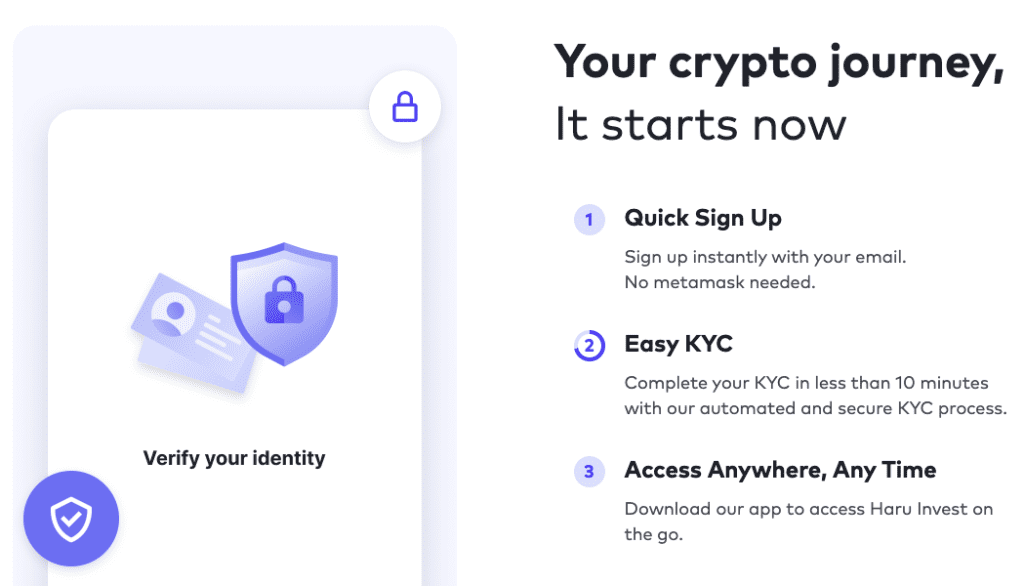 Haru Invest Promo Code
If you use our Haru Invest Promo Code "everybithelps" you'll get an extra 0.2% earn rate for Haru Wallet & Earn Plus.
Simply enter the referral code: everybithelps at sign-up. Alternatively, you can sign up using this link, and the field will automatically populate for you.

Verdict: Should you use Haru Invest?
Haru Invest is a great platform for those wanting to earn more interest from crypto assets and holdings. Without a lockup period (through the wallet), you can earn an interest rate of up to 7.1%. But if you want to earn even more and are willing to enter a lockup period of your assets, there's Haru Earn Plus and Haru Earn Explore, with potential interest rates (APR) up to 25%, which is higher than the industry average.
Haru Invest is experienced at managing crypto investments and their in-house trading teamwork with some experienced and proven crypto partners and uses high-frequency algorithmic trading to reduce risk and increase your earning potential. It's safe, secure, and seems to be a reliable platform for earning interest on crypto holdings and assets.
We hope you found everything you needed from this Haru Invest review. If you have any questions or we have missed something, please let us know in the comments below.
FAQs
Where is Haru Invest Located?

Haru Invest is a division, a brand of Block Crafters, a Singapore-based company. Block Crafters operates several businesses in the blockchain industry, including Block Crafters Capital, a crypto-based investment fund offering investment services to traders using smart algorithms and a range of other solutions.
Is there a Haru Invest calculator?

Yes, you can calculate daily compounding interest rates using this calculator.
Who is the Haru Invest CEO?

Hugo Lee is currently the Haru Invest CEO.
Related Post