Our CleanMyMac X review will examine the popular Mac cleaning software's features, support and cost.
In the digital age, the performance of our devices is paramount. If you've noticed your Mac lagging or its storage quickly filling up, it might be time for a thorough cleanup. This review delves into CleanMyMac X, a software designed to breathe new life into your Mac by eliminating malware and redundant files that could hamper its performance.
Whether you're using a MacBook or a desktop Mac, understanding its maintenance needs is crucial. Join us as we explore the capabilities of MacPaw's CleanMyMac X and assess whether it's the solution your Mac has been yearning for.
CleanMyMac X Review: How to use CleanMyMac X

What is CleanMyMac?
CleanMyMac X is a comprehensive optimization tool designed specifically for macOS. Its primary function is to declutter your Mac by removing unnecessary files, ensuring a boost in performance and a more organized and efficient system.
As you continually use your Mac, it accumulates temporary files, unused applications, and hidden large files. Over time, these can reduce storage space and potential app malfunctions. CleanMyMac X addresses these issues by eliminating junk, detecting and removing malware, and enhancing the overall speed of your computer, ensuring it operates at its optimal capacity.
Who are MacPaw?
MacPaw is a Kyiv-based software development company founded in 2008 by Oleksandr Kosovan. They are renowned for creating CleanMyMac, a popular macOS optimization tool. In addition to CleanMyMac, they've developed other software products like Gemini, Setapp, CleanMyPC, Hider, and Wallpaper Wizard.
Their primary goal is to enhance the Mac user experience by producing high-quality, user-friendly applications. MacPaw has gained significant recognition over the years for its products and has been actively supporting the tech community, especially in Ukraine.
How Much Does CleanMyMac X Cost?
CleanMyMac X offers a free 7-day trial period, allowing users to experience all its modules and features without limitations. After the trial period, the software provides several pricing options:
One-year subscription:

$39.95 for 1 Mac
$59.95 for 2 Macs
$89.95 for 5 Macs

One-time purchase:

$89.95 for 1 Mac
$134.95 for 2 Macs
$199.95 for 5 Macs
For more specific pricing details or any promotional offers, it's recommended to get in touch with CleanMyMac X directly or visit their official website.
CleanMyMac Free Trial
CleanMyMac X offers a 7-day free trial that allows users to access all its modules and features without any restrictions. After the trial period ends, the software automatically transitions to a paid plan unless the user decides to cancel. Most of the software's features become unavailable if not upgraded to a paid plan.
To start the trial, users must download and install CleanMyMac X, open the application, scan their system, and initiate the free trial. While the App Store version doesn't require payment details for the trial, other versions do. After the trial, if users enjoy the software and wish to continue, the payment is processed automatically.
CleanMyMac X Features
CleanMyMac X is a testament to MacPaw's commitment to enhancing the Mac user experience. This robust software isn't just another cleaning tool; it's a comprehensive suite designed to optimize, protect, and rejuvenate your Mac.
From decluttering storage to safeguarding against malware, CleanMyMac X offers a myriad of features tailored to the needs of every Mac user. As we delve deeper, let's explore the functionalities that maintaining a healthy and efficient Mac system.
Smart Scan
The CleanMyMac Smart Scan is really the starting point when scanning your Apple device. Depending on whether you are on a free trial or subscription, it will combine its different modules. These modules include;
System Junk
Photo Junk
Mail attachments
iTunes Junk
Trash bins
Malware Removal
Maintenance
If it's the first time you are running it, the smart scan may take some time, but once it's finished, you'll see the total amount of data that can be safely removed from threats and optimized tasks.
System Junk
The System Junk module in Clean My Mac X is a powerhouse for decluttering. It swiftly scans your system, pinpointing and purging temporary files that might be hogging space. Beyond just cleaning, it delves deeper into identifying and rectifying broken items, ensuring that applications run seamlessly without hiccups.
Photo Junk
Photos often come with hidden baggage – temporary files that silently consume storage. The Photo Junk feature is tailored to identify and eliminate these space drainers, ensuring your photo library is optimized without unnecessary bloat.
Mail Attachments
Emails can be more than just text; they often come with attachments that, over time, accumulate and eat into your storage. Clean My Mac's Mail Attachments tool is adept at sifting through your emails and removing redundant copies of attachments you've downloaded. It further refines your mail storage by eliminating trivial items like company logos, ensuring a streamlined mail experience.
Trash Bins
Beyond merely emptying your trash, the Trash Bins module by Clean My Mac delves deeper into your system. It meticulously scans every application, identifying items marked for deletion, ensuring nothing is overlooked. This module ensures a thorough cleanup, leaving no remnants behind, from discarded emails to forgotten photos.
Malware Removal
While Macs are renowned for their robust security, they aren't impervious to threats. The Malware Removal tool is a vigilant guard, scanning for potential threats like viruses, adware, worms, and spyware. It detects and neutralizes these threats, ensuring your Mac remains uncompromised.
Privacy
Maintaining digital privacy can be cumbersome, but Clean My Mac's Privacy feature streamlines it. Instead of tediously clearing browsing and download histories across different browsers, this tool consolidates the task. Additionally, it safeguards your personal conversations by erasing chat data from platforms like Skype and Messages.
Optimization
A sluggish Mac can hamper productivity. The Optimization feature is designed to rejuvenate your system. Identifying and refreshing lagging apps and efficiently managing login items ensures your Mac operates at peak performance.
Maintenance
Dive into a smoother Mac experience with the Maintenance feature. It rejuvenates your hard drive's performance and optimizes RAM usage. Reindexing the Spotlight database ensures that your searches are faster and more precise, making file access a breeze.
Uninstaller
Say goodbye to fragmented app removals. The Uninstaller tool in CleanMyMac X offers a seamless way to select and eradicate unwanted applications. It meticulously removes every associated file, eliminating the manual hassle of trashing files and ensuring your Mac remains residue-free.
Updater
Stay ahead with the Updater. Instead of juggling multiple update notifications, this tool centralizes all your software updates. Ensuring you're always running the latest versions guarantees you're benefiting from the newest features, security patches, and optimal performance.
Extensions
Regain control over your Mac's extensions. Whether it's a seldom-used widget or an outdated plugin, CleanMyMac's Extensions feature lets you manage, disable, or completely remove them. Every related component is taken care of, ensuring a clutter-free system.
SpaceLens
Visualize your storage like never before. SpaceLens offers a bird's-eye view of your storage, breaking down folder and file sizes in a comparative manner. With this tool, you can instantly identify and manage space-hogging files, making storage management intuitive.
Large & Old Files
Rediscover forgotten treasures or clear out digital cobwebs. This feature meticulously scans your Mac to spotlight those hefty and ancient files. With its insights, you can decide whether to archive, delete, or revisit them, ensuring your storage remains optimized.
Shredder
Erase with confidence. The Shredder feature provides a fortified deletion process, ensuring that your sensitive files and folders are obliterated beyond recovery. Plus, it ensures a smooth deletion process, free from common Finder errors.
Customer Support
MacPaw strongly emphasises customer support, as evident from the comprehensive resources on their website. Their resources delve deep into various aspects of CleanMyMac, from its features and licensing details to optimization tips and promotional offers. For newcomers, there's a detailed 'Getting Started' guide to help navigate the software.
In addition to this, there's a dedicated page addressing a wide array of commonly asked questions. Recognizing the importance of cybersecurity, MacPaw invites tech enthusiasts to share any malware they encounter for the company's analysis.
For direct assistance, users can reach out via the Support tab. MacPaw boasts round-the-clock Technical and Sales assistance through their "Contact Us" feature.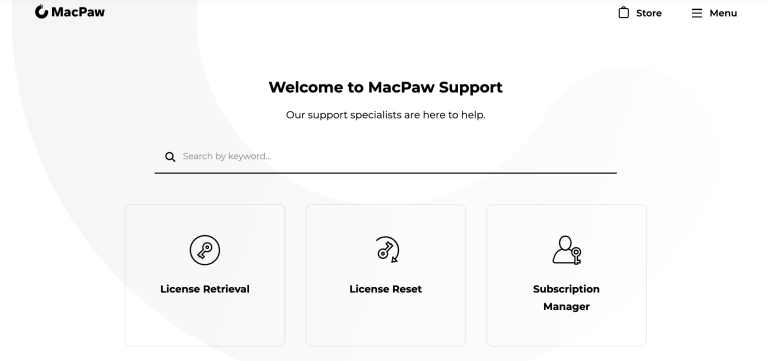 CleanMyMac Alternatives
MacPaw's CleanMyMac X stands out with its comprehensive suite of features, positioning itself as a go-to solution for many Mac enthusiasts. However, if you're exploring other options, here's a comparison with some notable alternatives:
CleanMyMac X vs. CleanMyMac 3
MacPaw describes CleanMyMac X as a holistic solution for Mac optimization. This newer iteration can detect junk files thrice as fast as its predecessor, CleanMyMac 3. Especially when sifting through larger files, the speed enhancement in the X version becomes evident.
CleanMyMac X vs. CCleaner
Both tools have carved a niche for themselves in the Mac optimization space. CCleaner, in its free variant, efficiently clears browser histories. However, CleanMyMac X offers a broader spectrum of features, encompassing malware detection, a swift system overview, and acceleration tools.
Malwarebytes vs. CleanMyMac
Primarily an antivirus tool, Malwarebytes specializes in eradicating spyware, ransomware, and other malware types. CleanMyMac X, on the other hand, offers a more holistic approach, addressing storage, privacy, and security concerns.
Conclusion: Is CleanMyMac X Worth it?
CleanMyMac is an all-rounder for Mac users and offers plenty of easy-to-use tools that can quickly clean, protect and speed up your Mac. The slick design would make you think Apple made the software. Our CleanMyMac X review shows it's easy to navigate and use, even for the technophobe.
The price tag may put some people off, but if your device is running slow, it might be worth giving it a go and seeing if it could spring your Mac back to life. CleanMyMac X was checked and notarized by Apple as software that has no malicious components.
FAQs
Is CleanMyMac X safe?
Yes, CleanMyMac X is safe. However, it is recommended that you back up your computer first. Because you can delete files from your hard drive, you must ensure you aren't deleting any required files. Also, just because a large file doesn't mean it isn't needed, so only delete files when you are 100% happy.
Does CleanMyMac slow down my computer?
Some CleanMyMac users have expressed concerns about the software slowing down their computers. Some believe that CleanMyMac and similar cleaning applications can be more harmful than beneficial, suggesting that they might impede system performance. Others have warned that such software could damage the system or user files.
Is CleanMyMac free?
You will require a paid license or subscription to unlock CleanMyMac's features. However, you can try Clean My Mac X free for seven days before purchasing.
Is CleanMyMac approved by Apple?
CleanMyMac X has passed the Apple notarization process, which guarantees the app is free from malicious components and safe for distribution.
Is CleanMyMac good for my Mac?
CleanMyMac X is designed to optimize and declutter your Mac by removing unnecessary files. It aims to boost performance, enhance system organization, and ensure efficient operation. However, as with any software, individual experiences may vary, and it's always recommended to research user reviews and feedback before installation.
How to Clean Your Mac with Inbuilt Tools?
If you'd prefer not to use third-party software to clean your Mac, you can use the tools built into your machine and manually declutter it. The first thing you will need to do is check how much storage is available.
Go to the Apple icon on the top left-hand side of your desktop and select "About this Computer".
Select the "Storage" tab from the top. This will show you how much space you have available. If you have under around 20% space available, you may find that your apps are crashing or your computer is running slowly.
Click "Manage". You will then be presented with some recommendations.
Under the "Applications" tab on the left, you can delete and uninstall apps you are no longer using to help free up some space. It's also handy to sort this by "Last Accessed" to know if you are still using these.
The "Documents" tab will help you to sort through documents and erase files you no longer need. These are categorized by "Large Files", "Downloads", "Unsupported Apps", and your "File Browser".
Look through your large files and delete any you no longer require to free up some disk space. Please be aware. If you click "Delete", this is immediate and does not go into the Trash Bin.
Also, search "Downloads" for any files you don't need. You may find that there are installer package files. These are required to install software but are no longer required once you have installed the app.
Under the "Music" tab, it is worth checking to see if you have any old podcasts. Or music that you no longer need.
Review and open your "Photos" and videos to see if there is any way you can free up some space there. I'd recommend using iCloud if you can. This way, you can feel less anxious about deleting these files from your Mac.
Related Posts