If you've been a previous user of the ShapeShift exchange or used the likes of decentralized platforms such as UniSwap, 1inch, or Aave, you might be in luck and be eligible for free FOX tokens as part of the ShapeShift airdrop.
In this guide, we'll explain how to claim ShapeShift FOX token airdrop and how to farm your FOX to earn up to 386% APY.
ShapeShift Becomes Decentralised
ShapeShift, has decided to dissolve their corporate structure and hand over to a DAO (or decentralized autonomous organization) which is community-owned and driven by the holders of its FOX tokens. Therefore, there'll be no employees, no bank account, or CEO within the space of a year.


This is a massive move for Eric Vorhees and the ShapeShift team who have been busy since they formed their platform in 2014 which allows frictionless crypto trading with no user accounts.
Since then they acquired KeepKey for crypto cold storage, integrated with the free, desktop wallet Exodus, and released their own self custody mobile app.  By late 2020, they began integrating decentralized protocols, directly into the platform removing themselves and their prior business model from the process.
ShapeShift will (over time) go fully open source and the ownership and governance over ShapeShift's future moves will be the responsibility of the decentralized community of FOX Token holders. As part of this shift, former employees and past users will receive fox tokens in an airdrop which they state is the largest airdrop in crypto history.
What are FOX Tokens?
FOX tokens are an Etheruem based ERC20 token that was originally used as a way of ShapeShift giving extra utility to those who supported them and the community. They initially did this with no trading fees back in 2019.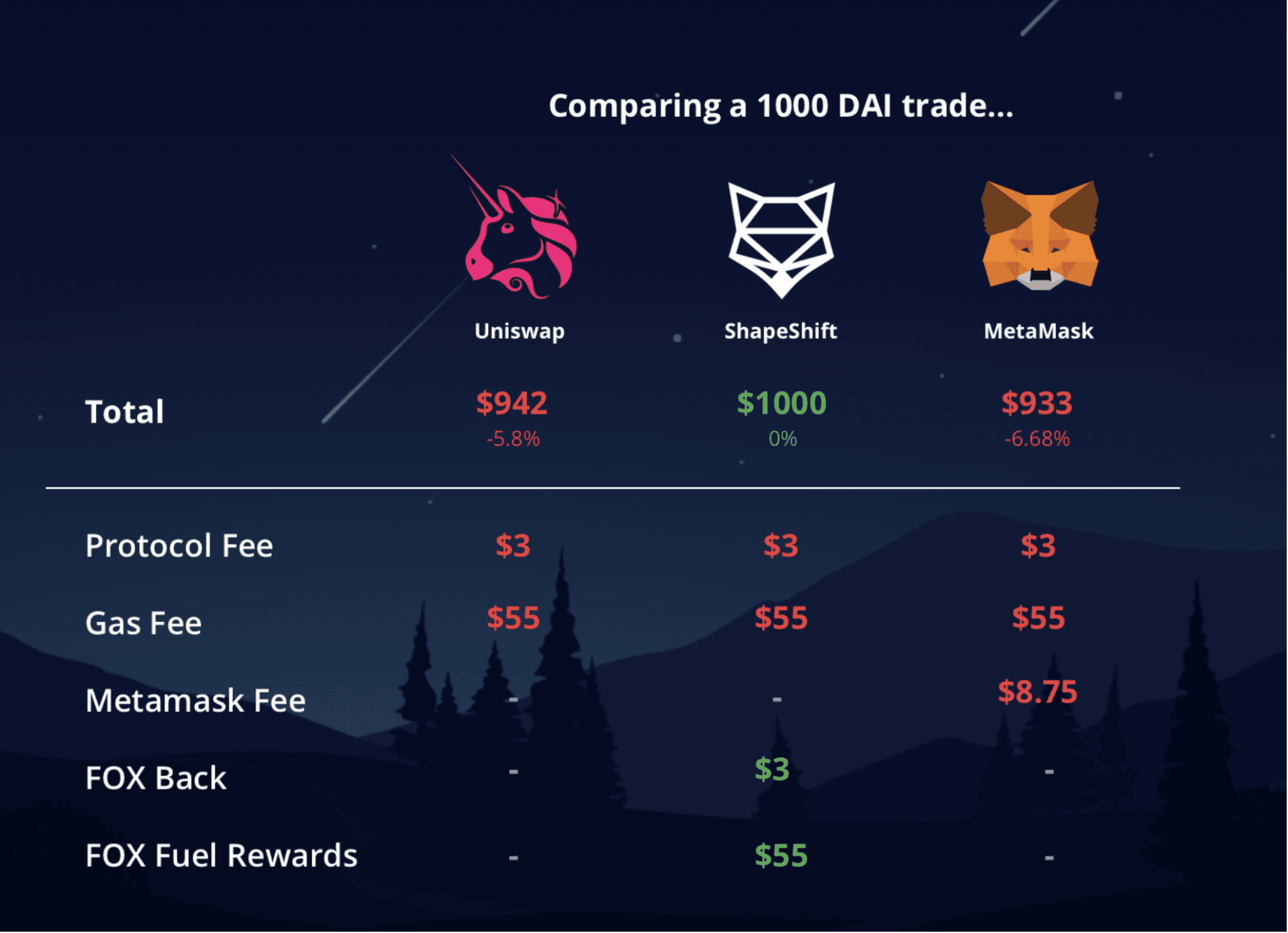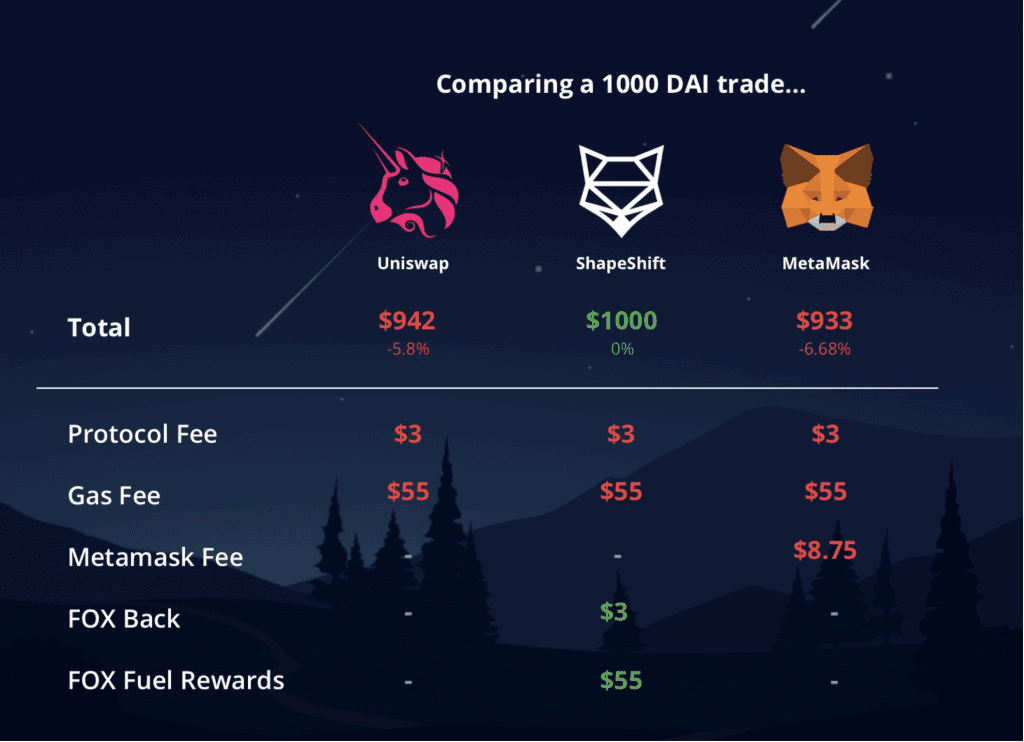 However, FOX is now becoming more than this. With governance over the ShapeShift platform moving to FOX holders, who will make all the important decisions of the project.  
Voting power applies to users with FOX tokens in their wallets and will also soon apply to users who include FOX in the FOX/ETH Liquidity Pool on Uniswap V2.
Plus you can also farm your FOX tokens and currently earn around 386% APR, the fox token helps with gas fees, and you can even win crypto just by holding the token and get free fox on every trade.
ShapeShift Airdrop Eligibility
In total, over 1.1 million addresses are eligible for the FOX token ShapeShift airdrop, which is available for both customers and members of the broader DeFi community.
So who is eligible?
Every customer who has traded $1 or more through ShapeShift (prior to June 9, 2021) is eligible and the amount they'll receive will depend on their number of trades. For example; customers with 1-4 trades will Receive 200 FOX and this scales all the way up to 8500 for more than 100 trades
If you have a wallet registered with ShapeShift (holding crypto) as of June 9, 2021 you'll Receive 250 FOX
Any KeepKey customer who connected their KeepKey with ShapeShift as of June 9 2021 will Receive 900 FOX
THORChain traders and those who upgraded ETH.RUNE for Native RUNE as of June 16th will get 500 FOX or 350 as of June 9th
Plus they also state that over 120,000 users of Uniswap, Compound, Aave, Curve, Yearn, 1inch, and most THORChain users, are eligible.
How to Claim FOX Token Airdrop
There are 2 different methods to claim FOX tokens from the ShapeShift airdrop. You can either log in and connect up a hardware wallet, such as the likes of a Ledger, Trezor, or their own KeepKey device and check to see if you are eligible.
Alternatively, you can follow the below steps;
Navigate Shapeshift.com and scroll down to "See if you're eligible"
At the FOX airdrop screen, choose "Connect Wallet"
Agree to the terms and conditions and select your wallet
Your wallet addresses will then pull through. 
Click ¨Check your eligibility¨
Claim your FOX.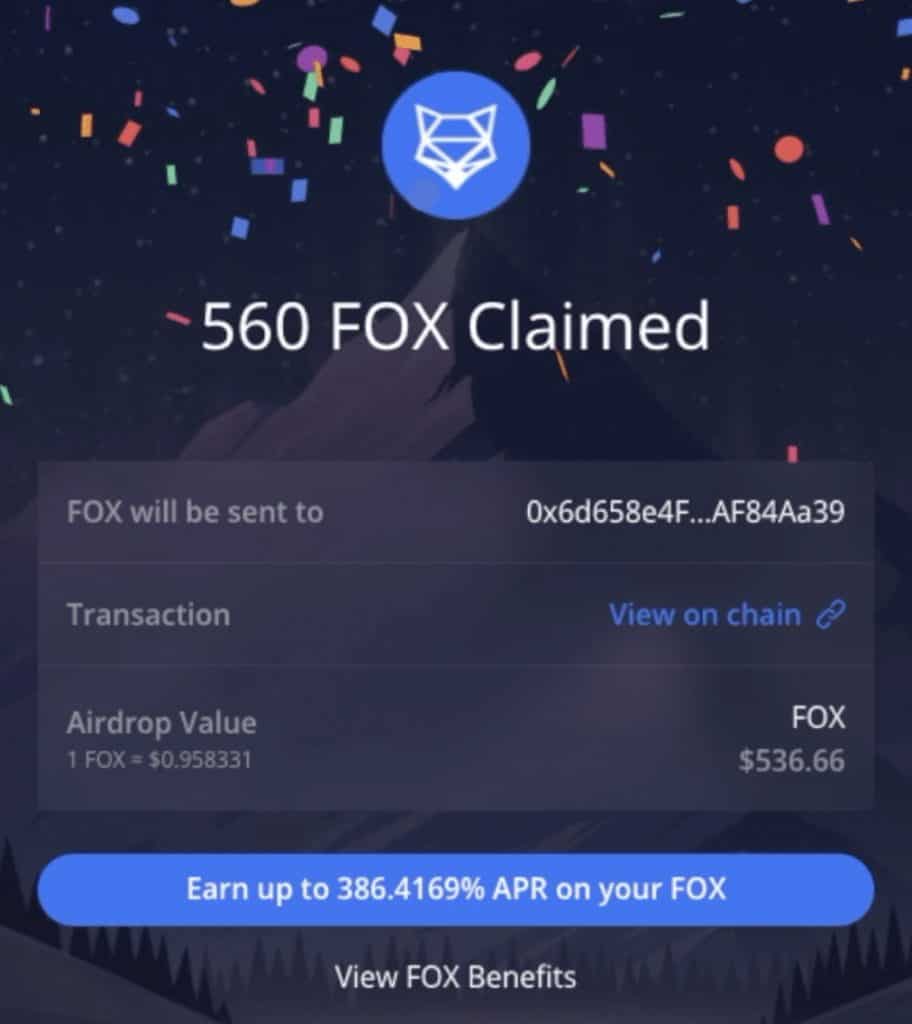 Please be aware that when you claim you will need to pay a gas fee and you'll need some Ethereum in your wallet to pay for these fees. What you can do with your FOX tokens is completely up to you.
If you want you can exchange these for the likes of stable coins (like USDC) or for other tokens such as Ethereum.  Or alternatively, you can put your FOX tokens to work and earn up to 386% APR.
Farming FOX Tokens
FOX token holders can earn passive income on their tokens by farming, where rates are currently up to 386% APY. Although this amount will change as more users add to the liquidity pool.
To do this, users need to deposit FOX and Ethereum into the FOX/ETH liquidity pool on Uniswap v2 (however you don't need to leave the platform to do this).
After the tokens have been deposited, users can then approve and stake their liquidity provider (LP) tokens to earn FOX rewards.
However, when depositing tokens in a liquidity pool, users will need to pay ETH gas fees. Plus they will also need to pay fees again when withdrawing, which start to eat into your profits.
Users should also be aware of Impermanent Loss when adding to any liquidity pool.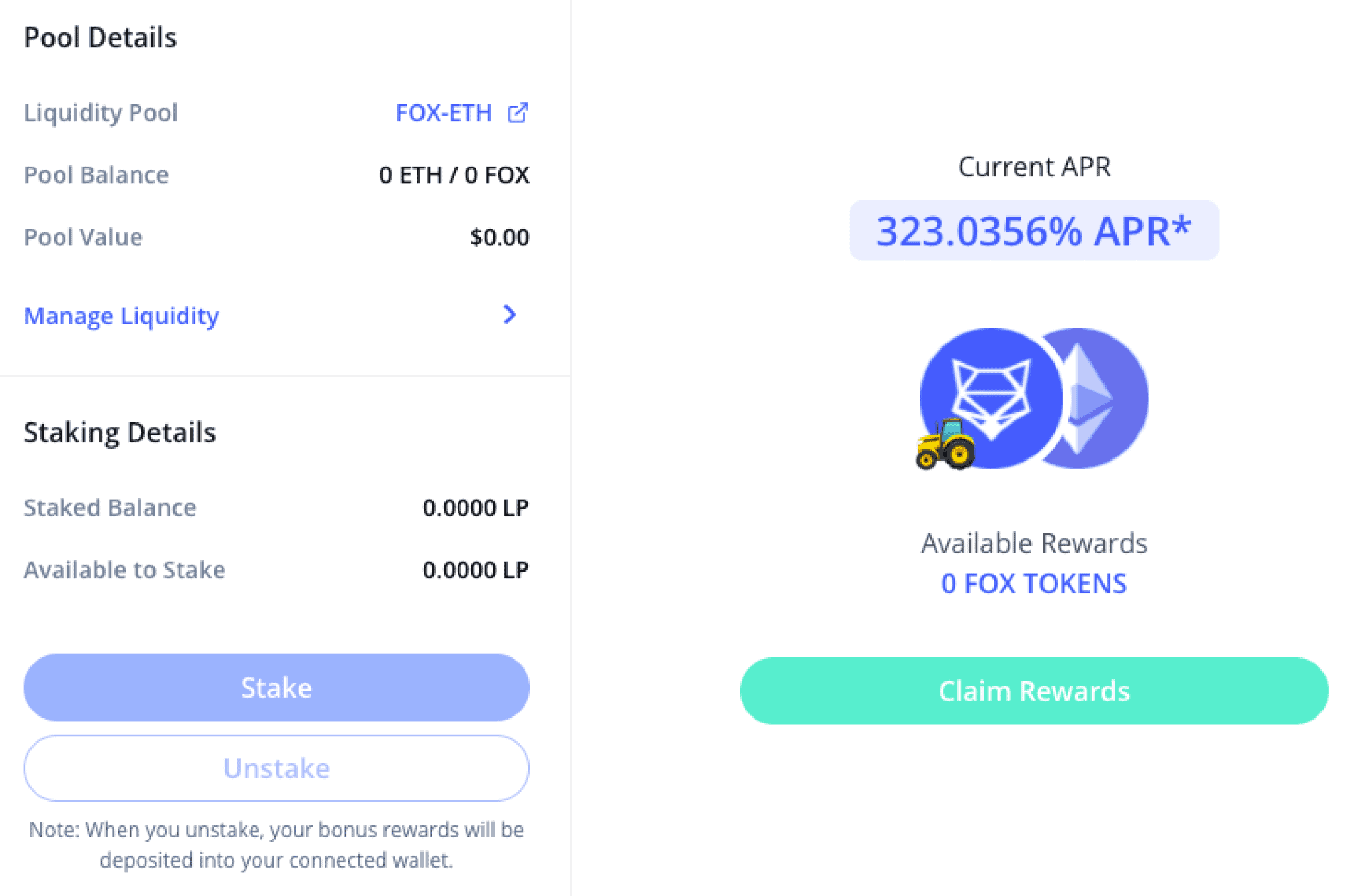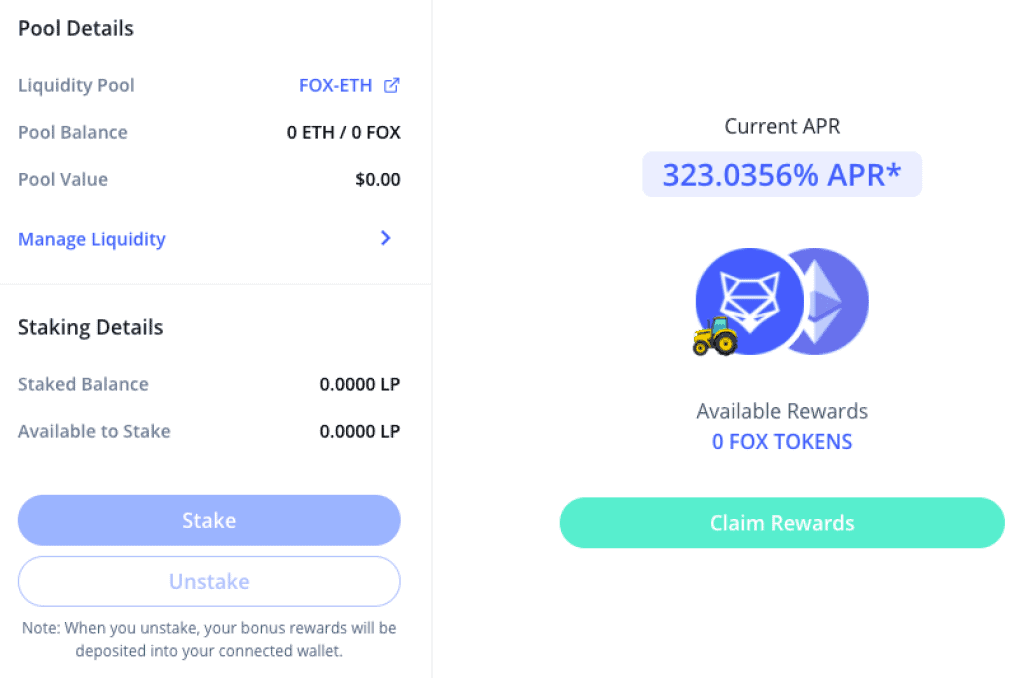 What is Impermanent Loss?
"Impermanent Loss" is a term used when you provide liquidity to a pool and the asset price changes compared to the price when you deposited.
The bigger the change, the more you are exposed to impermanent loss and the volatility in your trading pair can result in the temporary loss of funds.
When you deposit funds into a liquidity pool, you need to add an equal share of 2 tokens. This can then becomes an issue if 1 of the assets are more volatile than the other and the price suddenly goes up, as the price no longer reflects what's going on in the real work. 
To ensure the ratio is balanced, traders will buy the token at a discounted rate until its balanced. Because of this, liquidity providers can end up with more of 1 token that is then worth a smaller amount.
Therefore, when depositing funds into a liquidity pool Impermanent loss is something that should be considered as you could actually make more money simply holding onto your assets than providing liquidity.