In this CEX.IO Review, we take a deep dive into the UK-based crypto exchange CEX.IO. We discuss CEX.IO history from a cloud mining company to a licensed crypto exchange, plus take a look at their security features.
So let's jump into this CEX.IO review to help you decide if CEX.IO is the right crypto exchange for you.
CEX.IO Review
What is CEX.IO
CEX.IO was founded in 2013 and is a licensed, multi-purpose cryptocurrency exchange. Over 100 tokens and digital currencies, including Bitcoin, Ethereum, Litecoin, Uniswap, and others, are supported by this cryptocurrency exchange with headquarters in London.
Over four million users are served by the global crypto exchange ecosystem CEX.IO has created, which is accessible in 99% of nations and 48 U.S. states.


CEX.IO History
Powered by an internal mining pool named GHash.IO, CEX.IO was established in 2013 as a Bitcoin cloud mining provider and marketplace for hashing power. The startup wanted to make it possible for people to receive Bitcoin mining profits without installing pricey mining equipment in their houses.
Following the shutdown of GHash.IO because of its lack of profitability in late 2016, CEX.IO made the decision to halt cloud mining. Instead, the business redirected its attention to creating a global ecosystem of cryptocurrency exchanges.
Nowadays, CEX.IO is a regulated crypto exchange with over 4 million users. It provides goods and services for everyone, including traders and business market sectors.

Simple buying choices, a cryptocurrency wallet, means to convert cryptocurrency, exchange staking, and a platform for crypto lending are among the features available to "Everyone." Spot trading, margin trading, and the exchange's mobile app for on-the-go trading are all advantageous to "Traders." 'Businesses' can also use CEX.IO PRIME, which offers institutional-grade crypto trading services, to conduct their business.
CEX.IO also provides credit card processing services to clients in a few European nations. It also operates CEX.IO Broker, a commission-free margin trading platform.
CEX.IO Pros & Cons
CEX.IO Security
In every nation where it conducts business, the exchange is governed and granted a license. In the US, CEX.IO is listed as a money services business (MSB) with FinCEN and holds money transmitter licenses (MTLs) from more than 30 states. The exchange is additionally listed with FINTRAC as a Money Services Business (MSB) in Canada.
The Gibraltar Financial Services Commission (GFSC) also regulates CEX.IO as a DLT Provider to serve the European market. The UK Financial Conduct Authority (FCA) has given CEX.IO provisional registration as a crypto asset business in the country, allowing the exchange to engage in crypto asset activities while the FCA considers the company's application.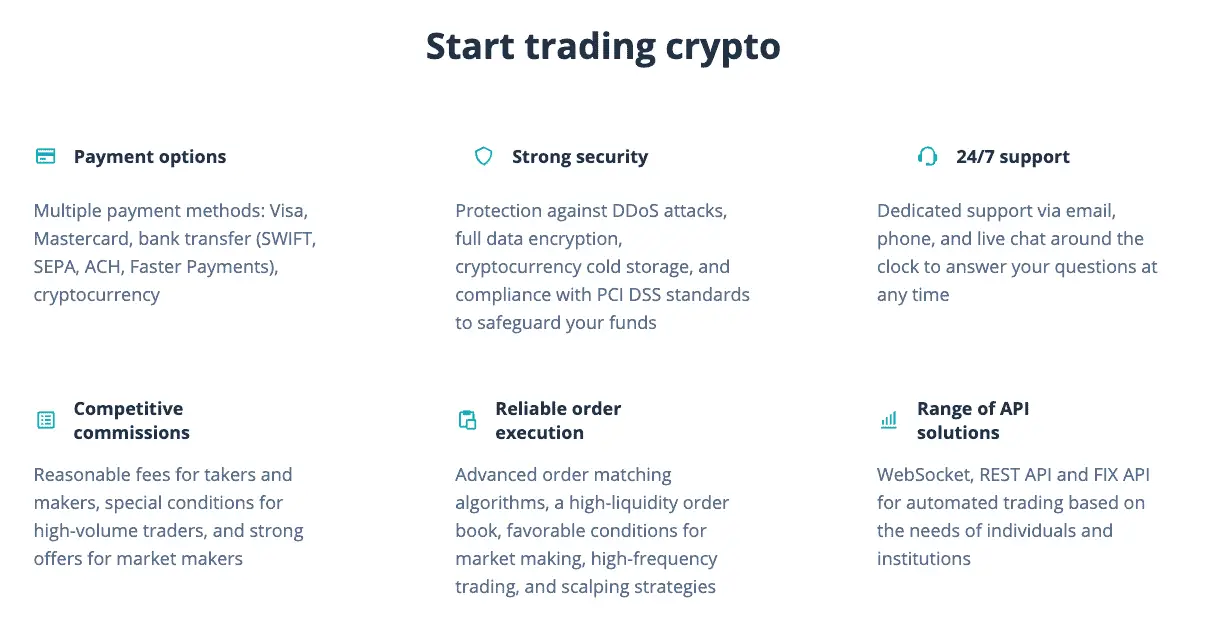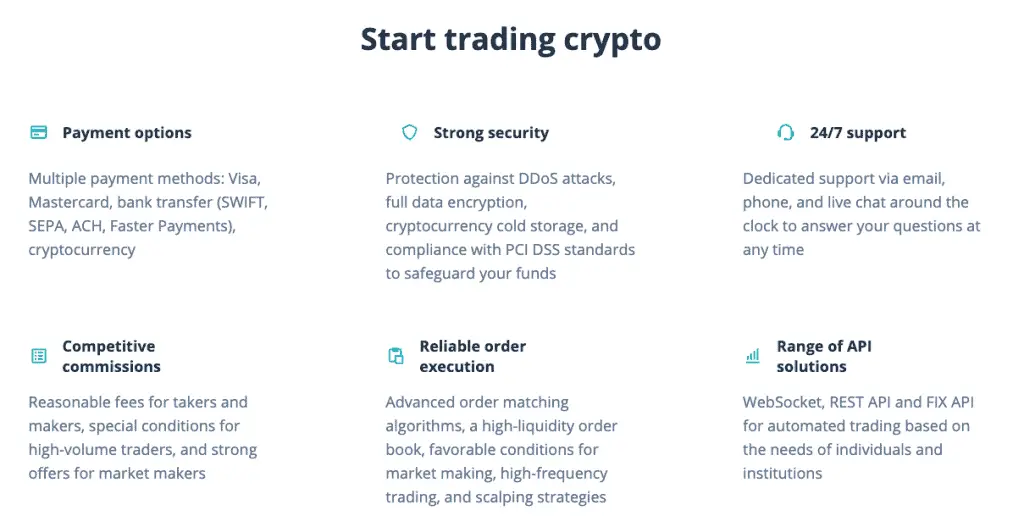 Security Features
CEX.IO maintains the vast majority of user funds in cold wallets and a very small amount of cash in hot wallets to protect the security of its users' funds. Cold wallets are more secure than hot wallets since they are not linked to the internet. The quantity required to cover daily trading operations on the platform determines how much cryptocurrency is housed in cold vs hot wallets.
It's vital to note that user monies are largely stored in cold wallets, while corporation funds are primarily maintained in hot wallets on CEX.IO. If the exchange is compromised, corporation cash may be lost, but user funds should mostly be untouched. In a daily wallet reconciliation process, freshly deposited client monies are transferred to cold wallets.
Customer Support
Given the absence of top-notch customer assistance at several prominent exchanges, CEX.IO has made sure to offer its user base top-notch customer service. For instance, CEX.IO has a 4.7 out of 5-star rating on Trustpilot, which is remarkably excellent for a cryptocurrency exchange.
Many clients weren't happy when CEX.IO discontinued its mining services owing to a lack of profitability. Customers appear to be mainly satisfied with the exchange's products and services now that the company has suspended its mining operations.
How does CEX.IO Compare to other Exchanges?
While some cryptocurrency exchanges focus on particular geographical areas, CEX.IO stands out from its rivals thanks to its global strategy and accessibility in 99% of nations. However, leading exchanges like Binance or Coinbase have a larger user base and greater liquidity than CEX.IO.
Since CEX.IO is competitive in terms of costs, the number of supported assets, and supplementary services like lending and staking. It also offers a reliable platform for anyone wishing to buy, sell, borrow from, and earn cryptocurrency.
How to Open a CEX.IO Account
Signing up for a CEX.IO account is straightforward and similar to signing up for a standard online brokerage account. 
To create a personal account, you must provide the following;
Your name
Email address
Password
Nation of residency
After providing this information, you must confirm your email address by entering the confirmation code you receive by email.
Once complete, you can begin learning more about the CEX.IO platform. However, you must undergo an identity verification process to upload official ID paperwork and share your address before you can finish signing up and begin trading. Your withdrawal and deposit limits will rise after completion.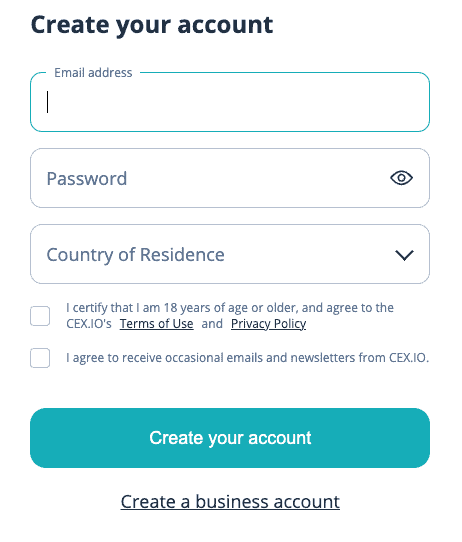 Verdict
The CEX.IO crypto trading environment is simple to access online and on mobile. CEX.IO offers everything from sophisticated order-matching algorithms and analytical tools for expert traders. Plus, basic Instant Buy/Sell features for first-time investors.
Users can access all of the functionality offered by CEX.IO through its web-based platform and mobile app.
Related Posts