In this Celsius review, we'll take a closer look at the popular peer-to-peer lending platform. We'll explore Celsius's pros and cons and how to use Celsius to earn interest of up to 17% APY on stablecoins and crypto. So, stay tuned!
If you currently have crypto sitting idle in a wallet, or maybe you want to borrow some cash and don't want to cash out of your crypto investments, then Celsius Network may be a solution. You can currently borrow and earn interest on your crypto assets up to 17.78%.
So, let's dive into this Celsius Review to help you work out whether Celsius is the right lending and borrowing platform for you.
What is Celsius Network?
Celsius Network is a peer-to-peer lending company that allows users to purchase crypto, earn interest, and instantly borrow dollars with no deposit, withdrawal, or transaction fees. Lenders, they offer profits on interest rates for the crypto that's been deposited. Allowing you to lend your assets to others whilst gaining interest on the loan.
With Celsius, not only can you lend your tokens to earn interest. You can also borrow dollars against your crypto without the need to sell your tokens if you wanted to free up some cash. Because your loan is secured with your tokens which are being used as collateral, they can offer really competitive interest rates to its lenders. Plus, your crypto tokens are then yours to keep after you've repaid the loan.
Who Are Celsius Network?
The Celsius Network was founded in 2017 by Alex Mashinsky (CEO) and Daniel Leon (Founding President and COO). Alex Mashinsky is known for bringing cell phone service and free WiFi to the New York City subways, enabling WiFI on U.S. flights, and creating Voice over IP (VoIP). Daniel Leon is a business and social entrepreneur, leading several organizations, including Atlis Labs, Beyon3D, and GroundLink.
Alex Mashinsky is active on platforms such as Twitter with the community. He also hosts weekly AMA (ask Mashinsky anything) on YouTube. Plus, if you're a subscriber to Real Vision, a great interview is available where Alex talks about his background about the Celsius network.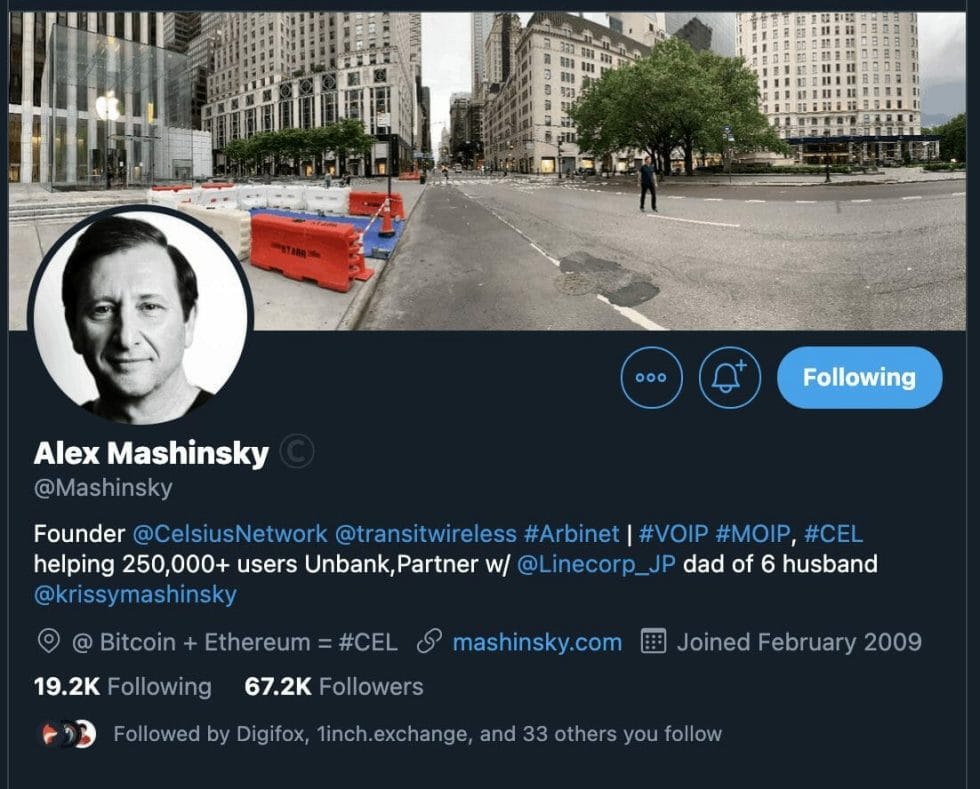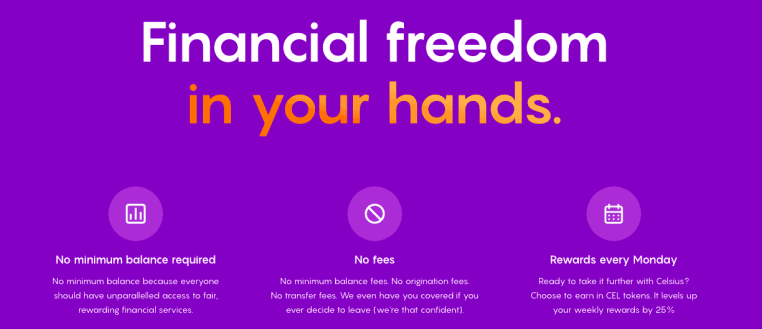 What Cryptocurrencies Does Celsius Support?
With Celsius, you can deposit and earn interest on any cryptocurrencies that earn a yield. This includes the likes of Bitcoin, Ethereum, and Synthetix, as well as a host of stablecoins. In March 2021, they added Polkadot's DOT token, where you can earn up to 3.18%.
You can currently borrow 34 different cryptocurrencies, too, with interest rates as low as 0.7%. Tokens can also be purchased within the app too, although this won´t be the cheapest option for buying your crypto.
Celsius Web App
Unlike a lot of its competitors, Celsius initially was only available as a mobile app for Android or iOS. Which could be a little bit frustrating. However, after listening to the community (and their user's needs to get access to Celsius from all their devices), Celsius has now introduced a sleek, secure, and easy-to-use web platform.
Users can log in using their mobile app credentials and view a complete overview of their Celsius account with interactive graphs and charts. Plus, have the ability to send, receive and start earning interest on your crypto. Celsius has only just released version 1 at the time of this Celsius Review. Therefore, there are some limitations. However, they have plans to include more features in later versions.
Is Celsius Network Safe?
Celsius has recently moved away from BitGo and now works with several custodians, including Fire Blocks and PrimeTrust. Celsius state that security is more than just custodian and insurance; it's how they operate throughout the entire company. Protecting the user's assets is always their number one priority. 
All loans are collateralized up to 150%. Meaning the borrower provides Celsius with an alternative asset as collateral in exchange for the asset they borrow.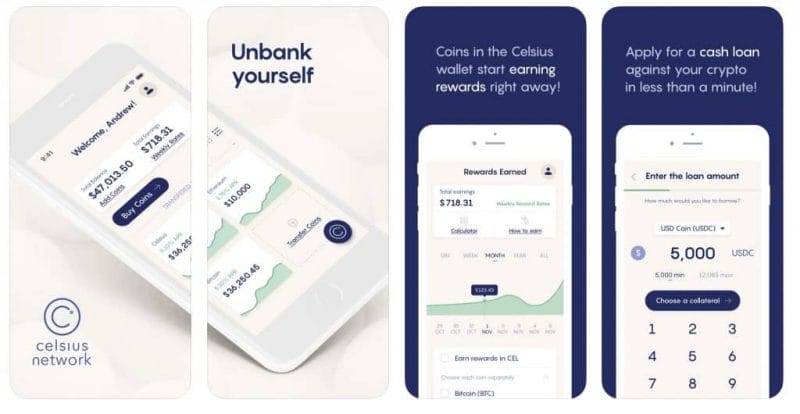 Celsius CEL Token
CEL is the official token from Celsius Network. CEL tokens give members access to the best financial services for cryptocurrencies. Not only do you get better interest rates when choosing CEL as your receiving currency, but you also gain access to a different array of member-exclusive advantages.
Celsius Network token CEL gives users access to higher rates on earnings and lower rates on loans. Earn up to 25% more rewards on all deposits when choosing to earn rewards in CEL tokens. Also if you choose to borrow instead and pay interest in CEL, you'll receive up to a 25% discount on your interest payment.
Another massive benefit of holding CEL is its value; in 2020, CEL was one of the best-performing crypto assets, and the price has risen to nearly 4000% within 12 months. Plus, in the dip during May 2021, the CEL token was one of the best-performing tokens and dropped a lot less compared to the rest of the market, which dropped about 50% over the past few days.
Celsius Loyalty Programme
Celsius's loyalty program is on a four-tiered system, and to receive the bonus rates, you will need to stake CEL tokens. To receive the advertised rates as seen on their website and social media, you will have to reach the 'Platinum' loyalty level.
Bronze Level: Bronze is the starter level, which means you hold 5%-10% of your portfolio in CEL tokens. Celsius bronze members will receive discounts of 5% bonus interest and 5% loan interest.
Silver Level: Silver means you hold 10-15% of your portfolio in CEL tokens. Celsius Silver members will receive 10% bonus interest and a 10% loan interest discount.
Gold Level: Gold means you hold 15-25% of your portfolio in CEL tokens. Celsius Gold members will receive a 15% bonus interest and a 15% loan interest discount.
Platinum Level: Platinum means you hold more than 25% of your portfolio in CEL tokens. Celsius Platinum members will receive a 25% bonus interest and a 25% loan interest discount.
How to Earn Interest with Celsius
To earn interest with Celsius, simply transfer your cryptocurrency assets into the app. You can earn up to 17.78% on your crypto and 11.21% on stablecoins. However, this will depend on your loyalty level, payment method, and the crypto that you have deposited.
The interest that you earn is issued weekly, every Monday. There's no minimum balance required, and you can deposit as little or as much as you like.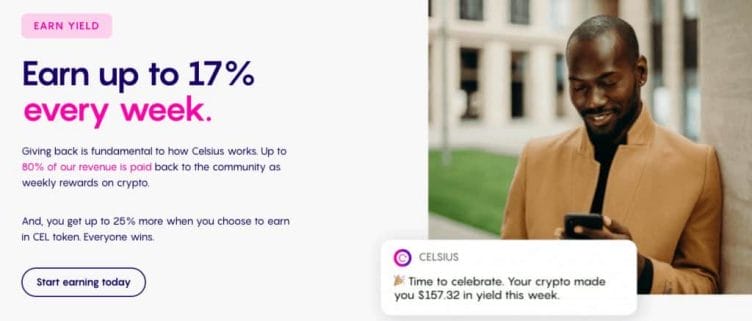 How to Borrow with Celsius
With Celsius, you can borrow a minimum of $500 in USD or stablecoins at some incredibly low rates of interest, especially compared to a bank. With rates as low as 0.7% (when you pay with their CEL token), you simply use your crypto as collateral for the loan without having to sell off your assets to free up funds.
You can choose to borrow either USD (to be sent directly to your bank account) or stablecoins, which will arrive in your celsius account in 24hrs. Simply enter the amount that you'd like to borrow and choose the crypto that you've deposited and would like to use as collateral. Then select the term of the loan from 6 to 36 months.
A confirmation of the loan will then be presented, showing the amount you'll be borrowing. You'll also be shown the estimated collateral, which will be ultimately determined upon approval. Just note that these tokens will be locked and ineligible to earn interest when borrowing.
Plus, you'll also be shown a margin call amount and a liquidation amount.
What are Celsius Margin Calls and Liquidations?
When borrowing from Celsius, you're putting cryptocurrency down as collateral. Because of the high volatility of crypto, Celsius implements a margin call. Meaning that if your collateral value drops under a certain price, they will ask you to add more to meet the minimum coverage on your loan. 
If the price drops another threshold and the margin call wasn't met, they will liquidate a portion of your assets to cover the margin call.  
Now in the Bitcoin price drop in March 2020, the likes of Bitmex liquidated about a billion dollars. Whilst Nexo and BlockFi liquidated 100s of millions of dollars. However, apparently, Celsius didn't have to liquidate anyone.
Please ensure you never overborrow when borrowing on these types of platforms.
Celsius Fees
Celsius Network is fee-free, this includes withdrawal and termination fees, which is unlike many of its competitors. I have personally withdrawn a few times, and the withdrawals have been more or less instant. Just make sure you have your 2FA turned on, otherwise, your crypto assets will be held for 24hrs. Safety First!
Withdrawals
On August 17, 2021, they announced that automated withdrawals from the Celsius account will only be processed in amounts of $10.00 USD or more.  If your account balance falls below $10.00 after August 17 and you'd like to complete a withdrawal, you will need to contact their support team to initiate a manual withdrawal. This will apply to all assets in your Celsius account and all assets supported in the Celsius app. When you withdraw more than $10.00 USD, as always, you can continue to withdraw assets from your account at any time and without any fees. 
Celsius Support
Celsius Network provides users with a dedicated Help Center with FAQs regarding deposits, withdrawals, etc. If you don't have any luck with their Help Center, you can also submit a request via their website or by emailing app@celsius.network.
Any time I've had to contact support, they have replied quickly. Celsius Network reviews on Trustpilot are currently Great at a 4.1.

Celsius FAQs
Does Celsius Network Charge Fees?
Celsius Network doesn't charge any fees for its services. Unlike some similar platforms, they charge no withdrawal, transfer, transaction, or early termination fees.
Did Celsius Network Support the Spark Token Airdrop?
All Celsians who held XRP tokens in their wallet when the Flare Network snapshot took place on December 12th, 2020, will receive Spark tokens on launch.
Does Celsius Support Binance Chain (BEP-2)?
Celsius Network does not currently support Binance Chain (BEP-2)
When do I Receive Interest from Celsius?
You start earning interest as soon as your funds are credited to your account. Interest is calculated every Friday and distributed every Monday. 
Related Posts