In this BlockFi Review, we'll take a look at the New York City-based lending platform. Plus how their rates, support, and safety compared to their competitors.
Fed up with earning negative interest from your bank? Why not leave the traditional financial system behind and start earning up to 8.6% on your crypto assets with BlockFi. Or simply borrow against your crypto with collateralized loans with rates as low as 4.5%.
Let's dive into this BlockFi Review to help you work out whether BlockFi is the right platform for your saving, borrowing, and crypto exchange needs.
What is BlockFi?
Founded in 2017, BlockFi is a New York City-based lending platform that offers competitive interest-bearing savings accounts for cryptocurrencies, including Bitcoin, Litecoin, Ethereum, and USD stablecoins like GUSD, USDC and PAX.
BlockFi generates interest on assets held by lending funds to institutional and corporate borrowers. With Interest is accumulated from the day the platform receives your deposit.
Plus, they're backed by some of the world's top investors, including Peter Thiel's Valar Ventures, who co-founded Paypal and was the first investor in Facebook.
If you want to find out more information, check out Real Vision's interview with BlockFi founder and CEO Zac Prince.
Unlike nearly all of BlockFi's competitors, they don't offer native tokens. Instead, they offer simple products with simple terms designed to help cryptocurrency holders to do more with their digital assets.
The company currently services clients worldwide, including 49 U.S. states, with interest-earning accounts and low-cost USD loans backed by crypto.
Interest: Earn Yield on your Crypto
With BlockFi interest, you can earn on cryptocurrencies such as the likes of Bitcoin, ETH, LTC, and stable coins with rates of up to 8.6% APY. This is great for those whose crypto has been sitting idle in a wallet or exchange and can earn more crypto while holding their assets.
Interest is paid monthly and compounds. If you add additional crypto to your interest account, your interest will compound on the new balance.
BlockFi has frequently updated its rates with changes applied to BTC, ETH, LINK, LTC, and PAXG. If you've deposited between 0.10 and 0.35 BTC, the new rate will now be at 1% APY, which is a huge drop from the former 6% for those staking 0 to 2.5 BTC.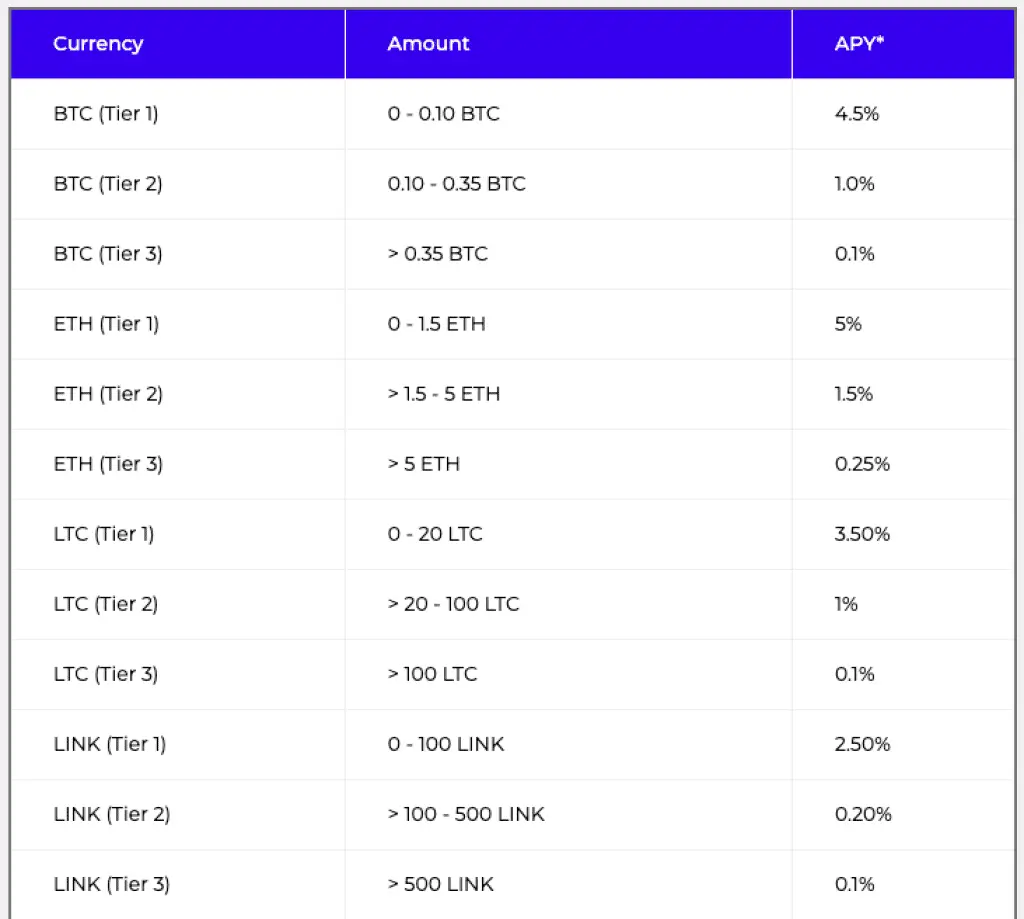 BlockFi also introduced;
Basic Attention Token (BAT) – Used as a unit of account between advertisers and publishers.
Multi-collateral Dai (DAI) – A stablecoin managed by the Maker Protocol and the MakerDAO decentralized autonomous organization. 
UniSwap (UNI) – ERC20 token issued by the UniSwap. UniSwap is a DEX that provides a highly decentralized financial infrastructure.
Check out the latest BlockFi rates on our Staking and Lending Rates page.
Loans: Borrow Against your Crypto Assets
Loans can be completed quickly with BlockFi, all done by collateralizing your crypto. Previously, if you wanted to free up some funds, you'd need to sell your crypto. However, you can simply use your Bitcoin, Ethereum or Litecoin as collateral to borrow funds.
BlockFi is not yet licensed to offer loans to residents in certain jurisdictions, which include the UK. However, they state they are working hard to make this available to their clients.


With BlockFi, you can borrow from $5,000. However, the limit you can borrow up to will depend on the amount of collateral you deposit. 
You can take a loan equal to (or up to) around 50% of the crypto collateral you deposit. In other words, if your collateral is $1,000, you can get a loan of up to $500. This is done to protect the system and just in case there was a crash in the value of the crypto, which is obviously very volatile.
Once you've got enough collateral, you'll also need to pay interest on that loan. This is for a minimum duration of approximately 12 months. If you want to pay a loan back early, there are no penalties, and you can do this anytime.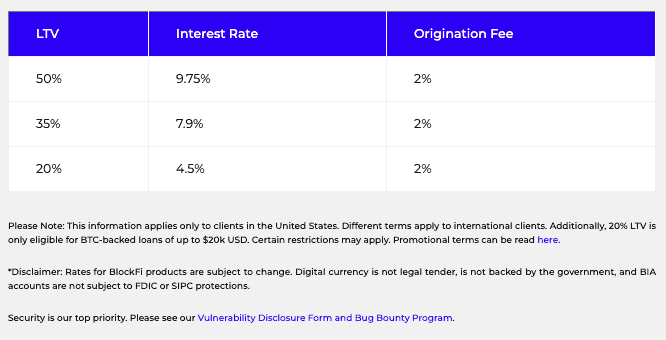 What Tokens Are Accepted as Collateral?
At the time of writing this BlockFi review, you can use the following assets as collateral; Bitcoin (BTC), Ether (ETH), Litecoin (LTC), and Pax Gold (PAXG).
Trading
With BlockFi trading, you can exchange and manage your crypto assets with the likes of BTC, ETH, LTC, USDC, USDT, GUSD, PAX, and PAXG. Trading is quick and easy, and you can start as soon as funds are deposited into your account.
The price that you see is the trade price, and there are no additional fees to pay. Plus, you'll continue earning interest when your trade goes through. Although this is a simple exchange method between cryptocurrencies, this will not be the cheapest option. This is because you'll be paying a premium for this convenience.


BlockFi Wallet
The BlockFi Wallet was released in January 2022 and provides users with an easy way to buy, sell, store and safeguard crypto on a trusted platform.
Unlike the BlockFi Wallet, it is not an interest-earning account. Instead, its focus is to be a way to safeguard and store your crypto with no hidden fees or minimum balance. It also includes offers for automatically generated tax documentation.
BlockFi Reward Card
BlockFi has a Bitcoin reward credit card, where you can get 1.5% cashback with every purchase. Although the card is not yet available for UK residents at the time of writing this article, users can join the waiting list.
The card is currently only available to US residents in qualified states.


Fees
With BlockFi, there are no fees for deposits or trading. However, there are some withdrawal fees and limits associated with your assets. To see a full list, please check out their Fees page.
Withdrawal Fees and Limits
You can withdraw your funds at any time. BlockFi currently offers one free crypto withdrawal per calendar month, depending on your crypto deposits.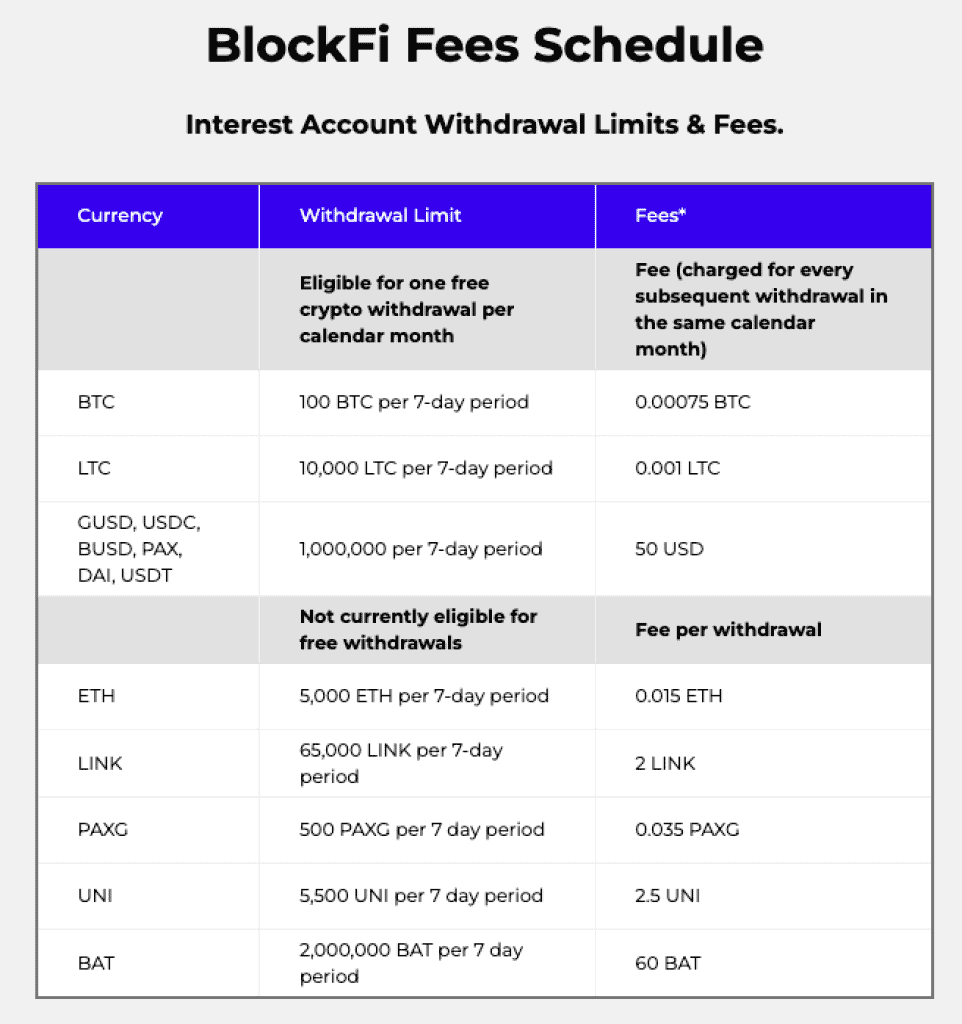 Is BlockFi Regulated?
BlockFi is not decentralized. However, it is still one of the most popular companies offering cryptocurrency-backed loans. They're registered with the U.S. Department of Treasury Financial Crimes Enforcement Network ("or FinCEN") as a money services business. 
BlockFi keeps reserves stored with the crypto custodian Gemini, a New York trust company regulated by NYDFS.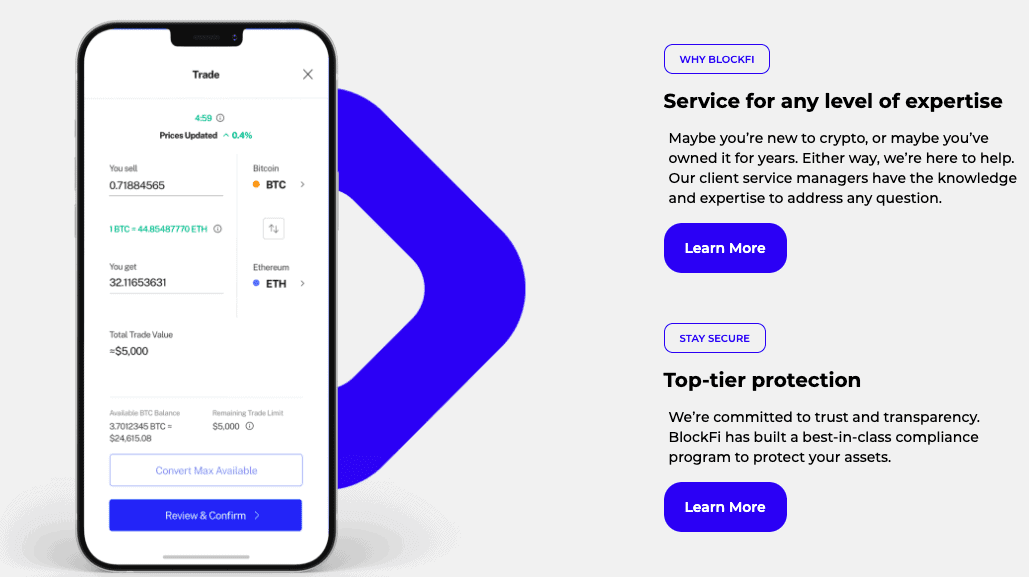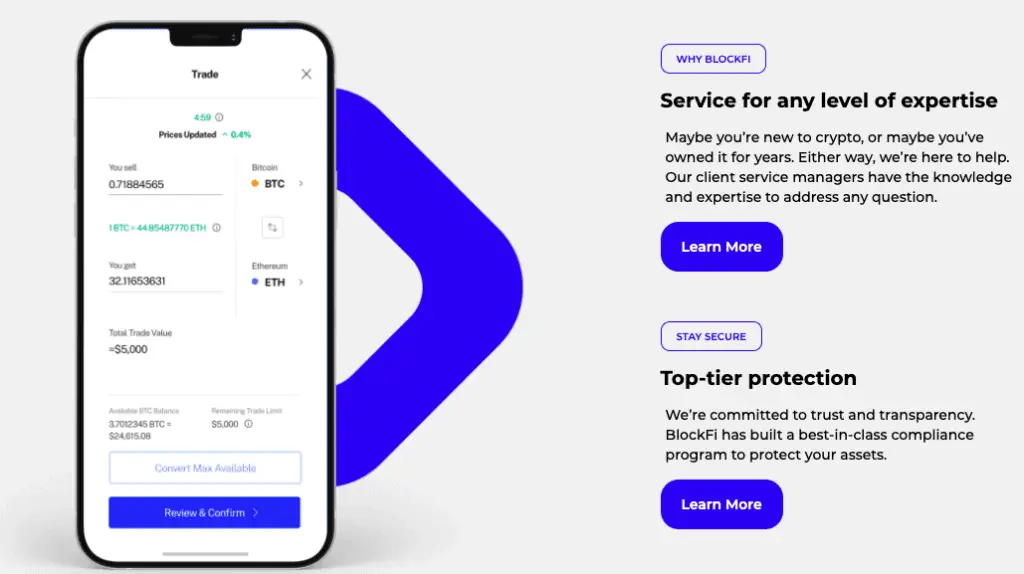 BlockFi Trust Pilot
As of January 2022, BlockFi has a TrustPilot score of 3.5 with 259 reviews. The majority of the negative reviews highlight issues with customer support. This could be a growth issue, with BlockFi unable to keep up with demand from more customers using their platform.
One issue we had, was not being able to log in to my account, which was very frustrating at the time. we contacted BlockFi via Twitter, and after some time, they did respond. I had to remove the App and download it again, resolving the issues.
BlockFi Hacked?
For full transparency in this BlockFi review, according to their incident report, BlockFi had a security breach. This occurred on May 14, 2020. During this time, a BlockFi employee's phone number was breached and utilized by an unauthorized third party. They did this to access a portion of BlockFi's encrypted back-office system, and this type of breach is commonly referred to as a SIM port.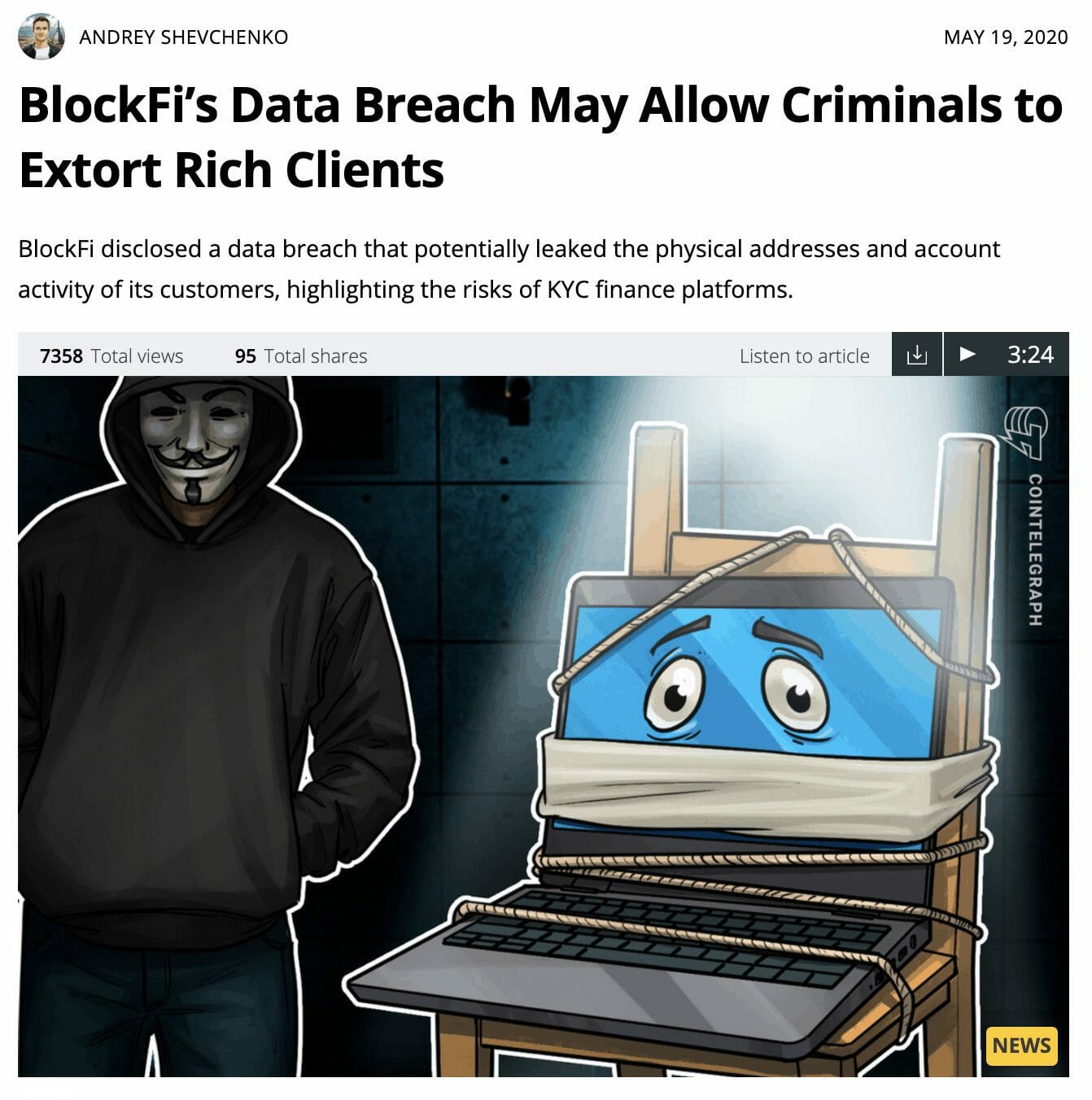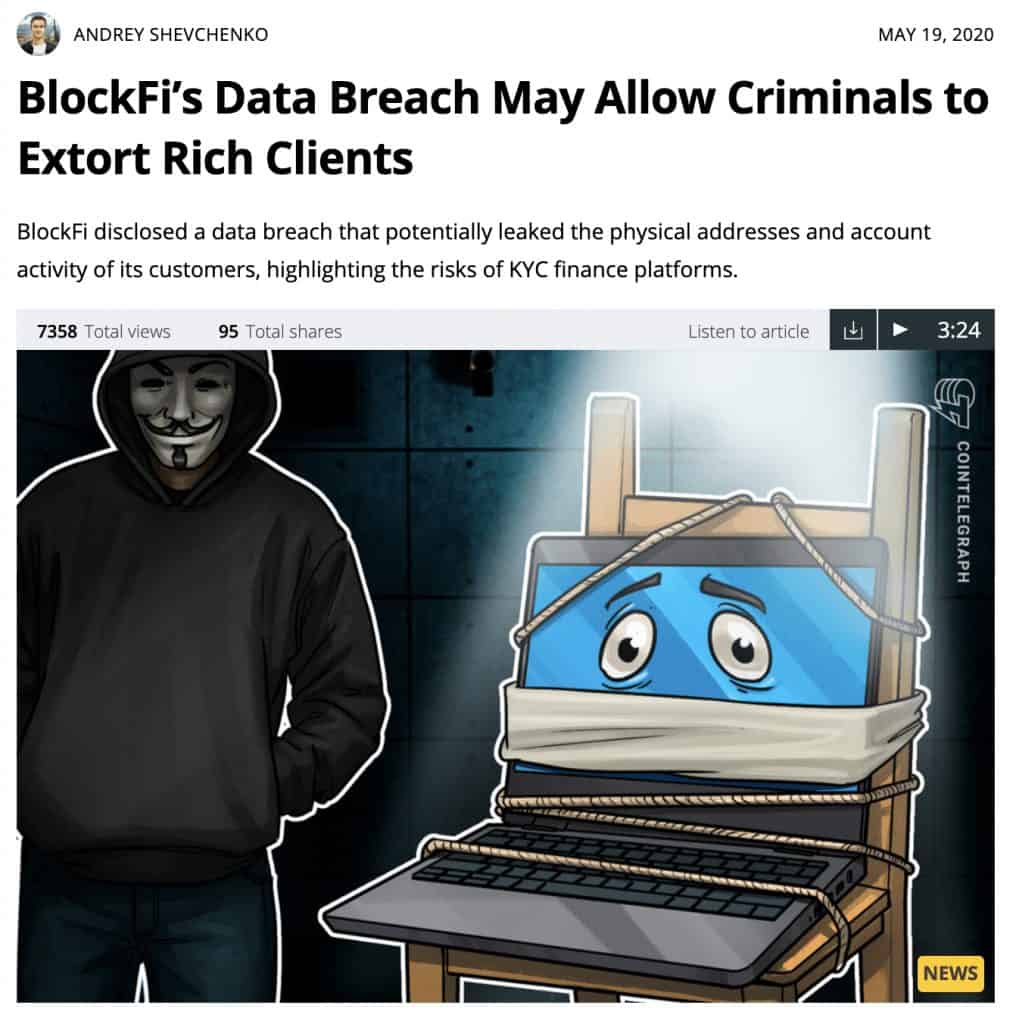 The perpetrator attempted to make unauthorized withdrawals of client funds using the BlockFi platform. However, he was unsuccessful in doing so. But they did manage to access BlockFi client information used for marketing purposes throughout this incident.
BlockFi has confirmed that no funds, passwords, social security numbers, tax identification numbers, passports, licenses, bank account information, or similar non-public identification information were exposed due to this incident.
Support
At the time of this BlockFi review, BlockFi currently has a help centre with a lot of valuable information and FAQs. This is handy for those wanting some immediate answers to their queries. You can also submit a ticket through their website. Or leave a message through their online chat facility in the bottom right of the screen.
Plus, you can keep up to date and learn how to get the most from BlockFi via their social links; Telegram, Twitter, LinkedIn, Facebook, etc.