In this Bitget Review for 2023, we take a deep dive into the popular Bitget crypto platform. We analyze the variety of features the platform has to offer. Plus, we review Bitget's security, fees, customer support, and pros and cons.
So, let's dive into this Bitget Review to help you work out whether the Bitget cryptocurrency exchange is the right platform for you.
Bitget Review: How to use Bitget to Trade Crypto?
What is Bitget?
Bitget is a cryptocurrency exchange that was launched in 2018 and has a motto "Better Trading, Better Life." The Bitget exchange is located in Singapore and offers a variety of trading options for its 2+ million users worldwide. These trading options include; spot and Futures trading, as well as copy trading and ways to earn and save.
In January 2022, Bitget trading platform was ranked in the top 3 crypto exchanges globally in terms of its daily average for future trading in volume. This was down to its Coin-Margin futures feature, achieving its highest volume of trading, at $7.82 billion.
The Bitget crypto exchange also has a range of partnerships and sponsorships, becoming Juventus´ official partner in September 2021 and the official partner of PGL in October 2021. Plus, they also went on to partner with the Turkish football club Galatasaray in 2022.
Plus, during the crypto winter in 2022, Bitget also prepared a protection fund for its users with a total of $200M.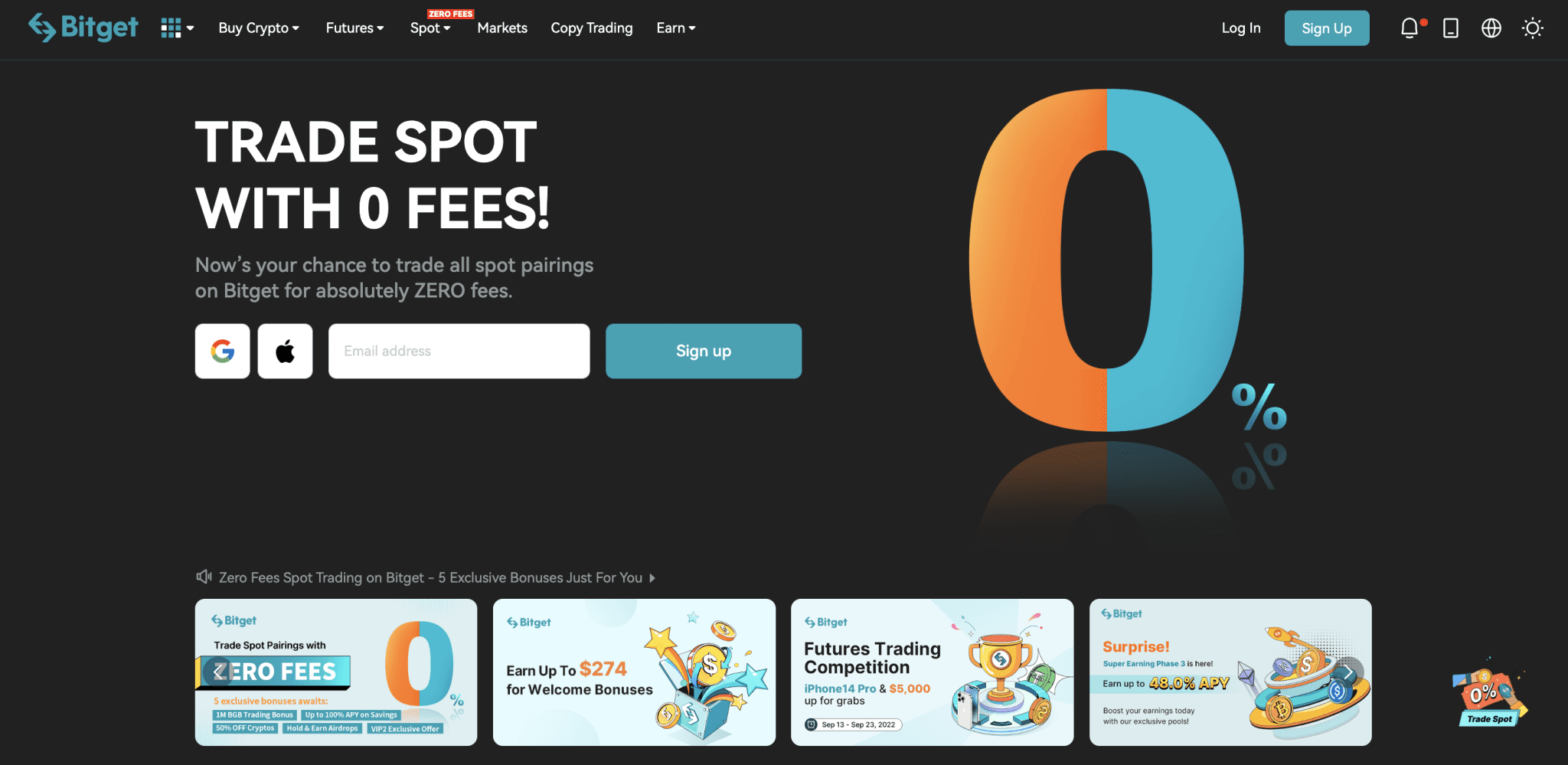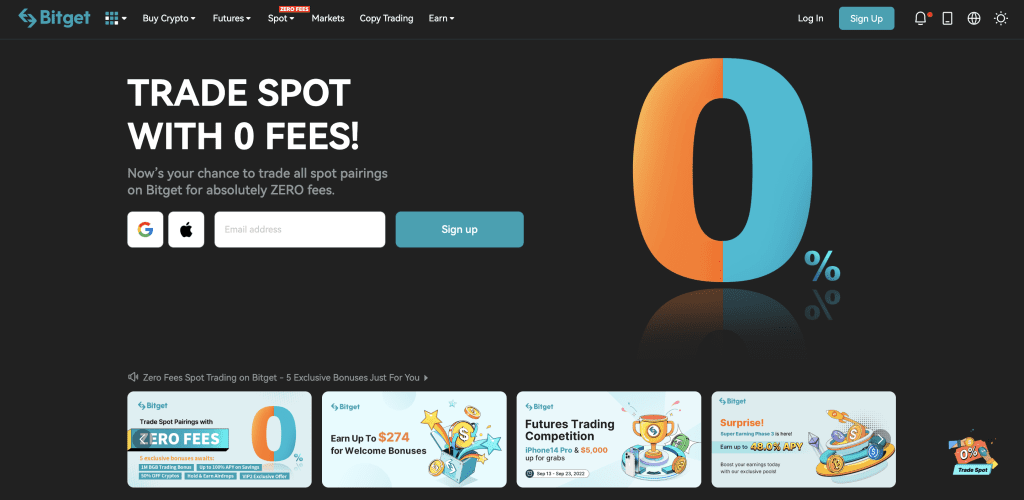 Bitget Pros & Cons
Bitget Features
There are an array of features available on the Bitget platform for beginners and also for seasoned crypto traders. These include numerous trading options, Bitget Earn to earn interest, as well as mirroring other experienced traders with Bitget Copy Trading.
Spot Trading
Bitget Spot Trading allows traders to trade 350+ spot pairs, including Bitcoin and Ethereum, with absolutely zero trading fees which is running until further notice.
Spot trading allows users to create buy and sell orders with order types such as market, limit and trigger orders. Although Bitget doesn't support FIAT markets, if you don't already hold some crypto to get started with, you can use their "Buy Crypto" options.
Futures
Bitget Futures allows experienced traders to trade with margin and engage in futures trading activities. Bitget offers futures settled in USDT, USDC and Coin-M futures which supports the likes of Bitcoin and Ethereum as universal margin.
Coin-M futures is more convenient, as you can use one coin as margin, to trade other contract pairs. In this way, you can save time transferring from one token to the other and continue to hold the token, without selling any, to trade for other contract pairs.
Bitget futures trading allows up to 125x leverage and take profit, stop loss and trailing stop functions are all supported.
Because leverage trading can be risky, demo trading accounts are available from BitGet, allowing users to try out strategies and practice with zero risk.
Copy Trade
Bitget Copy Trading is a way that traders can copy other successful crypto traders and their strategies for free, mirroring their trades and portfolio. With over 20,000 professional traders to copy, they offer one of the largest copy trading offerings.
Derivatives trading is for hedging and has high profit within a short time. However, it is risky if you're not a day trader or you don't have enough time to research the market. Although sometimes you can make some easy profit, other times maybe you'll lose them. So, Bitget copy trading has solved this pain point by attracting professional traders to become copy traders. Allowing beginners to follow their trades and get more profit than by trading alone.
Copy traders (on the contrary) get a 10% profit share from their followers as a reward or as a tool to increase their trading income. The data is also transparent. You can see the copy trader's win ratio, frequency of trading, and how much their copiers are earning from the platform. Helping users to choose which copy trader they'd like to follow.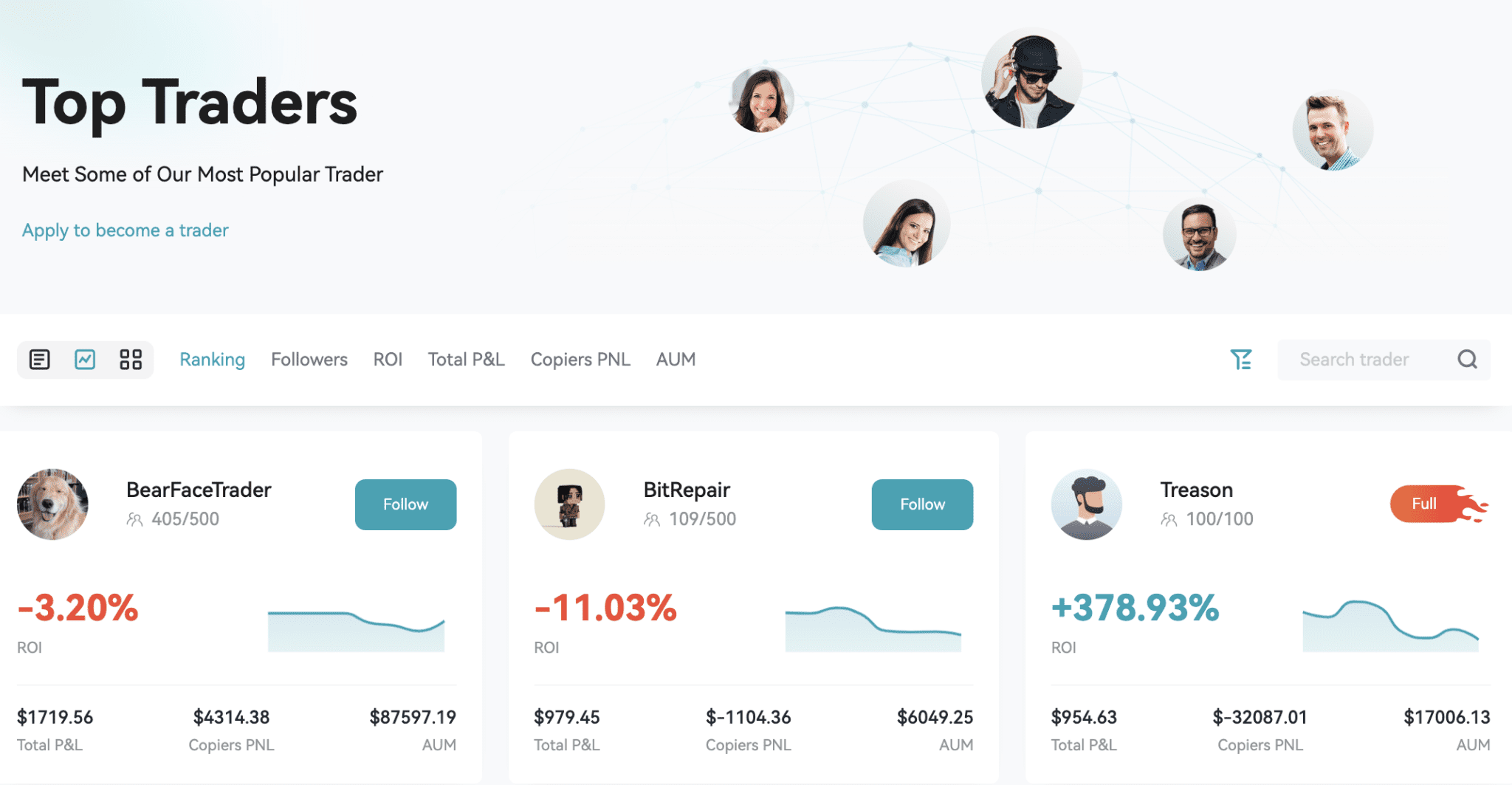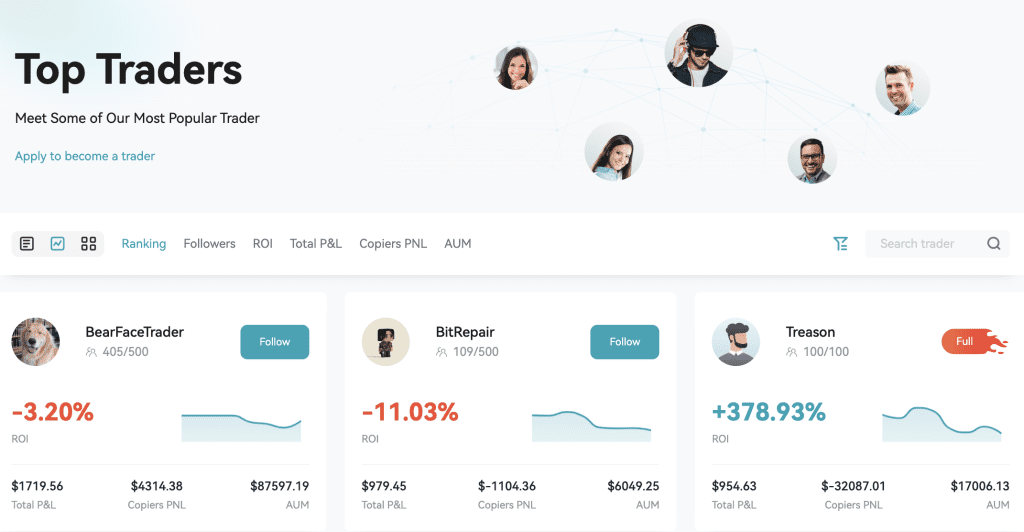 Bitget Earn
Bitget Earn allows users to earn daily interest on their crypto assets, with some limited rates as high as 100% APY. If you need flexibility, Bitget Flexible Earnings allow users to withdraw their crypto assets at any time, while earning passive income.
Users can also earn with the Bitget Launch Pool, where you can buy popular crypto tokens and stake them to earn rewards.


Bitget Mobile App
Bitget is available as a mobile app from the AppStore for ios and GooglePlay for android, so you can use Bitget and trade crypto on the go. The Bitget mobile user interface is clear and simple to use, and you can quickly and easily submit your orders to help to enable profits and help to protect against losses.
Other features available to traders on the Bitget mobile app include copy trading, strategic trading, the advanced trading interface, and BGB Earn.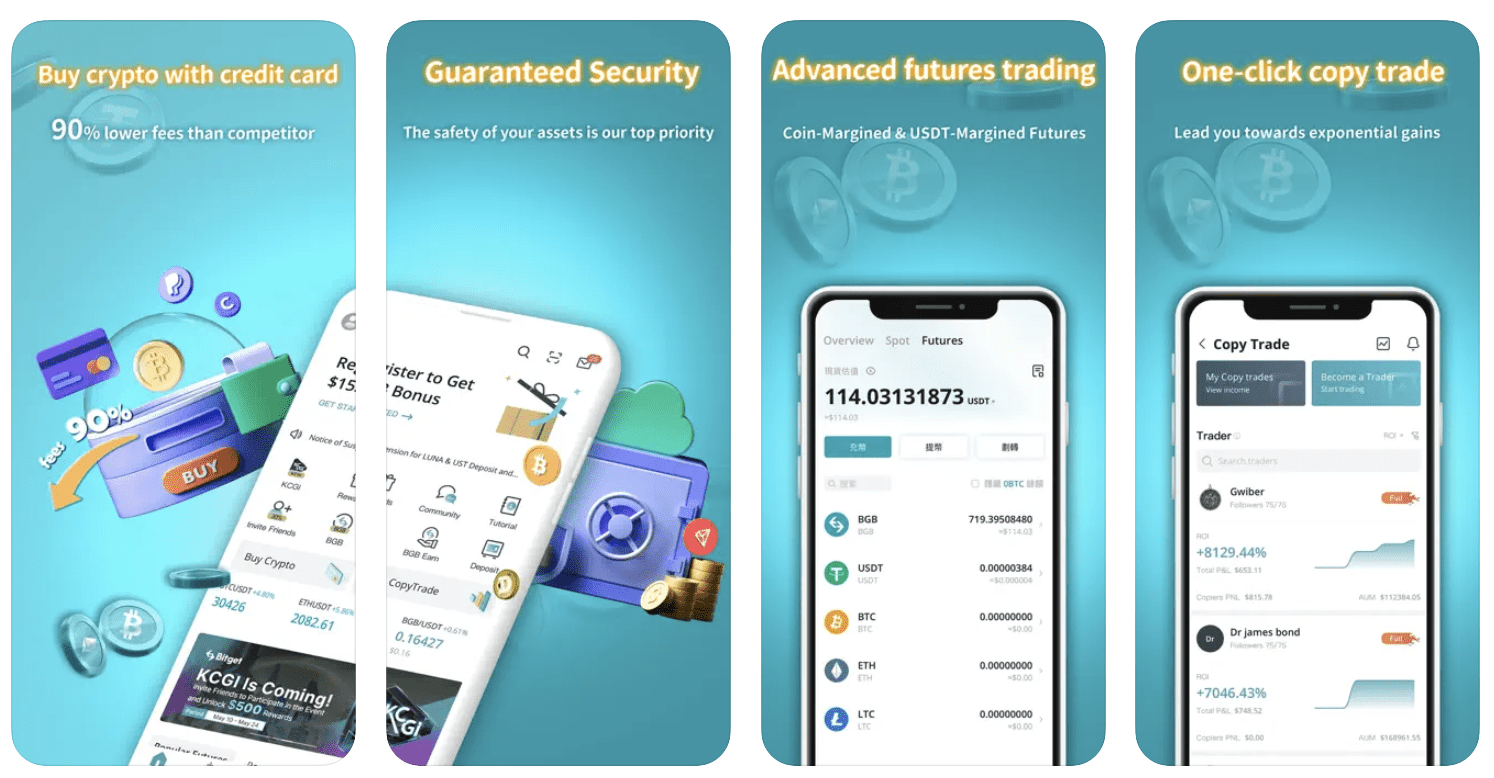 Bitget Buy Crypto
If you don't already have any crypto assets to start trading, Bitget has introduced several ways for buying cryptocurrency using different payment methods. These include buying crypto with fiat currency through third-party providers such as Banxa and Simplex.
These providers offer a way to purchase crypto assets with payment methods such as MasterCard, Visa, Apple Pay and Google Pay. The fees Banxa and Simplex charge are built into the purchase price that is shown on the screen.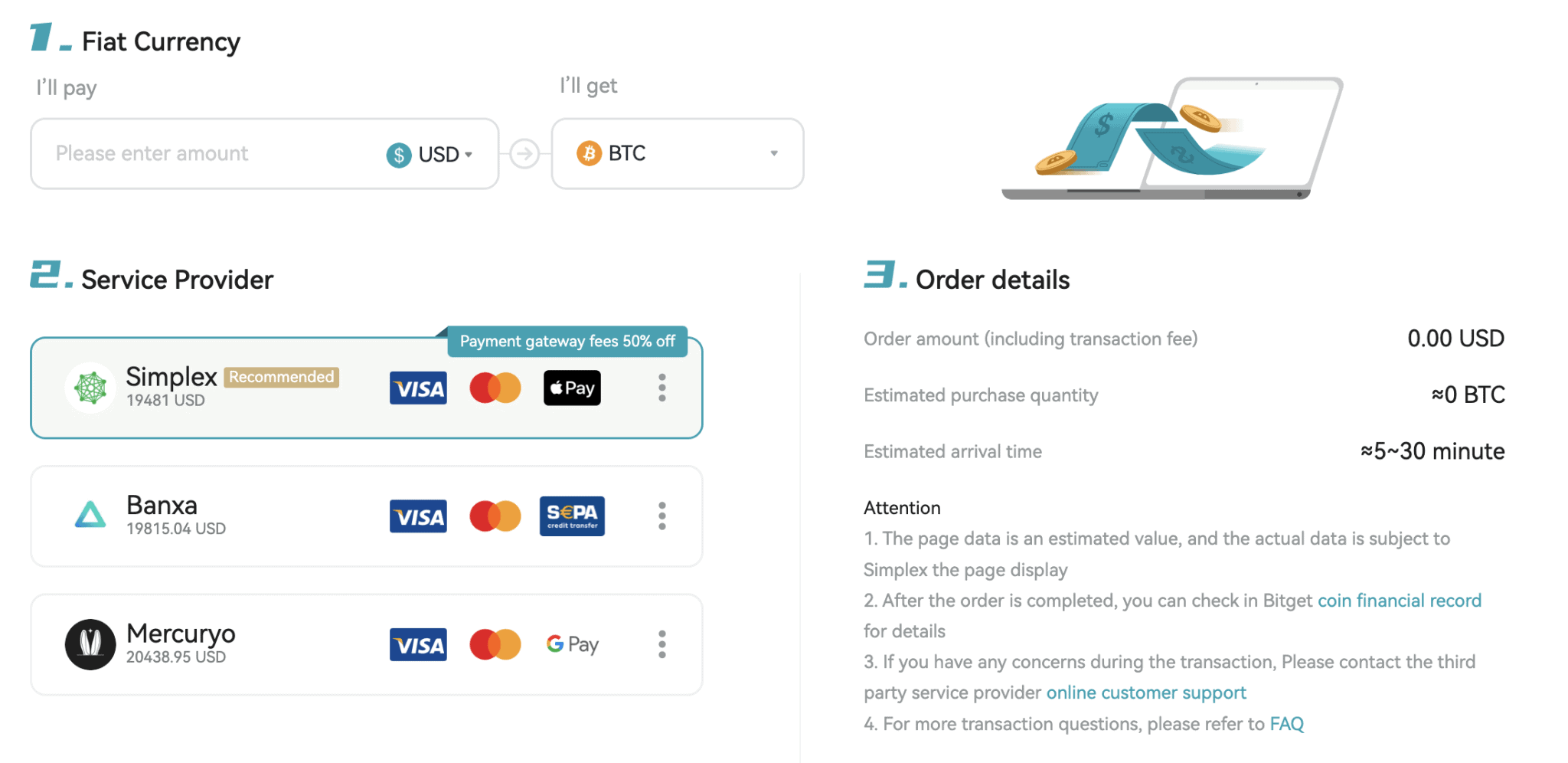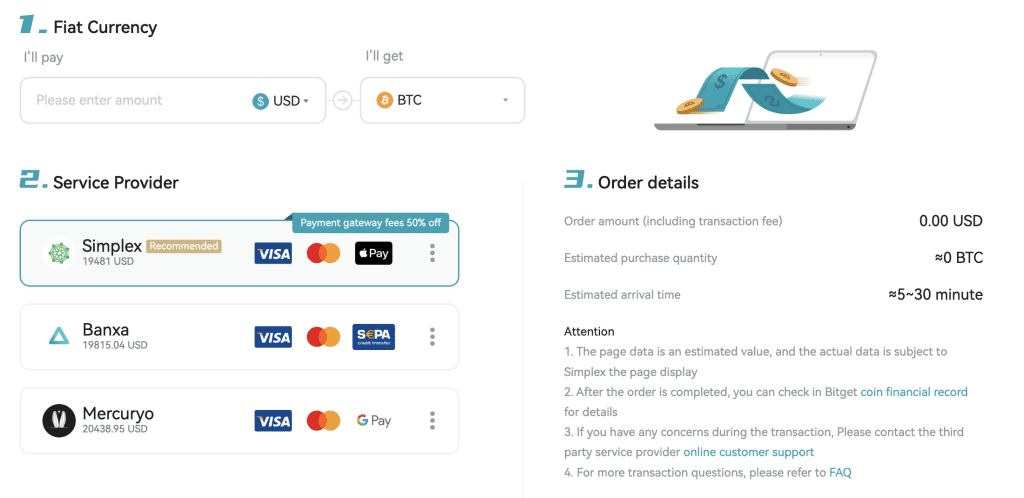 Bitget Supported Cryptocurrencies
Bitget currently supports over 350+ cryptocurrencies, which offers its users a lot of variety. These include popular crypto assets, such as Bitcoin (BTC), Ethereum (ETH) and Polkadot (DOT).
They also support an array of networks to help to reduce fees. These include (but are not limited to); Bitcoin, BEP20, Ethereum and the Tron Network.
Bitget Fees
Bitget offers incredibly low trading fees. In fact, at the time of writing this Bitget Review (September 2022), they are currently offering 0% spot trading fees with no end in sight. Previous to this offer, spot trading fees were based on Makers and Takers, with a taker fee at 0.1% and maker fees at 0.2%, which are still incredibly low fees.
Bitget fees can be reduced by holding their own native token, Bitget BGB Token.
Contract Fees
When trading contracts, maker fees are at 0.020%, and taker fees are at 0.060%, as you can see from their fee schedule.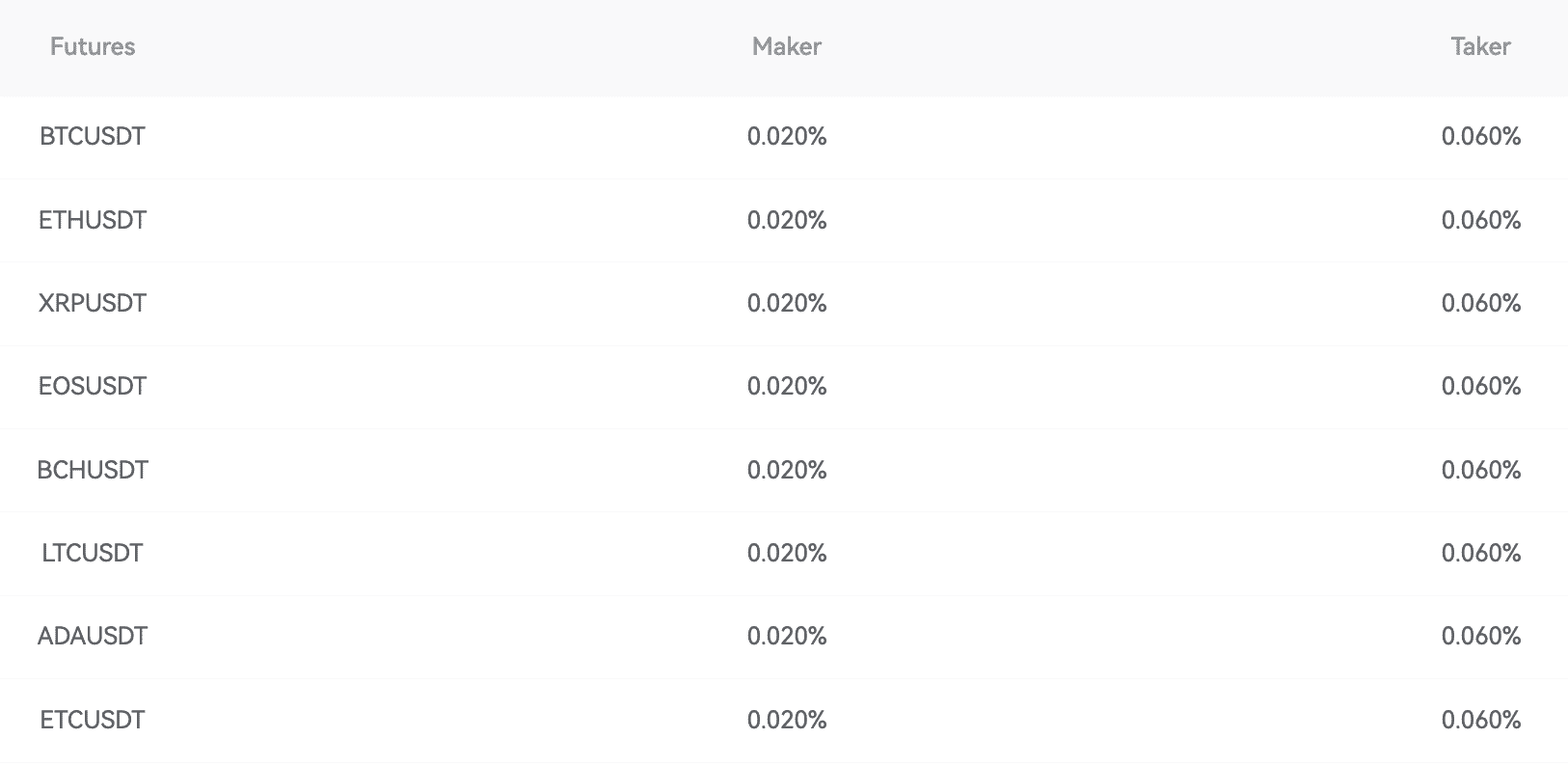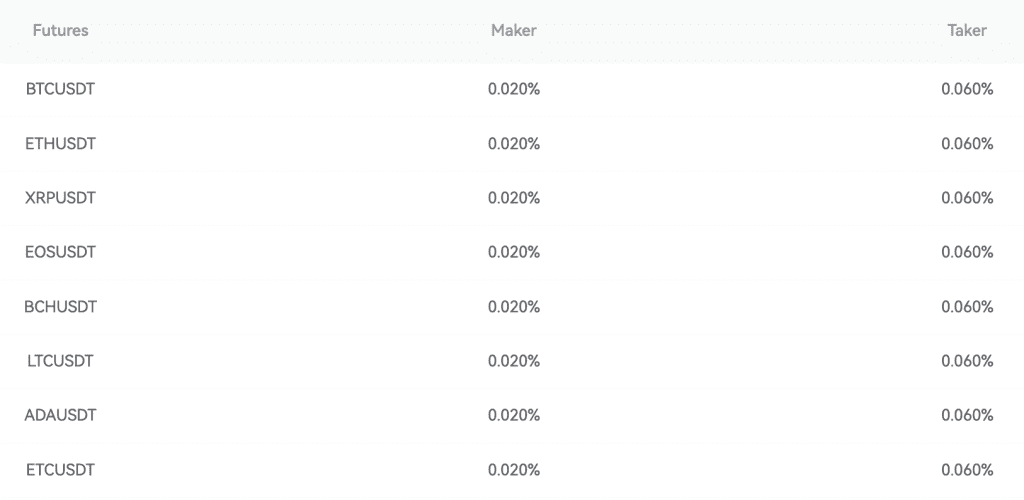 Withdrawal Fees
Bitget does not charge deposit fees. However, users will be charged withdrawal fees which are on a crypto by crypto basis. These can be largely reduced by choosing alternative networks where the fees may be lower. You can check out the full list of withdrawal fees here.


Bitget BGB Token
The Bitget crypto exchange has its own native token, BGB. These BGB tokens can be used by traders to receive a 20% discount on their Bitget trading fees. They also get a 15% discount on futures trading fees.
However, reduced fees are not the benefit of the BGB token. Users can also earn a yield on their BGB tokens by staking or locking them.
https://widgets.coingecko.com/coingecko-coin-ticker-widget.js
Bitget Sign-Up
At the time of writing this Bitget review, users who sign up for Bitget receive a welcome bonus with rewards of up to $4,163 by using our referral link or referral code: h71y and completing some tasks.
KYC & Account Verification
To sign-up for Bitget exchange, you must register and create a Bitget account. You can do this by registering a phone or e-mail address and a strong, secure password.
KYC (Know Your Customer) is not mandatory for trading on Bitget Exchange. However, you will need to complete KYC for actions such as purchasing crypto with fiat currencies, copy trading, using Bitget earn or withdrawing an amount of more than 20 BTC. Non-certified accounts can only transfer and deposit cryptocurrency up to 30 times per month.
Bitget Referral Code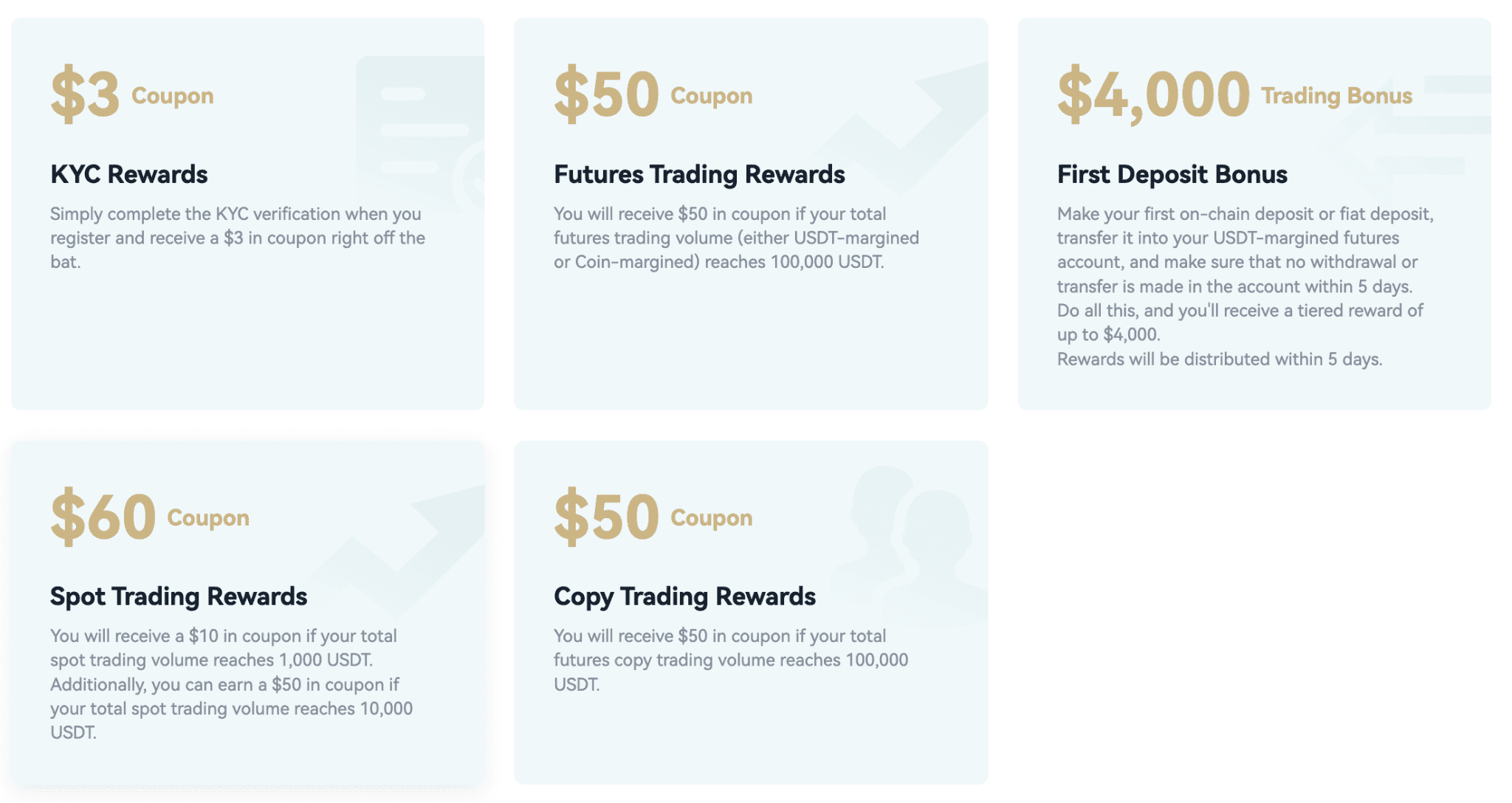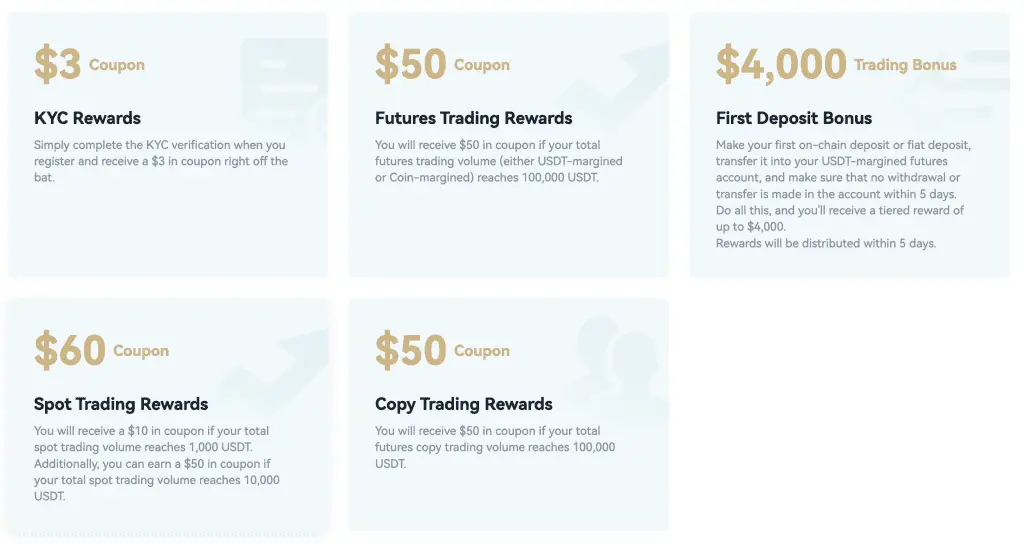 Bitget Security
Bitget is a licensed crypto exchange platform with multiple licenses worldwide that ticks the most crucial boxes. Plus, they follow industry best practices by retaining most of the money stored offline in the Cold Wallet. Unfortunately, they don't reveal what percentage of the funds remain in cold storage.
The Bitget platform also provides many different methods of two-factor authentication so that users can secure their accounts using the likes of Google Authenticator for actions such as deposits and withdrawals.
Bitget Protection Fund
During the recent downturn of 2022, a lot of crypto exchanges became bankrupt, and many users lost their assets. However, Bitget has prepared a protection fund for its users.
The Bitget Protection Fund includes 6,000 Bitcoin and 80 million USDT, worth approximately $200 million at the time of this Bitget review. The crypto exchange has stated that they will secure the value of the fund for the next three years.


Bitget Support
Bitget offers its users 24/7 multilingual online customer support. VIP customers receive one on one customer support and rewards centres dedicated to the community.
Customers looking for support can contact Bitget via the live chat service available on their website. Or by using their dedicated support email address: support@bitget.com. You can also find a comprehensive FAQ section and various video tutorials and guides.
Verdict: Should you use Bitget Exchange?
Bitget offers a wide range of trading options, suitable for beginners to seasoned investors. They also provide users with demo trading accounts, so they can understand how to trade the likes of Futures without putting any money at risk.
Although no FIAT markets are available, they offer simple purchasing options for buying cryptocurrency with credit or debit cards, but these will come with inflated fees. Bitget is currently offering 0% on Spot Trading fees helping frequent traders to save money. Plus, if you hold their BGB token, you can also save on trading Futures.
Another major attraction is the Bitget signup bonus with a welcome bonus of up to $4,163.
We hope you found this Bitget Review useful; if you're new to Bitget, you can sign up here. If you have already tried Bitget Exchange, let us know what you think in the comments below.
FAQs
Is Bitget Trusted?
Yes, we would deem Bitget as a trusted exchange. Users' assets are secured in segregated hot and cold wallets. Plus they also hold regulatory licenses in Australia, Canada and the US.
Is Bitget Regulated?
Yes, Bitget is a regulatory-compliant exchange and holds licenses in Australia, Canada, and the US.
Is Bitget Available in the US?
Yes, Bitget is available in the US and is regulated by FinCEN.
How Long Has Bitget Been Around?
Bitget was founded in 2018, and now provides services to more than 2 million users in 50 countries worldwide.
Related Posts