Amazon has become integral to many people's lives, offering many services beyond just product purchases. From Amazon Prime to Kindle Unlimited, Amazon provides many subscription-based services tailored to enhance the user experience. However, one may wish to discontinue service, leading to the question: How To Cancel Amazon Subscription?
This article is designed to guide you through the cancellation process, ensuring you can easily and effectively terminate any Amazon subscription you no longer require. Whether it's to save money, switch to a different service, or any other reason, understanding the steps and implications of cancellation is crucial. Join us as we walk you through the ins and outs of ending your Amazon subscriptions.
How to Cancel Amazon Subscriptions


What is an Amazon Subscription?
An Amazon subscription is a recurring service provided by Amazon which offers various benefits and features. These subscriptions enhance the shopping and entertainment experience for members.
For instance, Amazon Prime is a popular subscription that provides free and fast shipping on eligible items, access to streaming services like Prime Video, and exclusive deals and discounts. Other subscriptions include Amazon Music, which offers unlimited streaming of millions of songs, and Amazon Kindle Unlimited, which provides access to a vast library of ebooks.
Subscriptions like Amazon Prime have become increasingly popular due to their convenience and value. With a membership, customers can save time and money on their online shopping, enjoy a range of entertainment options, and have access to exclusive perks and benefits.
Types of Amazon Subscriptions
Amazon provides a few different subscriptions, from the sought-after benefits of Amazon Prime Membership to the convenience of Subscribe & Save and the endless reading possibilities of Kindle Unlimited.
1. Amazon Prime Membership
Amazon Prime membership provides exclusive perks and benefits, including fast and free shipping on eligible items, many qualifying for next-day or same-day delivery.
Members also have access to Prime Video, where they can stream thousands of movies, TV shows, and Amazon Originals on Amazon Fires Stick. Prime members can enjoy ad-free music streaming on Prime Music and unlimited photo storage with Prime Photos.
In addition, members receive early access to exclusive deals and discounts on Amazon's Prime Day and other special events.
Amazon Prime membership costs around £8.99 per month or £95 per year, with a 30-day free trial. If you decide to cancel, you can easily do so in your account settings.
It's important to note that cancelling your Prime membership will result in losing all associated benefits.


2. Amazon Subscribe & Save
Amazon Subscribe & Save is a service which enables customers to save money on regular purchases. Customers can receive up to a 15% discount by subscribing to eligible products. They have the option to choose the frequency of product deliveries, whether it is on a monthly or a bi-monthly basis.
Joining Subscribe & Save is free, and customers can cancel their subscriptions anytime. Subscribing to essential household items, pet supplies, or baby care products is convenient and cost-effective. To subscribe to a product, simply select the Subscribe & Save option on the product page and indicate the desired quantity and delivery frequency.
Customers can manage their subscriptions, skip deliveries, or change the delivery address through their Amazon account. Subscribe & Save also provides email notifications before each delivery, allowing customers to make any necessary changes. It is worth noting that the discount applies to both the initial order and future orders with five or more subscriptions.


3. Amazon Kindle Unlimited
Amazon Kindle Unlimited is a fantastic option for anyone who loves to read. This Amazon subscription service offers access to a vast library of e-books, audiobooks, and magazines. Whether you prefer reading on a Kindle device or through the Kindle app, you'll have a choice of over a million titles, including bestsellers and popular series. The best part is that you can borrow up to 10 books at a time and keep them for as long as you want without any deadlines or overdue fees.
In addition to e-books, Kindle Unlimited provides a wide selection of popular magazines and thousands of audiobooks, giving you a diverse range of content to enjoy. For around £7.99 per month, you get unlimited access to the entire library, making it an excellent value for avid readers who want plenty of options.
With Kindle Unlimited, you can develop a regular reading routine, explore new authors and genres, and delve into exciting series without buying individual books. Whether you're into fiction, non-fiction, or want to immerse yourself in a new series, Kindle Unlimited caters to everyone's needs. So why wait? Dive into the world of unlimited reading possibilities with Kindle Unlimited today.


How to Cancel Amazon Subscriptions?
Looking to end and cancel your Amazon subscription? In this guide, we'll walk you through exactly how to cancel Amazon subscriptions. From cancelling Amazon Prime Membership, ending your Subscribe & Save service, and even cancelling your Kindle Unlimited subscription. Say goodbye to unwanted charges and learn the step-by-step process to cancel each Amazon subscription hassle-free.
1. How to Cancel Amazon Prime Membership
Cancelling Prime Membership on Amazon is a simple process you can easily follow. Just follow these steps:
Go to Amazon and login to your account.
In the top right corner, click on "Account & Lists".
From the drop-down menu, select "Your Prime Membership".
On the Prime Membership page, you will see all the information about your membership and its benefits.
Click on the option "End Membership and Benefits" option.
Amazon will then guide you through the cancellation process, asking for confirmation and providing additional details.
Follow the instructions displayed on the screen and complete the cancellation process.
Once the cancellation is confirmed, you will receive an email verifying that your Prime membership has been cancelled.

Please remember that you may not be eligible for a full refund if you have already used any Prime benefits. Amazon calculates refunds proportionally based on your membership usage.
If you are considering cancelling Prime, it might be worth exploring other subscription options that Amazon offers, such as Subscribe & Save or Kindle Unlimited. These alternatives provide different benefits.
Before you finalize your decision to cancel, please take a moment to review it and make sure it aligns with your preferences and current situation.
2. How to Cancel Amazon Subscribe & Save
To cancel a Subscribe & Save subscription on Amazon, please follow these steps:
Visit the Amazon website and log in.
Hover your cursor over "Account & Lists" in the navigation bar.
Click on "Your Subscribe & Save Items" from the dropdown menu.
Locate the subscription you wish to cancel and click "Manage Subscription."
On the subscription details page, click on "Cancel Subscription."
A pop-up window will appear, asking you to confirm the cancellation. Click on "Confirm."
After cancelling the subscription, you will receive a confirmation email from Amazon.
To ensure a successful cancellation, please check the cancellation deadline for each item in your subscription. Some things may have a specific date by which they need to be cancelled to avoid charges and receiving the item.
In addition to cancellation, you can modify your Subscribe & Save subscription. You can change your subscribed items' delivery frequency, quantity, or address. We recommend reviewing your subscription details periodically to manage your subscriptions and avoid any unexpected charges effectively.
3. How to Cancel Amazon Kindle Unlimited
To cancel Kindle Unlimited, please follow these steps:
Log in to your Amazon account.
Go to the "Manage Your Content and Devices" page.
Click the "Edit" button under the "Your Kindle Unlimited" section.
Select "Cancel Kindle Unlimited Membership."
Follow the instructions to confirm the cancellation.
Once you have cancelled, you will no longer have access to the Kindle Unlimited library and will not be charged for the subscription.
4. How to Cancel Amazon Subscriptions on Mobile
Follow the below steps to cancel Amazon subscriptions via your smartphone effortlessly:
Launch the Amazon app.
Click on the user profile icon (positioned between the cart and home symbols).
Select 'Your Account'.
Identify and select the subscription you're looking to end.
Click on 'Manage Membership'.
Navigate to 'Manage', then choose 'End Membership'.
Finalize by confirming the cancellation.
Cancelling Amazon subscriptions for tangible products halts all upcoming orders, shipments, and related charges to your account. But remember, if a shipment is already in progress, that specific order will still be sent. Cancelling a subscription doesn't mean immediate cessation of shipments in transit.
For digital services, like streaming subscriptions, your accessibility generally ceases after the last billing cycle you've funded. No further charges apply after this period, and service access is revoked.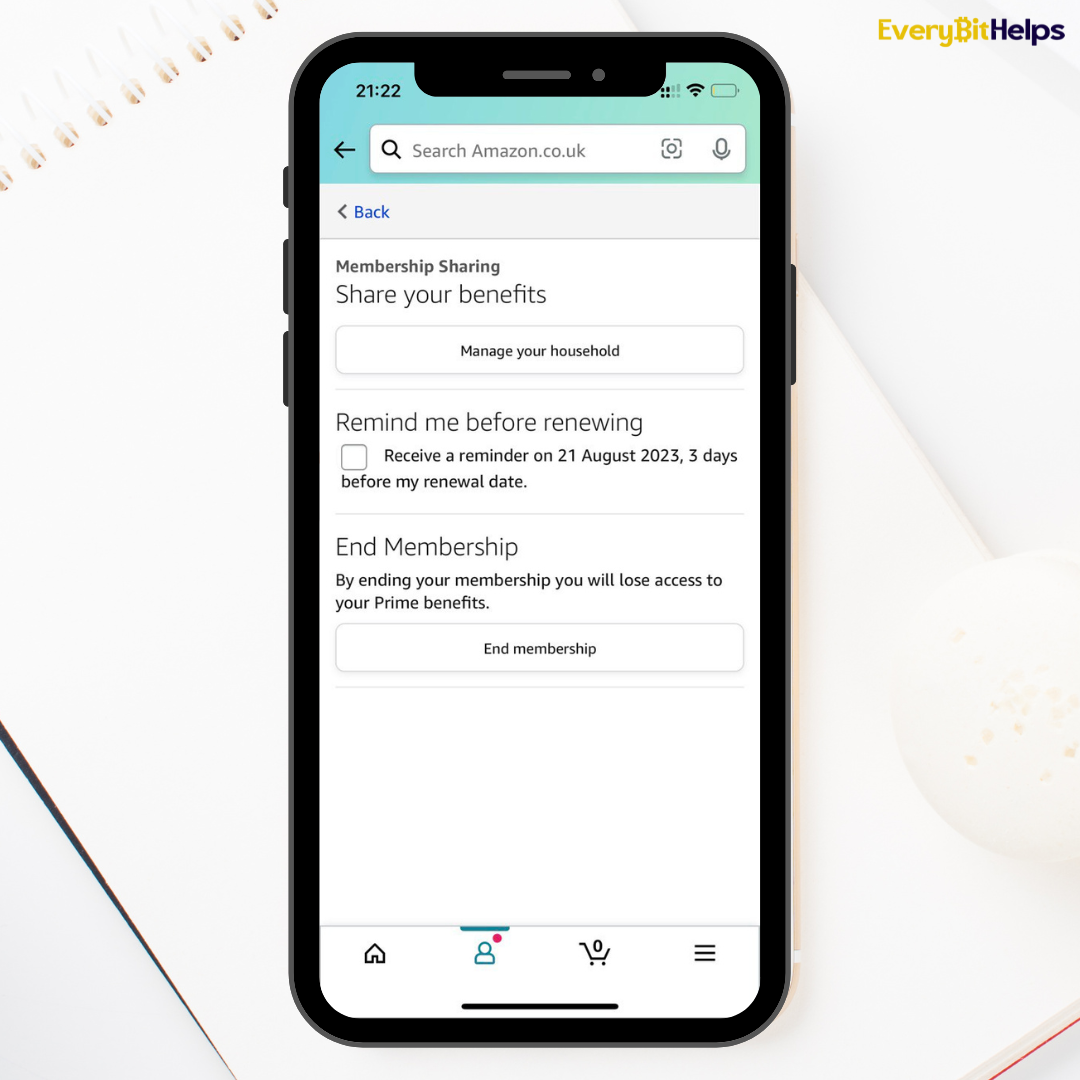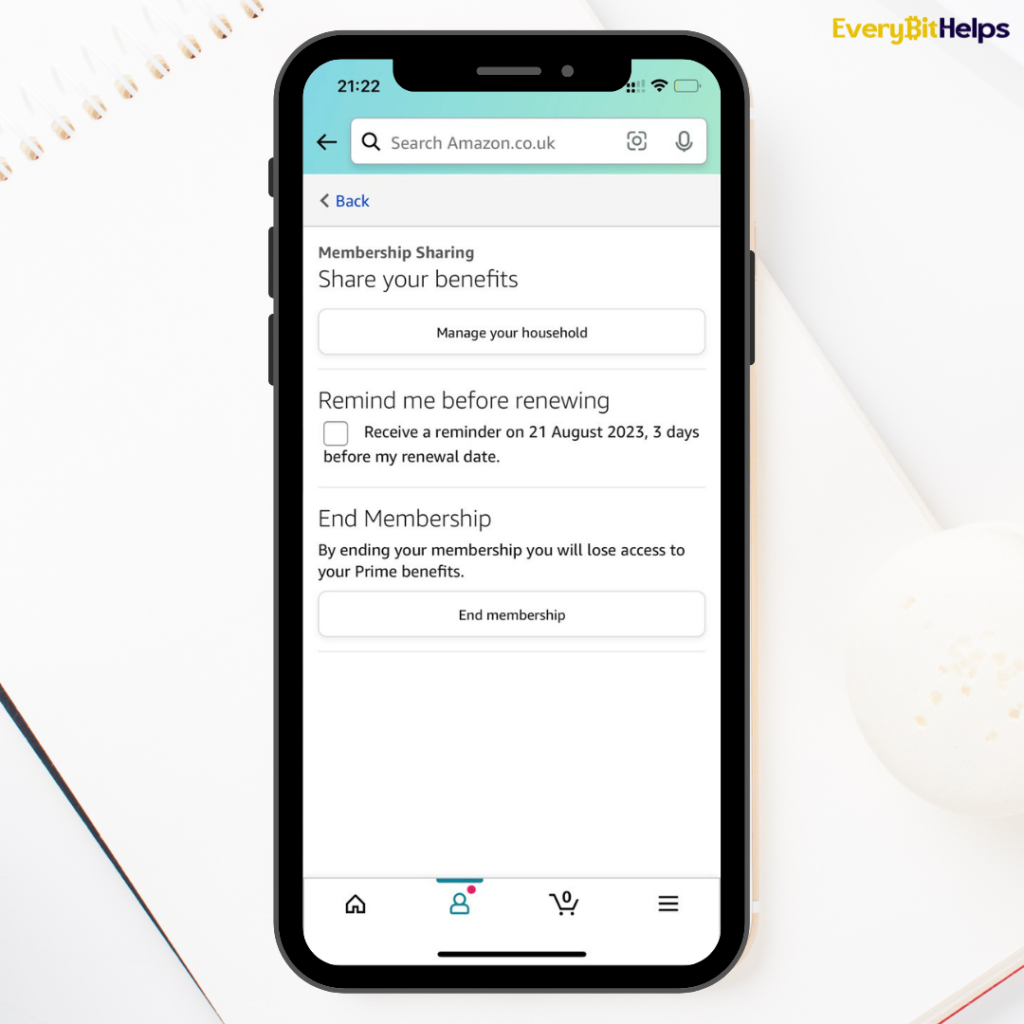 Reasons to Cancel Amazon Subscriptions
While Amazon offers a myriad of beneficial subscription services, there are valid reasons individuals might consider discontinuing their subscriptions. Here are some compelling reasons why one might choose to terminate their Amazon subscriptions:
Support for Labour Rights: Concerns surrounding Amazon's labour practices have led some to reevaluate their patronage. By reducing their reliance on Amazon services, individuals can make a stand for better treatment of workers and ethical business practices.
Environmental Considerations: The delivery of physical goods can leave an environmental mark, mainly due to the packaging waste and carbon emissions associated with transportation. Opting out of subscriptions for tangible goods can be a conscious decision to lessen one's environmental impact.
Financial Prudence: Over time, the costs of recurring subscriptions can add up, particularly if product prices escalate. Cancelling non-essential subscriptions can be a strategic move to keep expenses in check.
Evolving Preferences: As life becomes, so do our preferences and needs. A product or service that was once deemed indispensable might now be redundant. Regularly assessing and adjusting subscriptions can ensure you only pay for what you genuinely need or enjoy.
Can You Get a Refund After Cancelling?
After cancelling an Amazon subscription, you may wonder if you can get a refund. Amazon's terms and conditions will determine the refund amount and your specific subscription type. Typically, Amazon will reimburse you for any unused portion of the subscription.
To receive the reimbursement, you must contact Amazon's customer support and provide them with the necessary information. It's important to note that certain subscriptions, like annual memberships or service packages, may not be eligible for a refund.
The exact reimbursement amount can vary depending on the duration of the subscription and any associated fees. We recommend reviewing the subscription agreement or contacting Amazon directly to learn more about their refund policy.
Frequently Asked Questions
How do I cancel a subscription that is billed through my Amazon account?
To cancel a subscription purchased through Subscribe with Amazon, follow these steps:
1. Ensure that you are logged into the Amazon account associated with the subscription.
2. Find the subscription you want to cancel and click "Manage Subscription."
3. Look for the link under "Advance Controls" and click on it to go to the main subscription page.
4. On the main subscription page, you can terminate your subscription.
5. If you have questions or need further assistance with subscriptions billed through Amazon, you can visit their customer support centre.
Can being a Prime member save me money?
Being a Prime member can save you money. Members saved over $1.7 billion worldwide during Prime Day 2022. Prime offers free delivery, early access to discounts, and access to entertainment at no extra cost.
What are the benefits of Prime membership besides entertainment?
In addition to entertainment options, Prime members can access incredible savings and deals events, such as Prime Day and Prime Early Access. Students with a Prime membership receive a 50% discount on membership fees and other student-only deals. Prime members also benefit from fast and free delivery on millions of items, with one-day and same-day delivery options.