In the latest version of Brave's desktop update (version 1.8), Brave Browser has now released the Binance widget into its privacy-based browser. 
After announcing their intended partnership and integration back at the end of March 2020, Binance and Brave enthusiasts were only previously able to preview a version of the widget. 
However, from May 2020, the Binance widget is now easily accessible from within Brave Browser. Meaning that millions of users can now seamlessly trade and manage crypto without ever having to leave their browser. 
How to Trade Crypto with Brave Binance Widget?

Brave Browser New Binance Widget
Brave has grown rapidly in popularity with over 13.5 million active users, and Binance is the world's largest cryptocurrency exchange by Trading volume and users. Integrating the two platforms should be mutually beneficial to both companies with the hope that more Binance users will adopt Brave Browser and Brave users will sign up for the Binance Trading platform.
This widget is available for both Binance and BInance.US users, although US-based users may not yet be able to buy using the widget, which is due to be released soon.

How to Update Brave Browser
To get access to the Binance Widget, you'll need to update your browser to the latest version 1.8. If you're unsure which version of Brave, you are currently using.
Launch Brave and in the top right-hand corner of the screen, select the "Settings" or burger menu.
Select "About Brave".
Here, you can check which version you're running in the bottom left, and it'll also check for the latest version, which you "Update" and "Relaunch Brave".
Or you may be automatically prompted to install the latest update like this, and where you can go ahead and follow the screens to update and relaunch.


How to Connect Binance Widget to Brave Browser
Once your browser has been updated to the latest version, the Binance widget can be found by creating a "New Tab" and is then visible on the right-hand side of your Brave desktop browser.
To connect your Binance Widget to Brave, click on the Binance widget and click on "Connect".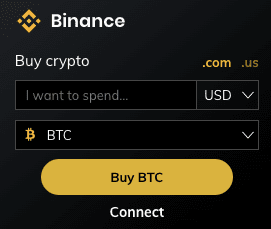 You'll then be prompted to "Sign in to Binance login to continue with your Brave Browser", and at this point, you'll need to enter your Binance username/email address and password.
It then provides you with some information in relation to what the brave browser will be able to do. Then, if you're happy with that, you can log in to connect.
Then once you're signed in, you'll all be set to start using the widget.
Binance Widget Tabs
There are several tabs that you can use within the widget; these include "Summary", "Deposit", "Convert", and "Buy". However, please note that US users are currently unable to use the "Buy" option, although this is set to be released soon.
Summary
The summary is the first tab you will see on the widget, and this shows a list of your asset balances from within your Binance account. This may automatically be set to not be visible when the Widget is first launched but can be made visible by clicking on the eye icon.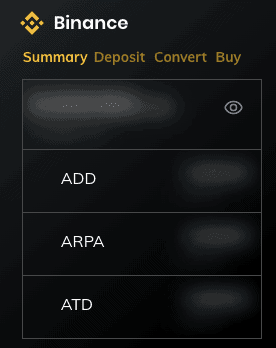 Deposit
The Deposit tab will show your deposit addresses, including your QR codes and the functionality to be able to "Copy" the deposit address so that you can send funds to your account.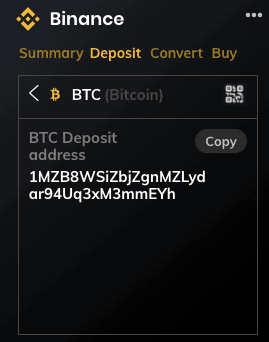 Convert
With the convert tab, you can easily convert from 1 crypto to another. Simply by selecting these assets from the drop-down available. You can preview your conversion, which is valid for 30 seconds. This will show your related fees for converting your crypto, and you can "Confirm" when you're happy.
Once your conversion is complete, the Binance widget will then reflect the new balance in the summary tab soon after the conversion has been completed.
Buy
Within Buy, you can buy any crypto that's available from the dropdown in your chosen currency. 
When you proceed to buy your crypto, it will take you to Binance.com to complete the transaction.
Binance Widget Settings
Within the widget, there is a settings menu which can be found under the icon with the 3 vertical dots in the top right of your widget. This is where you can Hide Binance so that it no longer appears within Brave, you can refresh the data shown, or you can disconnect your Binance account.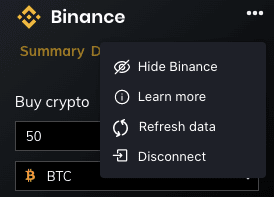 How to Disconnect Your Binance Account from Brave
If you want to Disconnect your Binance account from the widget and erase the widget settings, it will not affect your Binance account. It just means that the brave browser can not interact with your account again until you reconnect it.
Then if you want to use it again, you'll need to reconnect.
Download Brave Browser