In this Bit.com Review for 2023, we take a deep dive into Bit.com. We analyze the variety of features the platform has to offer. Plus, we take a look at their security, regulations, fees, support, pros and cons.
Bit.com is one of the fastest-growing digital asset financial services platforms. Offering a wide range of crypto financial products, including futures and options, earn as well as their mobile app.
So, let's dive into this Bit.com Review, to help you work out whether Bit.com is the right platform for you.
Bit.com Review: How to Use Bit.com?

What is Bit.com?
Bit.com is a cryptocurrency exchange that launched in August 2020 with headquarters in Singapore. The company's chairman Jihan Wu co-founded Bitmain and Matrixport. Matrixport is one of the world's most trusted cryptocurrency platforms with over $10 billion in total assets under custody and management. Whereas, Bitmain is a well-known manufacturer of ASIC mining devices.
With Bit.com you can trade a wide range of complex crypto financial instruments, including futures and options products, accessible via mobile, web, and API. Currently, Bit.com is the second-largest in the BTC and ETH options market.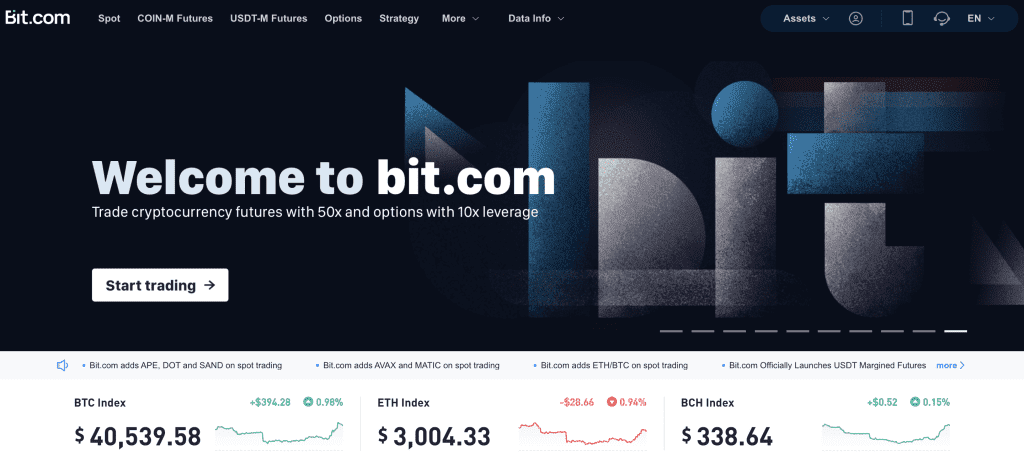 Bit.com Features
Bit.com has a variety of features, available for desktop or mobile traders. Users can earn interest on their crypto, trade with leverage and use unified margin accounts.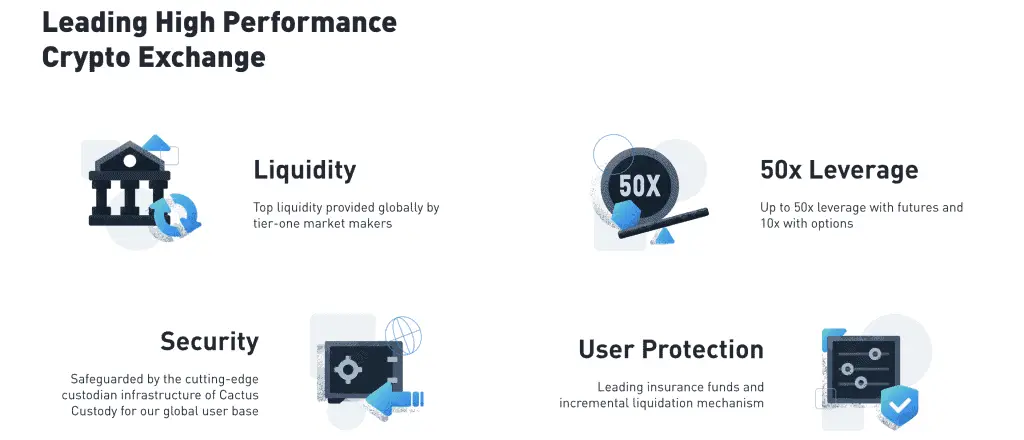 Bit.com Mobile App
Bit.com is available as a web platform or mobile app. With the mobile app, you'll still have access to the same features, so you can trade and track your performance on the go. The Bit.com mobile app is available for iOS, Android, Web and API.

Futures Trading – Up to 50x Leverage
With Futures trading, Bit.com offers as much as 50x leverage. Their Futures trading options are either Coin-M Futures or USDT-M Futures.
Using Coin-M Futures, users can trade Bitcoin (BTC), Ethereum (ETH) or Bitcoin Cash (BCH) with the following options;
BTC PERP
BTC 24-Jun-F
ETH PERP
ETH 24-JUN-F
BCH-PERP
With USDT-M Or USDT Margined Futures, these are cryptocurrency derivatives that allow users to build long or short positions and earn profit from the rising/falling of the price of the underlying asset.
There are 2 options with Bit.com;
BTCUSDT PERP
ETHUSDT PERP
Bit.com provides you with leverages of up to 50X on futures. This means you can borrow 50 times what you want to invest in a single future trade. Plus you can receive 50 times more or also lose at the same rate.
Please note: Leveraging is very risky, so please tread with caution.
Options Trading – Up to 10X
Bit.com's Options Trading offers its users the ability to trade Options Contract for;
Bitcoin (BTC)
Ethereum (ETH)
Bitcoin Cash (BCH)
With Options, you can trade with leverage (up to 10x). However, leveraging is very risky, so please do tread with caution.

Unified Margin
The Bit.com Unified Margin Account was launched in November 2021. Providing their users with an upgraded trading and risk management system. By using a single, unified account for spot, margin, perpetual's, futures and options trading. All crypto in the account is shared as USDT-denominated margin to improve capital utilisation.
Bit.com Earn
In March 2022, Bit.com launched its fixed savings product, Bit.com Earn. Offering users high and competitive APYs of up to 30% on their crypto assets.
The Bit.com Earn feature is only available from their mobile app and is powered by Matrixport. Bit.com Earn currently supports over 20 digital assets; USDT, USDC, BTC, BCH, DOGE, DOT, ETH, LINK, LTC, SHIB, SUSHI, and UNI.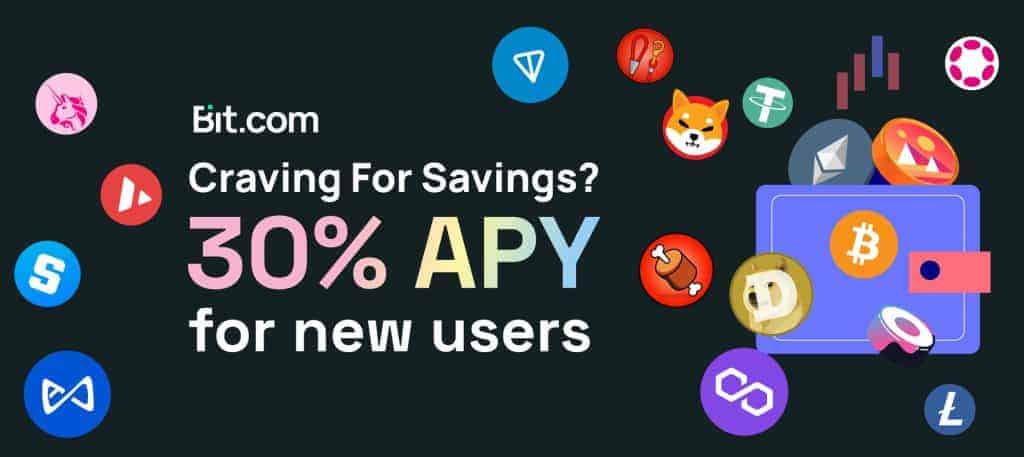 Bit.com NFTs
Bit.com is launching a new NFT marketplace, allowing users to own a portion of any popular NFT. To get early access, simply sign-up and join the Bit.com NFT waiting list here.

Supported Cryptos
In terms of spot trading, Bit.com users can trade with USDT, USDC or Bitcoin markets and trade for a wide range of cryptos, including;
Aave (AAVE)
ApeCoin (APE)
Avalanche (AVAX)
Axie Infinity (AXS)
Bitcoin (BTC)
Bitcoin Cash (BCH)
Chainlink (LINK)
Compound (COMP)
ConstitutionDAO (PEOPLE)
Curve (CRV)
Decentraland (MANA)
Ethereum (ETH)
Filecoin (FIL)
Litecoin (LTC)
Polkadot (DOT)
Polygon (MATIC)
The Sandbox (SAND)
Solana (SOL)
Solana (SOL)
SushiSwap (SUSHI)
Tranchess (CHESS)
Uniswap (UNI)
Bit.com are constantly adding more to this list too, which might increase depending on when you are reading this Bit.com review.
Fees
When it comes to deposits, Bit.com does not implement any fees. However, you will need to pay fees for trading and withdrawing from the platform.
Trading Fees
The Bit.com trading fee structure is based on a tiered program. This is based on your trading volume in the past 30 days. If you're trading less than 5 million USD (which I assume the majority of you are) then this is these generally are from 0.08% for maker orders and 0.1% fees for taker orders.
These fees apply to perpetual swaps and futures. The fees then reduce all the way down to -0.015% for maker orders and -0.0350% for taker orders when trading more than 300 million USD in a 30 day period.
Options Trading is also based on a tiered system over a 30-day period. However, instead, starts at trading less than 200 BTC and fees are 0.02% for maker fees and 0.03% for taker orders.
These reduce to 0% for maker orders and 0.02% for taker orders when trading more than 8,000 BTC in a 30-day period.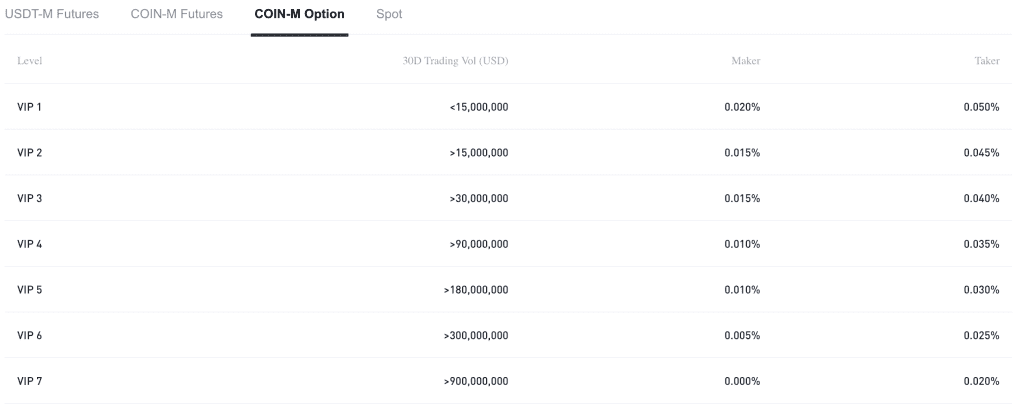 Withdrawal Fees
When you withdraw your crypto from Bit.com to another platform or wallet address you will be required to pay the transaction fee that is required for that token's network. These fees will depend on the blockchain network. Plus they may vary depending on when you are withdrawing and how congested the network is.
To find out more about the withdrawal fees and minimum amount you can withdraw, check out the page on their support site.
Bit.com Support
Bit.com offer a comprehensive FAQ page on their website where you can search for some predefined questions. However, if you require further technical or customer assistance, you can contact the support team via email using support@louiseelizabethbit.com.
They also have links to all their socials which are available on their website. These include; Twitter, Medium, Telegram and Facebook.
Bit.com Security
To protect customers from losses or bankrupt accounts Bit.com uses an insurance fund as its second line of defence.
They state that their first line of defence "is the incremental liquidation methodology adopted by Bit.com to greatly reduce the chance of bankruptcy". 
Please visit the Cactus Custody's homepage for more details: https://www.mycactus.com/
Is Bit.com Safe?
Bit.com implements 2-factor authentication (2FA), to ensure their customer's personal safety in terms of their accounts. This includes entering one-time codes for actions such as logging into your account. Bit.com use either Google Authenticator, SMS, Security Keys or email verification.
Although 2-factor authentication is not mandatory, it is a vital element to keep your account safe. The exchange also supports Ukey and uses withdrawal address whitelists.
To safeguard its clients' crypto assets, Bit.com partners with the industry-leading institutional custodian service provider, Cactus Custody.
Cactus Custody is a registered Hong Kong trust company that meets the capital reserve requirements and acts within regulatory and AML guidelines. They offer their services to some of the world's largest and most renowned mining companies, mining pools, cloud mining platforms, exchanges, funds and OTC dealers.
Bit.com Regulations
Bit.com is not a licensed exchange. Therefore access to Bit.com and its services are restricted for certain regions or countries that require regulation. This includes;
Asia: Afghanistan, Cambodia, China, Democratic People's Republic of Korea, Iran, Iraq, Lebanon, Myanmar, Pakistan, Syria, Singapore, Yemen.
America: American Samoa, Barbados, Canada, Guam, Haiti, Panama, Puerto Rico, The Northern Mariana Islands, United States of America, Venezuela, Virgin Islands (U.S.).     
Africa: Democratic Republic of Congo, Guinea Bissau, Libya, Mali, Mozambique, Nicaragua, Somalia, South Sudan, The Republic of Madagascar, The Republic of Uganda, The Islamic Republic of Mauritania, Zimbabwe, Burkina Faso, Burundi, Morocco, Senegal
Others: Republic of Albania
Bit.com Sign-up
To sign up for an account with Bit.com you will first need to enter your email address and include our referral code IBMU3LQ to get a 20% rebate. Then confirm your email address with a one-time code and enter a strong, secure password.
To use the services on the platform you will need to go through an element of KYC (know your customer). With Bit.com this just means providing a photographic ID and going through facial recognition for the basic level of verification. This can be performed on a desktop or mobile.
To receive higher withdrawal limits, you'll need to go through advanced verification which involves providing your residential address and proof of address.

Bit.com Referral Code
Related Posts