In this review, I take you through Nexus Mutual, an alternative insurance provider for a variety of Ethereum based DeFi protocols. Nexus Mutual uses the power of blockchain technology and Ethereum to allow people from all over the world to share insurance risk together without the need for an insurance company. Essentially people who join the mutual become members, and only members can participate in the network to buy cover, to protect themselves against the likes of hacks in smart contract code. Members can also stake on smart contracts to earn rewards, put forward governance proposals, vote on proposals, plus they can buy and hold the platforms native token, NXM.
Who Are Nexus Mutual?
Nexus Mutual was founded by Hugh Karp and are established as a limited company in the UK with approval by the Financial Conduct Authority (Bank of England) to use the protected word "mutual" in their company name.
Their first insurance product is smart contract covers for purchasing protection for value storing contracts. This cover is pretty unique as it lets members buy protection against financial loss caused by another's misuse of a smart contract. However, down the line, Nexus Mutual intends to move into more mainstream products. And started building the platform on the premise of providing cover against earthquake risks.


Are Nexus Mutual Decentralised?
Nexus Mutual is not fully decentralised and does require some KYC to be completed such as entering your personal information such as your name, address and photographic ID. They do have hopes to become decentralised in the near future, but this is not yet the case.

NXM Coins
Nexus Mutual's native token, NXM represents membership rights in the mutual, with all members owning the mutual together. It runs on a bonding curve which is a mathematical curve that defines the token price based on specific financial metrics. The token has multiple purposes and can be used to purchase cover, it can be staked to vote on claims, or against any smart contracts to lower the price of cover. It can also be used as a voting weight in governance. The NXM tokens can only be bought and sold by members, with the Nexus Mutual application.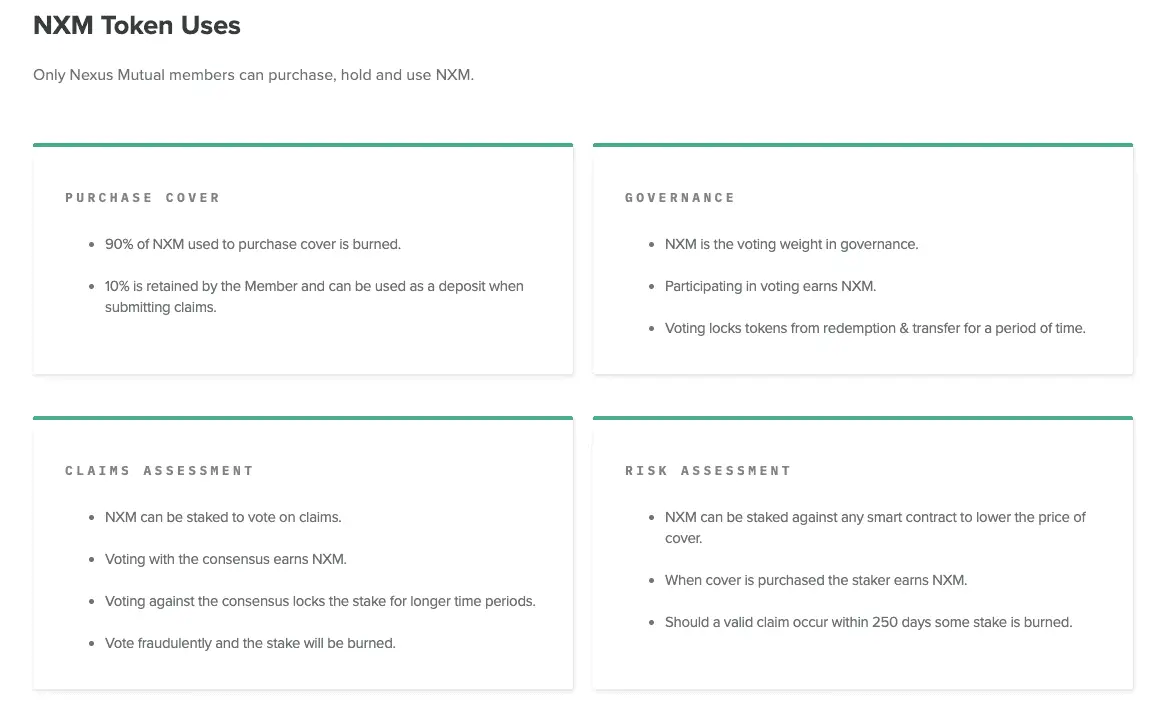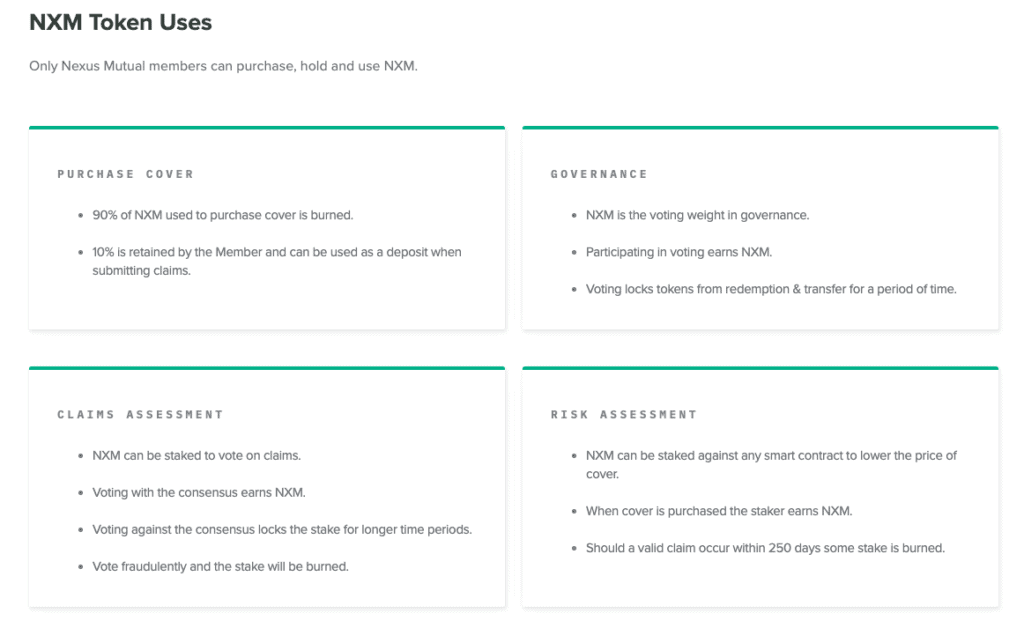 How to Buy or Sell NXM Coins
The only place available to buy or sell Nexus Mutual's token, NXM is on the Nexus Mutual site, using their exchange. To buy NXM you'll also need to be a become a Member of Nexus Mutual, which will include completing KYC and entering in your own personal information such as your name, address and uploading photographic ID which will link your address to you.
If you do not want to enter in your personal details and link this to your Ethereum address, there is also Wrapped NXM (WNXM) which you can purchase over on the likes of decentralised exchanges such as UniSwap.

How to Stake NXM Tokens
Once you have purchased your NXM tokens, you can earn rewards by staking them against contracts that you think are secure. To stake, you simply select the contract and decide how much you'd like to deposit. Plus you can stake your deposit up to 10 times across as many contracts you like. Then as cover is purchased you start to earn your rewards, increasing or adjusting your deposit stakes at any time.
If a successful claim is made on a contract that you've staked against you will lose some or all of your deposit. If you want to unstake, this will require a 90 day lock-up period.