Facebook has now launched their very own group video chat  "Messenger Rooms" to rival with the likes of Zoom and HouseParty.  With many people stuck indoors but wanting some face to face interaction with their friends, family or work colleagues, group video calling and conferencing services and platforms have really increased in popularity. With the likes of Zoom attracting 300 million people to their meetings. 
Facebook are the next to try and compete within this space alongside Zoom and HouseParty. "Messenger Rooms" allows Facebook members to create public or private video chatrooms which can have up to 50 people. But unlike zoom, who only give you 40 minutes on their free plan, your time is completely unlimited and free of charge too. Plus, even people without a Facebook account can join a Messenger Room just by using a link.
Facebook users can create and discover rooms from either Facebook or Messenger, with plans to also be able to create these through Instagram, Whatsapp and Portal too.
Is Facebook Messenger Rooms Safe?
If you are concerned about your privacy, one thing to be aware of is that these rooms are encrypted but are not end-to-end encrypted. Facebook has stated that they "hope" to add this in the future. But, that they will not listen in on any videos nor monitor them.
However, they will still gather data on when users open a Messenger Room. Which they've said would be used to improve the product and the "overall Facebook experience".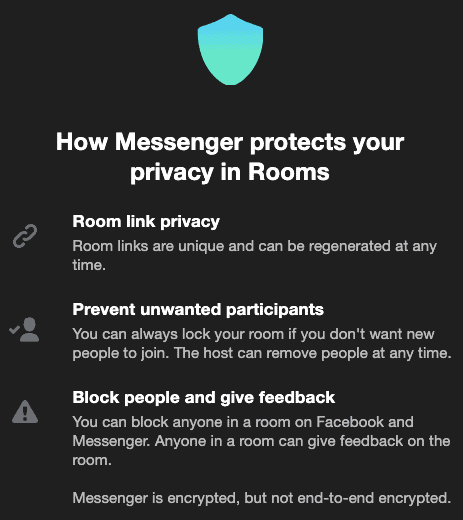 So how does messenger protect your privacy? Well they state that the room links are unique and can be regenerated at any time. You can prevent unwanted participants by locking the room. Plus, you can also block anyone in a room on Facebook and Messenger.
Create Messenger Rooms On Your Desktop Using Facebook
There are several ways to create your "Messenger Rooms", the first method is on the desktop using Facebook.
Step 1: Create Your Room
From the Newsfeed, click to "Create your room". You'll then be prompted to select a room activity, where you can select from the likes of "Hanging In", "Coffee Chat" and a whole range of other activities.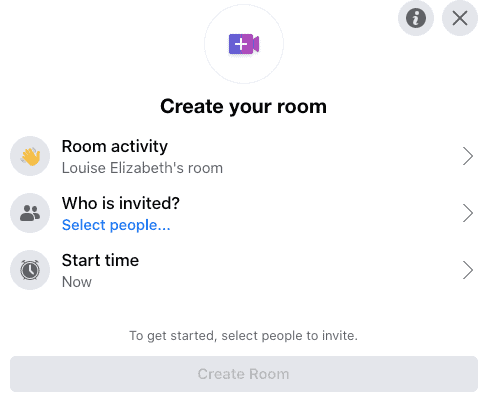 Step 2: Invite Your Friends
Next, you need to decide who can join the room, and you can select all your "Friends". So like HouseParty, Messenger Rooms will let people drop in and out of group video chats while the "room" is open. And there will be publicly discoverable rooms too which will be listed at the top of the Facebook news feed.
Or if you want something more private, you can "Invite specific friends" where you can select from a list. If you turn on link sharing, anyone with the link will be able to join as well.
Click onto "Save" once you have made your selection.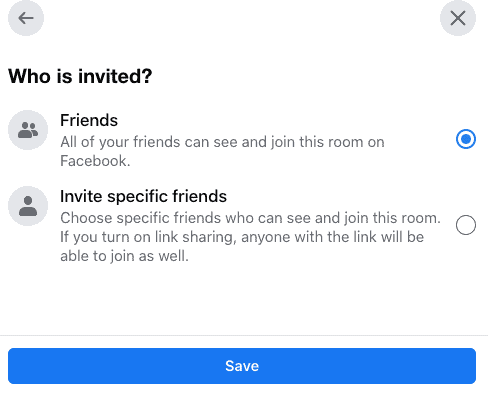 Step 3: Set Your Start Date and Time
You can also schedule times for your meeting to start from here and you can select the date and time, and unlike Zoom these are not time-limited. Once selected you can "Save", and "Create Room".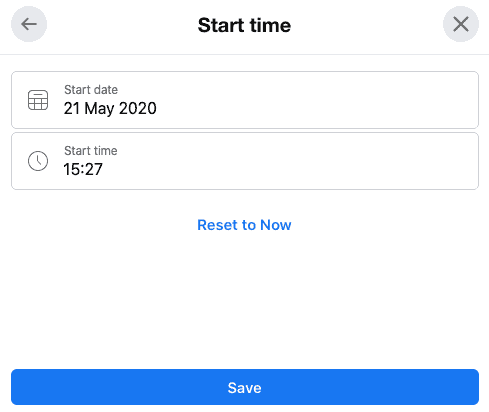 Step 4: Join the Room
Once your room is active, you can "Invite", "Share", "Edit", "End Room" or "Join"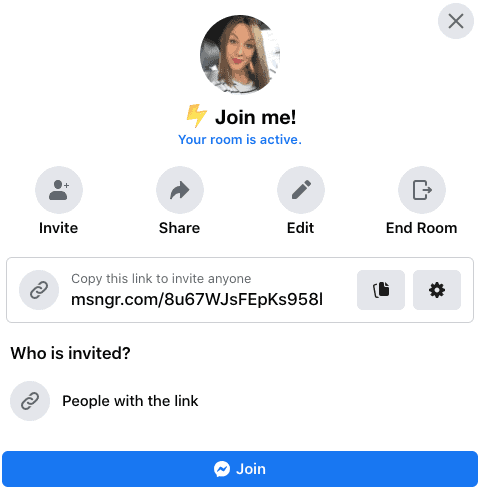 How to Join Messenger Rooms From a Mobile
When you have been invited to join a messenger room you can join the room from your desktop or mobile device.
Step 1: Click the Link
Facebook Messenger chat rooms can be accessed via a link sent in Messenger, or simply via a link copied and sent across to you. Click the link to join the meeting.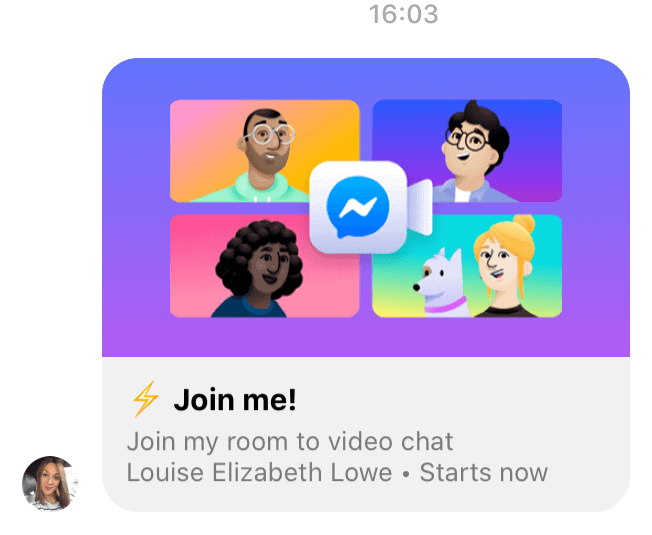 Step 2: Join the Meeting
You can join using your Facebook account or you'll be taken to a guest login page where you can enter in your name and join as a guest.
Step 3: Select Your Effects
When you join on mobile device, you will be able to create virtual backgrounds by pressing onto your image, you can use effects and change the lighting to brighten a room. You can also standard call options like reversing and stopping the camera. Plus you can take a photo of the call and share the link with others.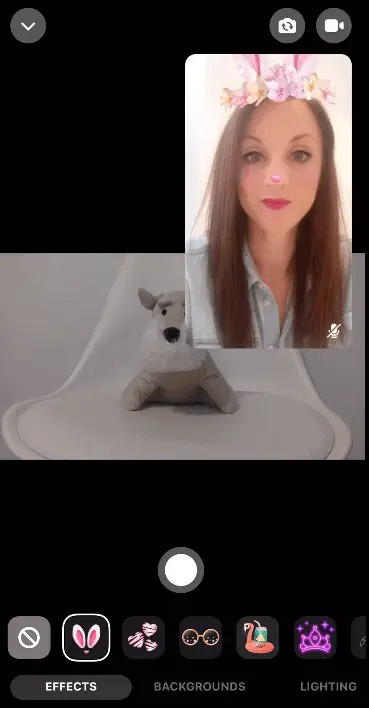 Messenger Rooms
How to Remove Someone from Messenger Rooms
If you want to remove someone from your room, click onto the 3 dots beside the attendee name and select "Remove".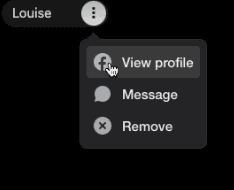 How to Share Your Screen
At the bottom of the screen, you can "Share your Screen" where you can choose from "Your Entire Screen", a certain "Application Window" or a specific "Chrome Tab". To share your screen just highlight the screen and click onto "Share". It will the request permission to share your screen.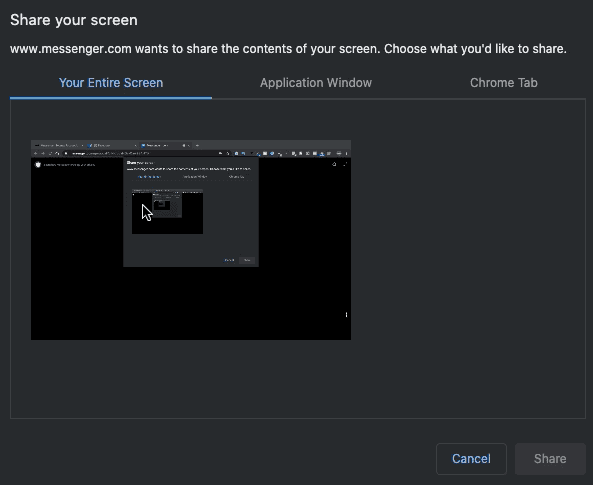 How to Lock a Messenger Room
To lock a room and prevent anyone else from joining it, click onto "See Call Participants" and select "Lock Room". You'll then be prompted to confirm that you wish to lock the room.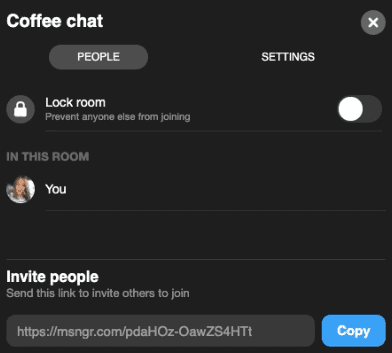 How to End a Messenger Room
It can be a little confusing that ending a room is not simply done by clicking onto the red button at the bottom. This simply means that you have left the room, but the room is still active.
When you are ready for the meeting to end, you will need to click onto "See Call Participants", then select "Settings". The finally "End Room" which will remove all members and disable the link.