Business Suite by Facebook has now been released, making it far easier to stay connected to your customers on Facebook and Instagram. They do this by allowing you to access all the tools that you need, to keep up with both platforms all in one place. Meaning you no longer have to integrate third-party apps to perform tasks such as sharing ads. Business Suite includes tools like posting, messaging, insights and advertising capabilities, improving the experience of managing a business across Facebook's apps.
So if you have an Instagram and Facebook business page you might be doing things such as posting and checking your analytics separately on both Facebook and Instagram but now you can do everything from one place saving you time to focus on other aspects of your business.
How to Use Facebook Business Suite?
What is Facebook Business Suite?
Business Suite is a free platform by Facebook, available for users to manage their Facebook Business Page and Instagram account from one central application. The Business Suite joins several other Facebook Business apps including Facebook Pages Manager, Facebook Analytics, and Facebook Ads Manager. However, at present Facebook Business Suite isn't yet quite designed to serve those who use Ads Manager.
Facebook Business Suite is available for both desktop and as a mobile app available for iPhone and Android, meaning you can manage your business presence wherever you are.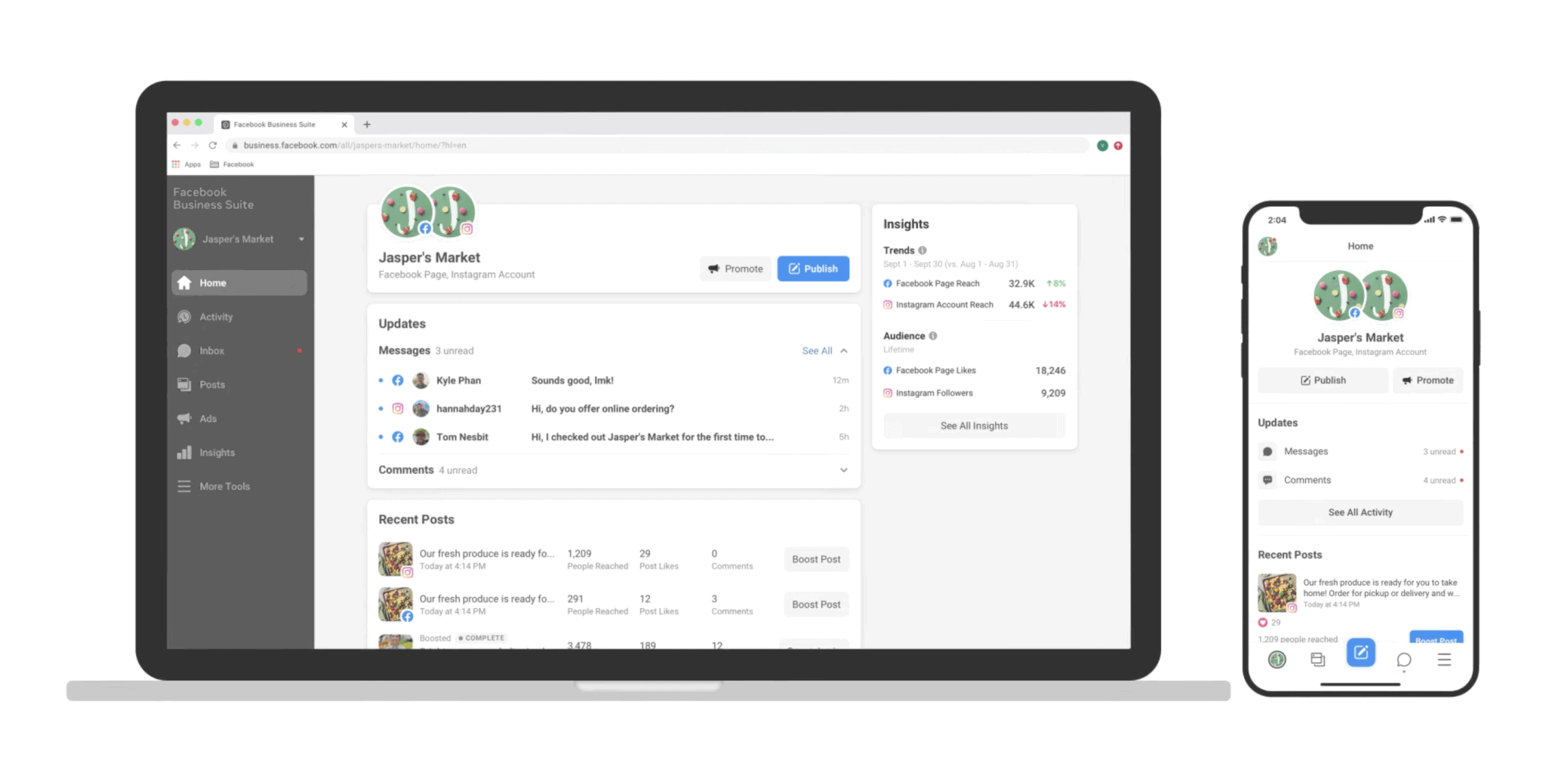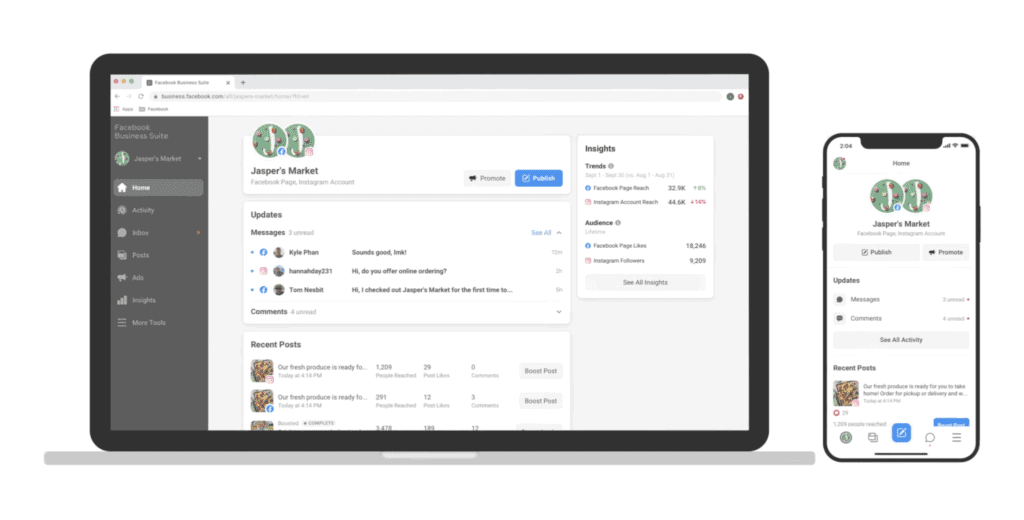 From the home screen, you instantly have access to view updates that need your attention; such as critical alerts, messages, comments and other activity across Facebook and Instagram.
You can simultaneously publish or schedule Facebook and Instagram posts. And so that you can see what's resonating with your customers, "Insights" gives you insights on reach, engagement and post-performance across Facebook and Instagram. Meaning you can optimize your efforts for each platform.
How to Connect Facebook & Instagram Accounts
To get started and to get the most out of Facebook Business Suite, you'll want to link your Facebook and Instagram business accounts together. If you haven't already done this from your business page;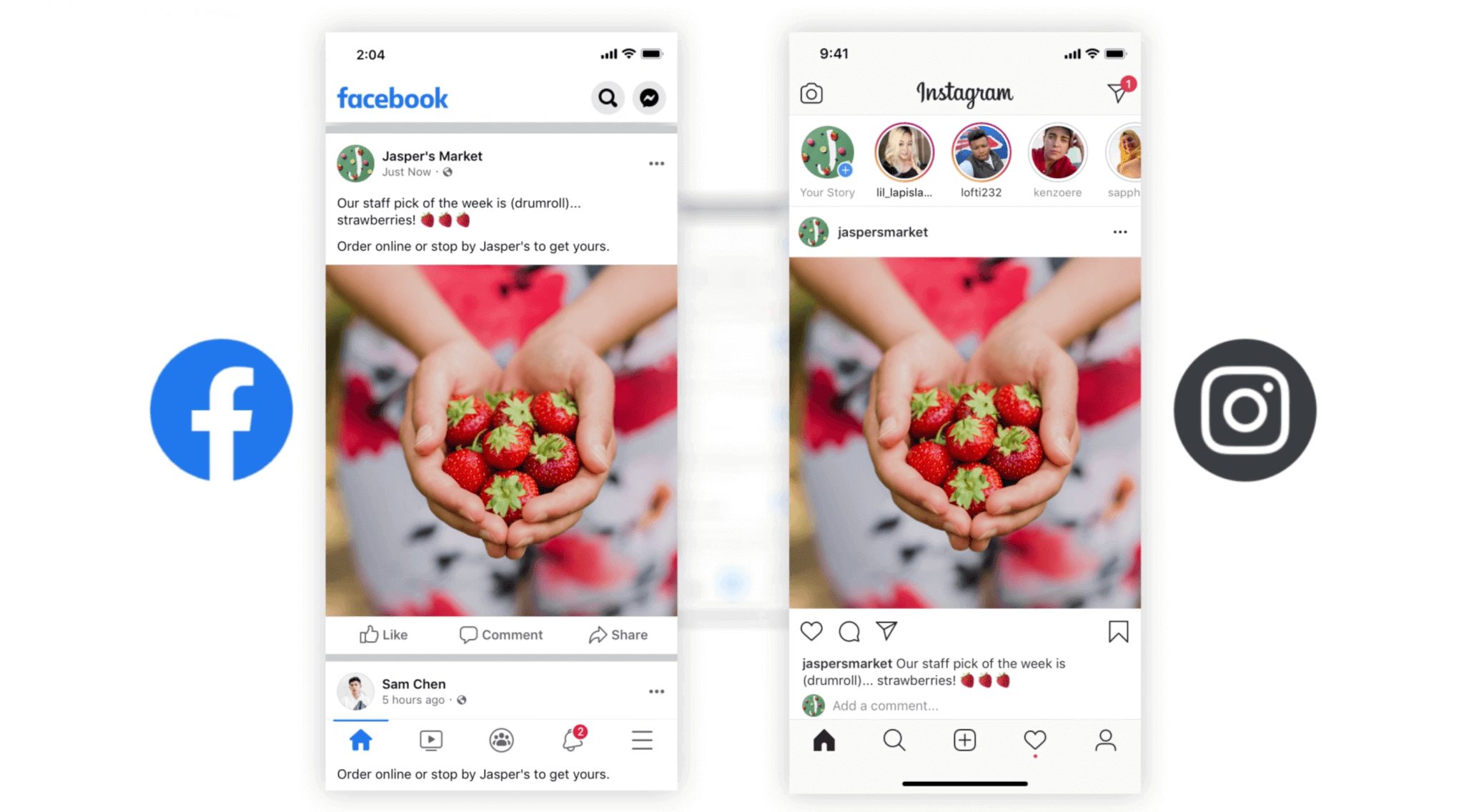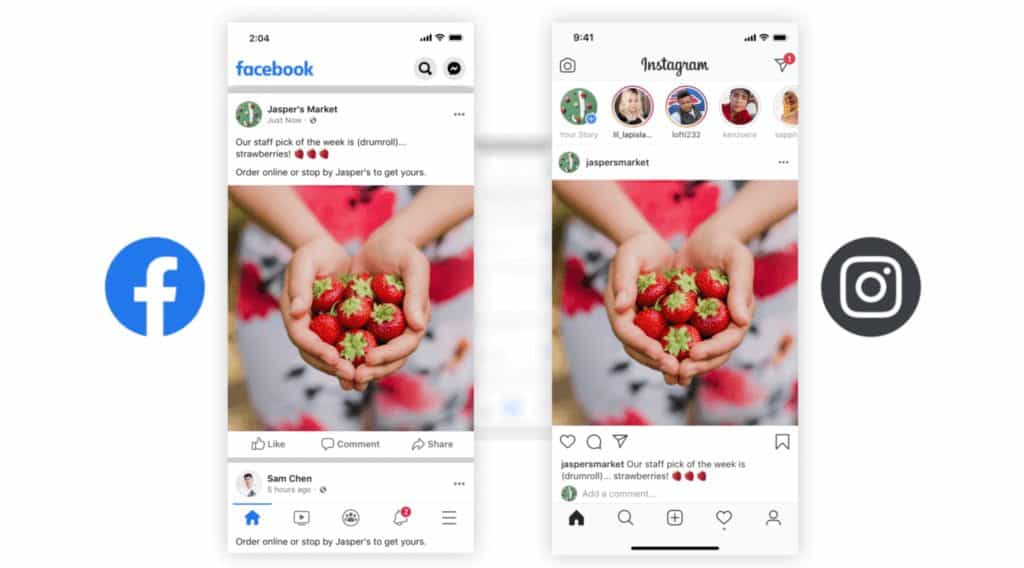 Select "Settings" from the left-hand side of the screen
Then choose "Instagram"
Then simply choose "Connect Account", where you'll then be prompted to "Continue" or enter in your Instagram account details.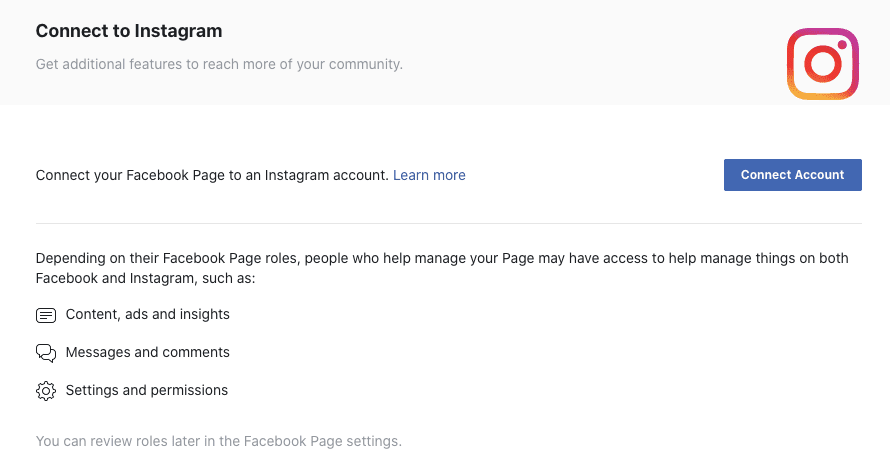 How to Access Facebook Business Suite?
To access the Business Suite, you'll want to log into the Facebook account associated with your business.
Go across to your "Pages" and select the relevant business page.
If you're not automatically prompted to "Go to Business Suite" or "Try Business Suite" from your main business page, navigate to; business.facebook.com

Business Suite Features
Below is a list of some of the Business Suite features and pages that are included to help small businesses manage their Facebook and Instagram presences from a single platform.
Home Page – The home screen, displays. new notifications for your Facebook Page and Instagram account all in one place. You'll also see an overview of any recent ads and insights from your posts here.
Activity – You'll See who's liked, or commented on your posts, there are also any updates on your ads, and other activities on your Page and Instagram account.
Inbox – This is a unified inbox where you can read new messages and comments from your Facebook Page, Messenger and Instagram accounts. You can also create Automated Responses to help save time when responding to questions that people commonly ask as well as manage your business's communication across Facebook and Instagram.
Posts – You can create, or pre-plan and schedule posts for Facebook and Instagram too. For Facebook News Feed-only posts, you can select whether you want to add a Call to Action to your post. This will add a button to your post and help encourage people to message you as a result. It's also clever enough to know that you'll need to add images when trying to post to Instagram for example.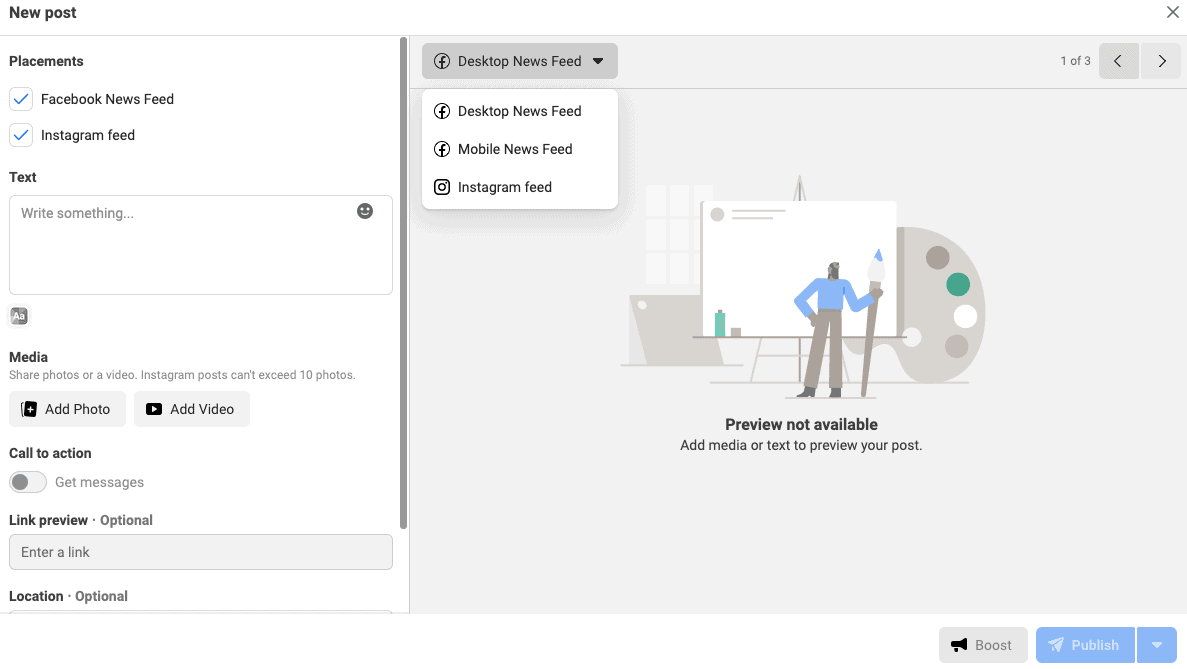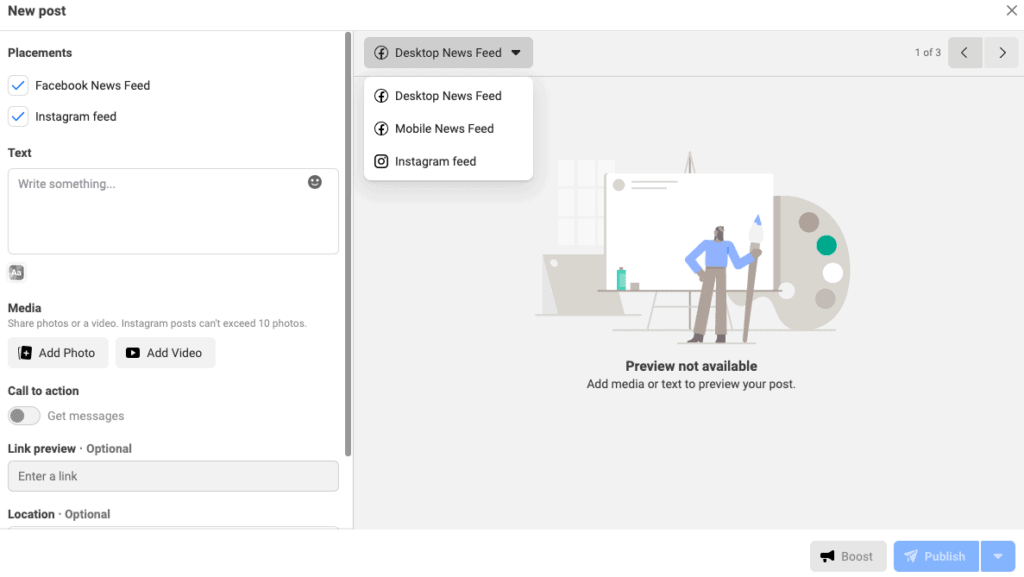 Ads – Create and boost posts, promote your Page and see metrics for ads you create.
Insights – With Insights you can see metrics, trends, and visual reports that can make it easier to understand which Facebook Page and Instagram strategies work well and where to make improvements. So, if you manage a business with a Facebook Page, an Instagram business profile and an ad account, you can see insights for all of these together in Facebook Business Suite.
How to Create a Facebook Business Page?
It's more important than ever for your business to have an online presence and if you're not already on the internet then Facebook can be a great place to start. A Facebook Business Page is a free opportunity for businesses to increase brand awareness and generate sales on Facebook. The following tutorial will show you how to create a Facebook Business Page.
Facebook Creator Studio vs Facebook Business Suite
Before the launch of Facebook Business Suite, many users turned to Facebook Creator Studio to help them interface with both Facebook and Instagram. However, this still meant toggling between the 2 accounts. So, instead of using Facebook Creator Studio you now have yet another way to stay across all of your Facebook and Instagram business interactions. With the main difference being that Business Suite covers a lot of functionalities within a single app.
And although it's not confirmed, it could well be that Facebook Business Suite will eventually replace Creator Studio.
How to Schedule Facebook & Instagram Post?
You can now easily share with your communities by drafting posts for both Instagram and Facebook then simply scheduling them to be published at a time that makes sense for your core audience. The following tutorial will show you how to connect Instagram and Facebook together and publish posts without having to duplicate your work and create single posts on each site individually.