Cryptocurrency brokerage firm Voyager Digital has filed for bankruptcy as Three Arrows Capital's recent troubles affect its operations
Voyager Digital Ltd. has filed for Chapter 11 bankruptcy in the United States Bankruptcy Court of the Southern District of New York.
The firm filed for bankruptcy a few hours ago as it struggles to operate in the current bear market. According to the filing, the firm has between $1 billion and $10 billion in assets. Furthermore, it has between $1 billion and $10 billion in estimated liabilities.
Voyager Digital revealed that estimates more than 100,000 creditors.
The bankruptcy filing came just a few days after Voyager issued a notice of default to beleaguered Singapore-based crypto hedge fund Three Arrows Capital (3AC).
The hedge fund had previously borrowed $675 million from Voyager and couldn't repay back the funds after the losses it recorded from the collapse of the UST stablecoin and LUNA. 
While commenting on this latest development, Voyager CEO Stephen Ehrlich said;
"While I strongly believe in this future, the prolonged volatility and contagion in the crypto markets over the past few months and the default of Three Arrows Capital require us to take deliberate and decisive action now. The chapter 11 process provides an efficient and equitable mechanism to maximize recovery."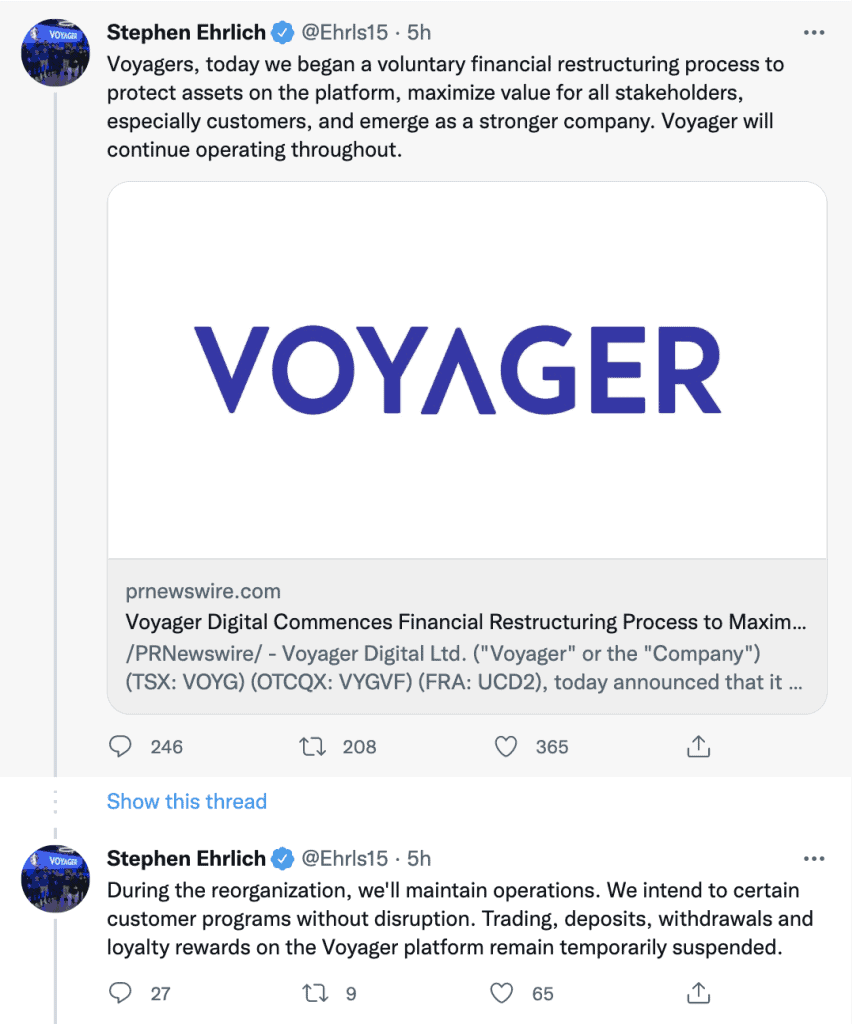 3AC invested more than $200 million in LUNA, with the coin losing more than 99% of its value within a few days. The crash of the Terra project resulted in more than $60 billion being wiped out from the cryptocurrency market within a couple of days.
Furthermore, 3AC suffered huge losses from its $40 million investment in staked ether (stETH), a derivative of Ethereum's native cryptocurrency. 
In addition to these, the cryptocurrency hedge fund had reportedly placed an overleveraged bet on the Grayscale Bitcoin Trust (GBTC) to arbitrage the difference between the value of the trust and BTC. the bet hasn't gone as planned as the shares of GBTC have been trading at a discount for the last five months. 
Voyager couldn't salvage its operations despite securing credit lines from the investment arm of Alameda Research. According to the filing, Voyager Digital obtained two credit lines from Alameda; 15,000 bitcoins and $200 million issued in cash and USDC stablecoin. 
Voyager Digital joins a few other crypto companies like Celsius and BlockFi that are struggling to operate in the current bear market. 
In Other News