Vauld has become the latest cryptocurrency lending platform to halt withdrawals, citing the current market conditions.
Vauld, a Singapore-based crypto trading and lending platform, announced on Monday that it has halted withdrawals on its platform. As a result, Vauld has become the latest crypto lender to suspend withdrawals.
CEO Darshan Bathija told EveryBitHelps in an email that the decision was made due to a combination of circumstances such as the volatile market conditions, the financial difficulties of its key business partners inevitably affecting them, and the current market climate. He added that;
"As such, we have considered that it would be in the best interests of stakeholders to take immediate action in the circumstances. In furtherance of this, we have engaged the services of Kroll Pte Limited as our financial advisor, as well as Cyril Amarchand Mangaldas and Rajah & Tann Singapore LLP as our legal advisors in India and Singapore respectively."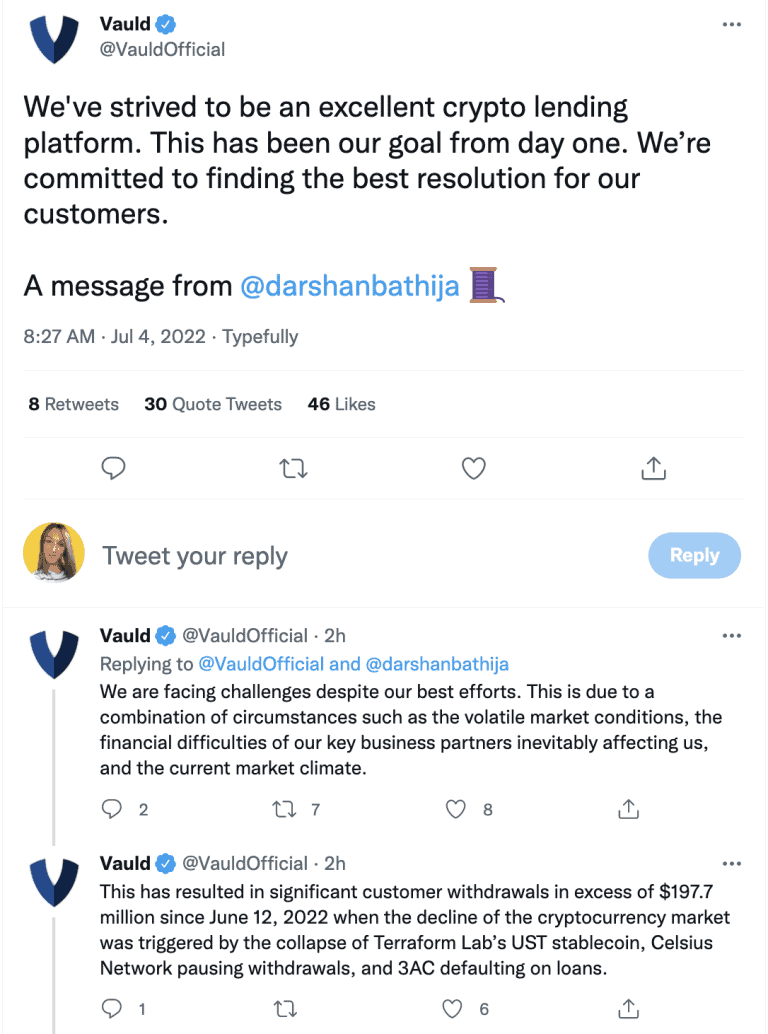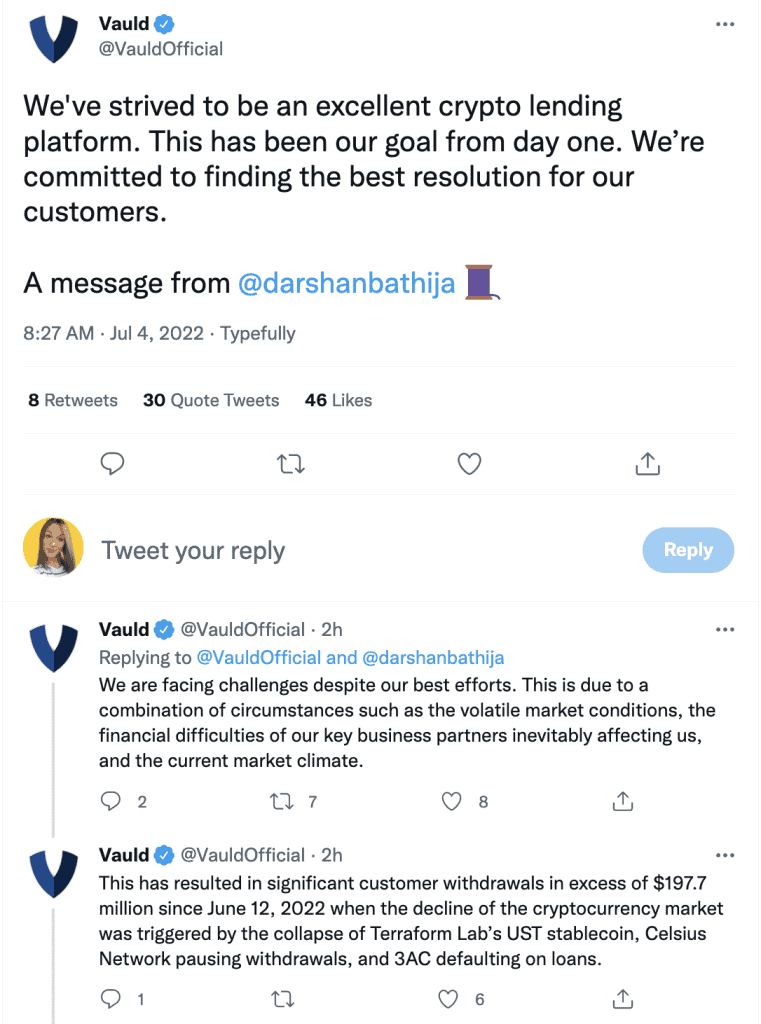 The firm said it is open to restructuring. As a result, Vauld has hired Kroll as its financial advisor and Cyril Amarchand Mangaldas and Rajah & Tann Singapore LLP as its legal advisors in India and Singapore, respectively.
Vauld added that its management is fully committed to working with its financial and legal advisors to the best of its abilities to explore and analyze all possible options, including potential restructuring options, that would best protect the interests of Vauld's stakeholders.
To ensure that operations resume soon, Bathija revealed that Vault is currently in talks with some potential investors. He said;
"We are currently in discussions with potential investors into the Vauld group of companies. We intend to apply to the Singapore courts for a moratorium i.e. a suspension of the commencement or continuation of any proceedings against the relevant companies so as to give us breathing space to carry out the proposed restructuring exercise. We are confident that, with the advice of our financial and legal advisors, we will be able to reach a solution that will best protect the interests of Vauld's customers and stakeholders."
Vauld's withdrawal suspension comes after a few cryptocurrency lenders made similar decisions over the past few weeks. Last month, cryptocurrency lenders Celsius and Babel Finance halted withdrawals on their platforms. 
This latest development also strengthens the need for cryptocurrency investors to be in control of their investments as their funds are safer in their hands than with these centralized entities. With hardware wallets such as Ledger and Trezor, crypto investors can be in full control of their cryptocurrencies and wouldn't face withdrawal restrictions.


In Other News