The cryptocurrency market has wiped out over $2 trillion in the last few months, and this has affected the activities of numerous companies.
Cryptocurrency hedge fund Three Arrows Capital founded by Su Zhu and Kyle Davies is one of the leading institutional investors in the crypto space. Over the past few years, the hedge fund has invested in numerous cryptocurrency projects, including Ethereum, Polkadot and Avalanche. 
However, the company is currently facing an uncertain future due to the ongoing bearish trend in the market.
According to a recent report by The Block, the firm faces potential insolvency after being liquidated by its lenders. Sources close to the matter told The Block that the liquidation is in the region of $400 million.
The hedge fund sustained huge losses a few weeks ago following the collapse of Terra's LUNA token. 
In addition to its LUNA losses, three major blockchain projects Three Arrows Capital has backed have all lost more than 50% of their values over the past seven months.
Su Zhu, co-founder and CEO of Three Arrows Capital, addressed the issues of insolvency via Twitter on Tuesday.
"We are in the process of communicating with relevant parties and fully committed to working this out."

Su Zhu, co-founder and CEO of Three Arrows Capital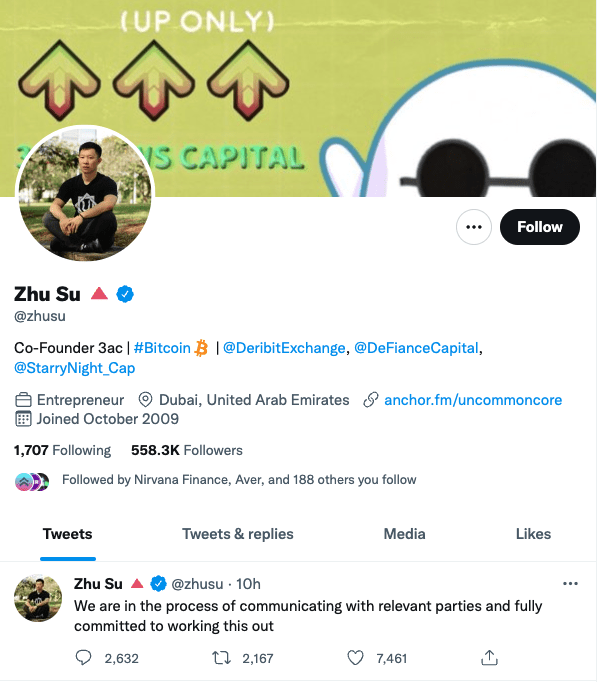 The cryptocurrency market has been around since Satoshi Nakamoto launched Bitcoin in 2009. Over the past decade, the crypto market has gone through numerous bear and bull cycles. 
The Bull Run of 2017 was followed by a bear market that lasted more than two years. However, Zhu believed that the Bull Cycle that began in 2020 would be a SuperCycle.
Zhu admitted a few weeks ago that his SuperCycle thesis was wrong as the cryptocurrency market has lost over $2 trillion in the last few months.
It was easy to see why Zhu believed in the SuperCycle thesis. The rise of NFTs, metaverse and DeFi ecosystems, the increasing adoption by both retail and institutional investors, and a total crypto market cap of $3 trillion was enough to convince many that we are indeed in a SuperCycle.
In Other News