Cryptocurrency lending platform BlockFi has paused withdrawals following the collapse of the FTX exchange.
Popular crypto lending firm BlockFi informed its users earlier today that it had halted withdrawals on its platform. This latest development comes after the collapse of the FTX cryptocurrency exchange.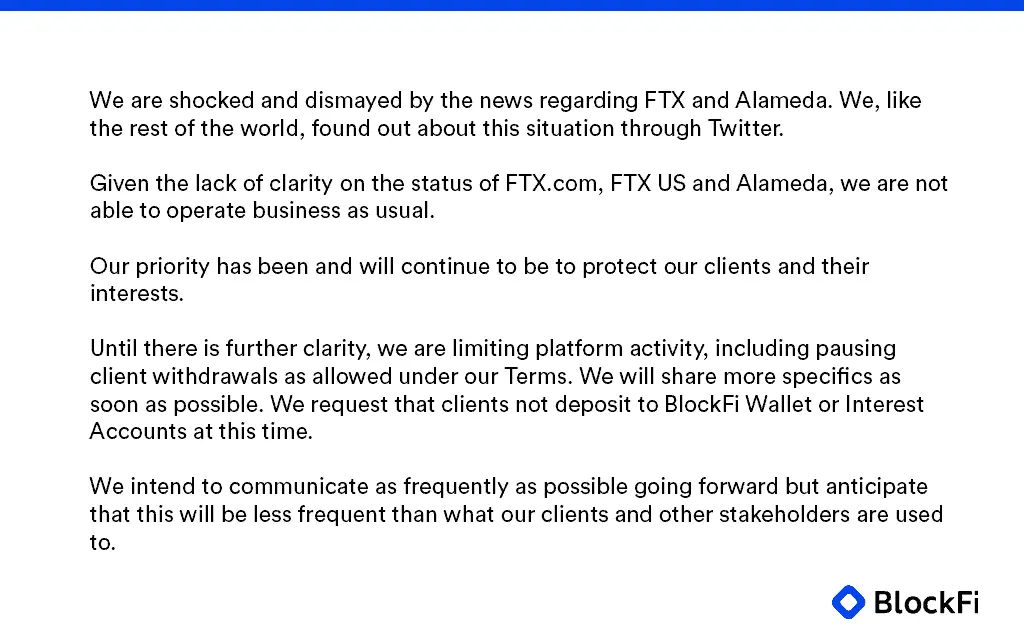 BlockFi expressed shock over the recent collapse of the FTX exchange and its sister hedge fund Alameda Research. Given the lack of clarity on the status of FTX.com, FTX US and Alameda Research, BlockFi said it could no longer operate business as usual. 
The current situation has caused BlockFi to pause withdrawals on its platform. It also told clients not to deposit to their wallet or interest accounts. BlockFi said;
"We will share more specifics as soon as possible. We intend to communicate as frequently as possible but anticipate that this will be less frequent than what our clients and other shareholders are used to."

BlockFi
This latest announcement comes just two days after BlockFi's founder and chief operating officer Flori Marquez said that all BlockFi products are fully operational. At the time, he said the company was an independent entity until at least July of next year.
BlockFi faced bankruptcy earlier this year until it was rescued by FTX. in July, BlockFi and FTX announced a deal where FTX US would provide BlockFi with a $400 million credit facility, allowing the crypto exchange to acquire BlockFi. FTX US said the price of the acquisition would depend on certain conditions. 
These conditions included BlockFi receiving clearance from the United States Securities and Exchange Commission (SEC) to provide yield-generating services in the country. Another condition is that BlockFi must reach at least $10 billion in client assets by the time FTX US decides to exercise its option and acquire BlockFi. 
If the terms are reached, FTX US will shell out $240 million to acquire BlockFi. However, if the conditions are not met, BlockFi could be acquired for as low as $15 million.
Related Posts