Bybit, the fastest-growing cryptocurrency exchange with over 6 million registered users announced that the World Series of Trading (WSOT) in 2022, includes a record-breaking prize pool of up to 8 million USDT, NFTs and other benefits. 
Guide to Bybit World Series of Trading 2022
What is Bybit?
Bybit is a global company that launched in 2018 and is one of the fastest-growing cryptocurrency exchanges with over 6 million registered users. They aim to bring next-level trading to their users by creating a fair, transparent and efficient exchange environment.
With Bybit, users can buy, sell and trade popular coins on their Spot and Derivatives platforms. Experienced traders can trade with up to 100X leverage on perpetual futures products, plus there are Options and Leveraged tokens.
Users can even put their crypto to work and passive income with the Bybit earn programme. Offering varying income products, depending on the level of risk a user wants to take.
What is the World Series of Trading Competition (WSOT)?
The World Series of Trading Competition (WSOT), is an annual competition where users can get involved in a whole range of competitions to earn rewards, daily lotteries, NFTs and much more.
In 2022, the WSOT has its largest ever prize pool of 8,000,000 USDT. Whilst past competitions have focused purely on derivatives trading, Bybit has expanded the competition to also now include spot trading for individuals who want to get involved.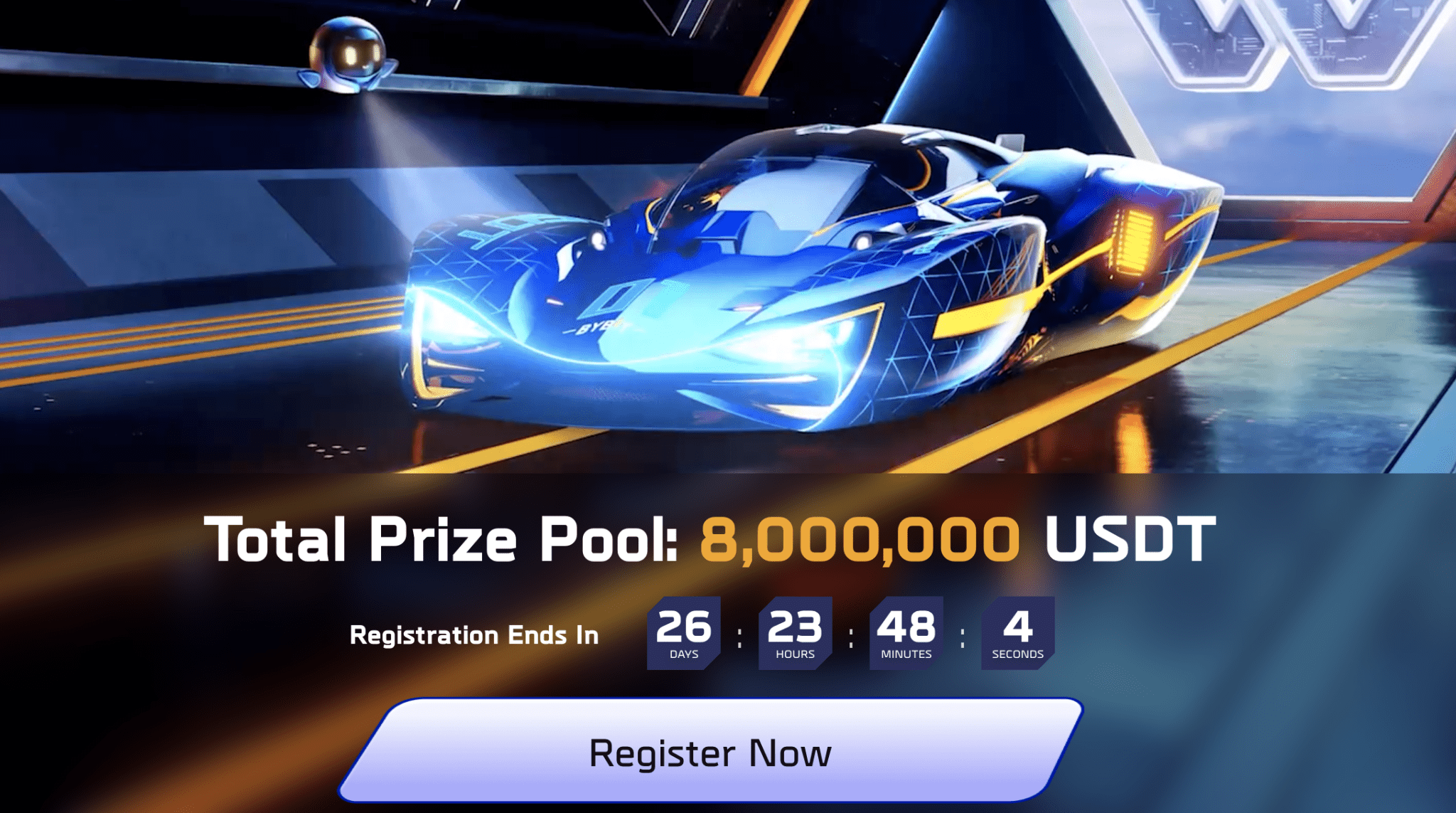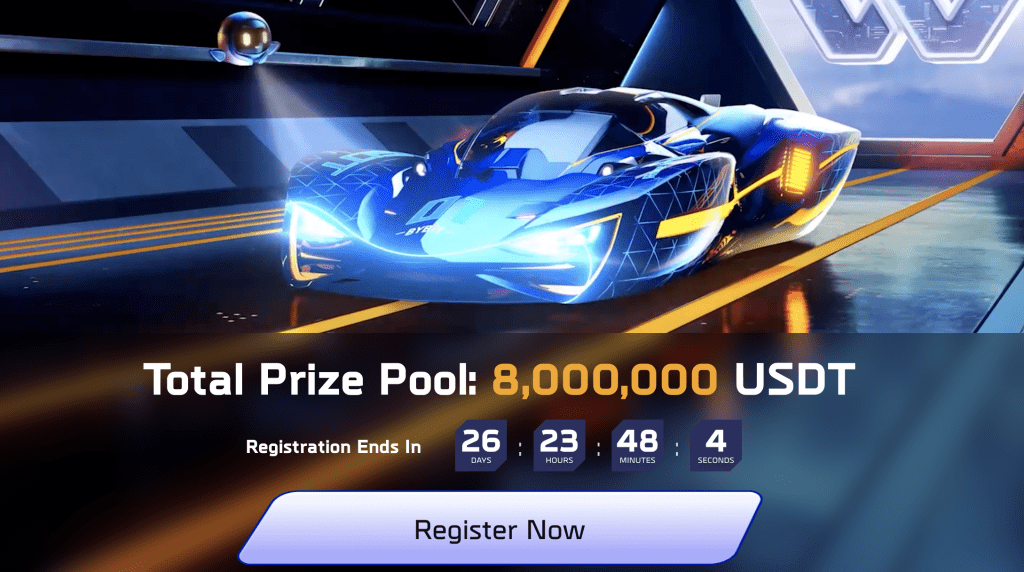 WSOT Prizes, Offers & Competitions
The WSOT offers a range of prizes, offers and competitions with up to 8,000,000 USDT up for grabs. Read more about Bybit WSOT 2022 here.


Early Bird Offers
WSOT early birds who register within the first 48 hours (from 10th June at 10 AM UTC to 12th June at 10 AM UTC), can get extra rewards and earn up to $50.
By registering and finishing KYC Level 1, users get a 10$ bonus in BTC.  Then if their trading volume during the competition exceeds $10,000, they'll also receive a $40 bonus in BTC.
Plus, there's also launchpad NFTS for the first 1,000 participants who complete their KYC to Lv.1.
Squad Race
The Squad Race competition has a 6,000,000 USDT prize pool. This is where users join a team and trade derivatives. During the competition, the profit and loss are combined and the top 10 in each category get huge rewards.
To get involved in the Squad Race traders must have over 500 USDT in their main account wallet, they need to join at least 1 Squad and meet any requirements set out by the Squad Leader.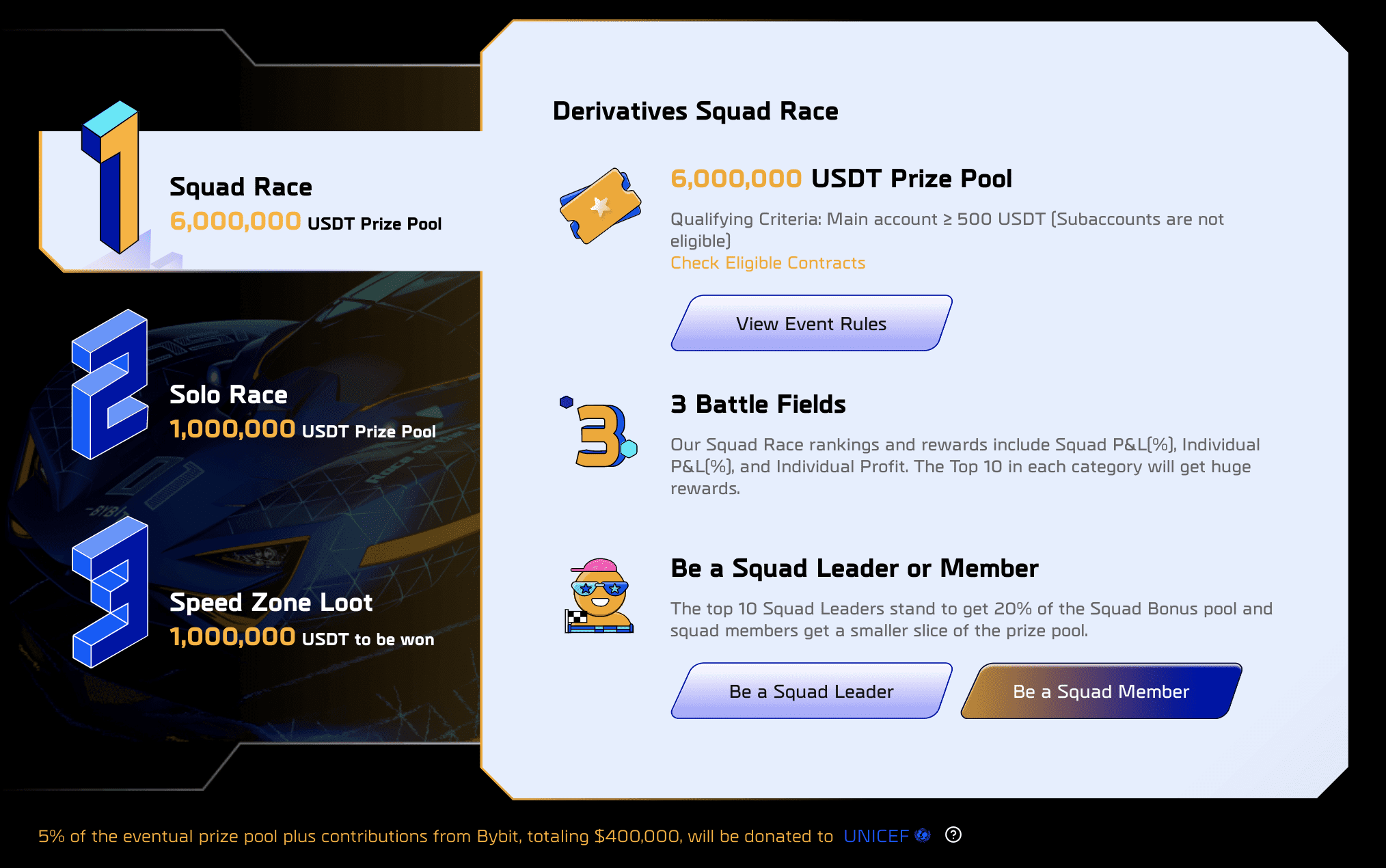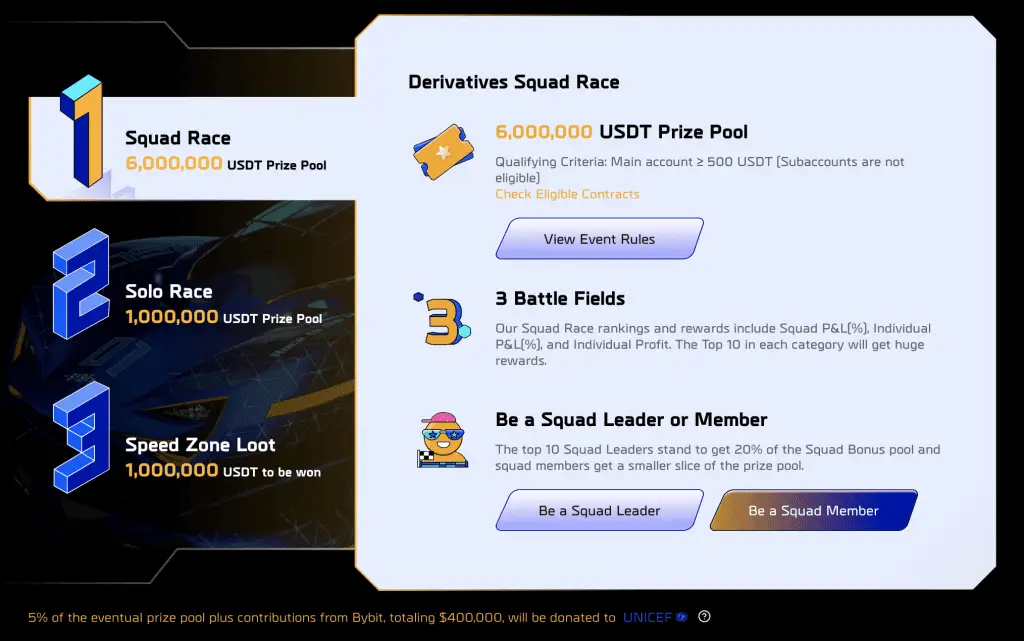 Solo Race
The Solo race has a 1million USDT prize pool. The top 5,000 traders with the highest spot trading volume get rewarded.
The top 30 users who invite the most amount of friends who then complete their first-time deposits and the top 30 users who have the highest combined trading volume from their invited friends will get up to 3,000 USDT rewards.
There are no requirements set out for the solo race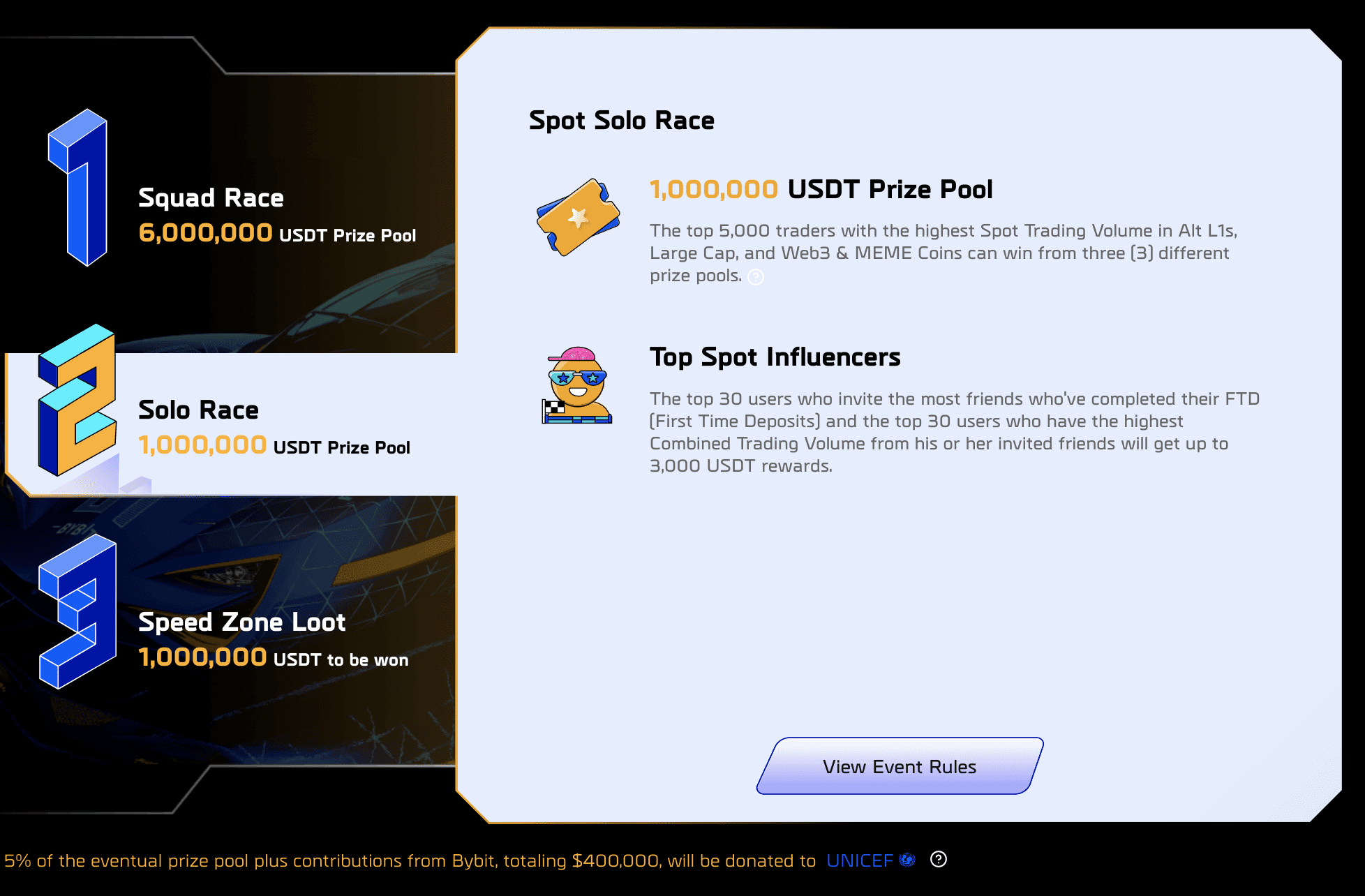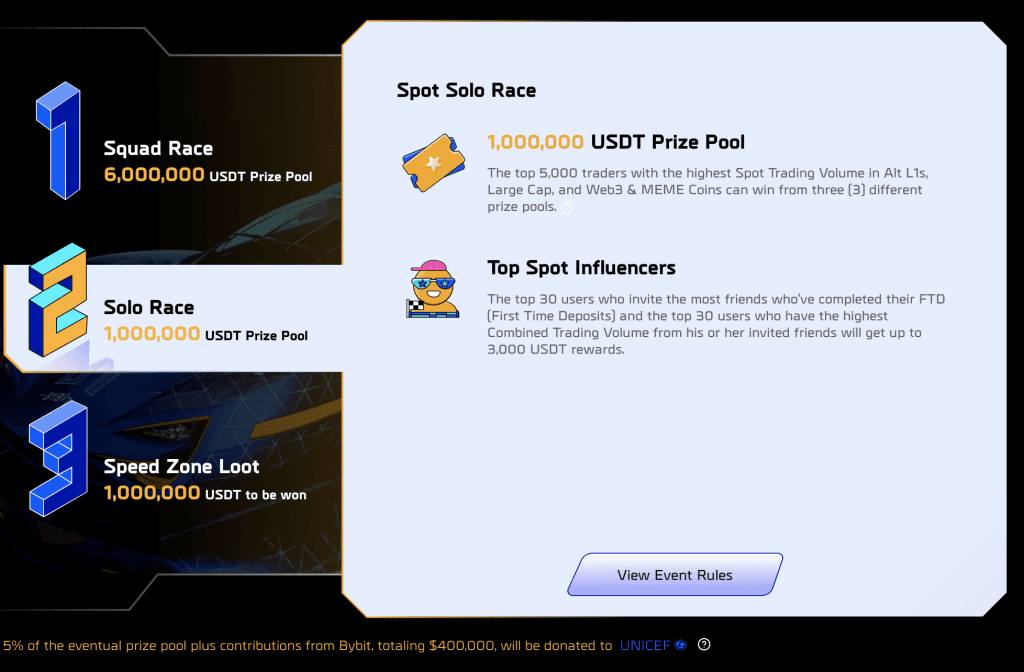 Speed Zone Loot
The Speed Zone Loot has a 1,000,000 USDT prize pool where there are multiple chances to draw from the Lucky Draw and win tokens, bonuses and exclusive NFTs, such as the Mutant Ape Yacht Club NFT. 
To be eligible for the lottery, traders must meet at least $300 trading volume the previous day and lucky draw applicants must complete tasks for a chance to win.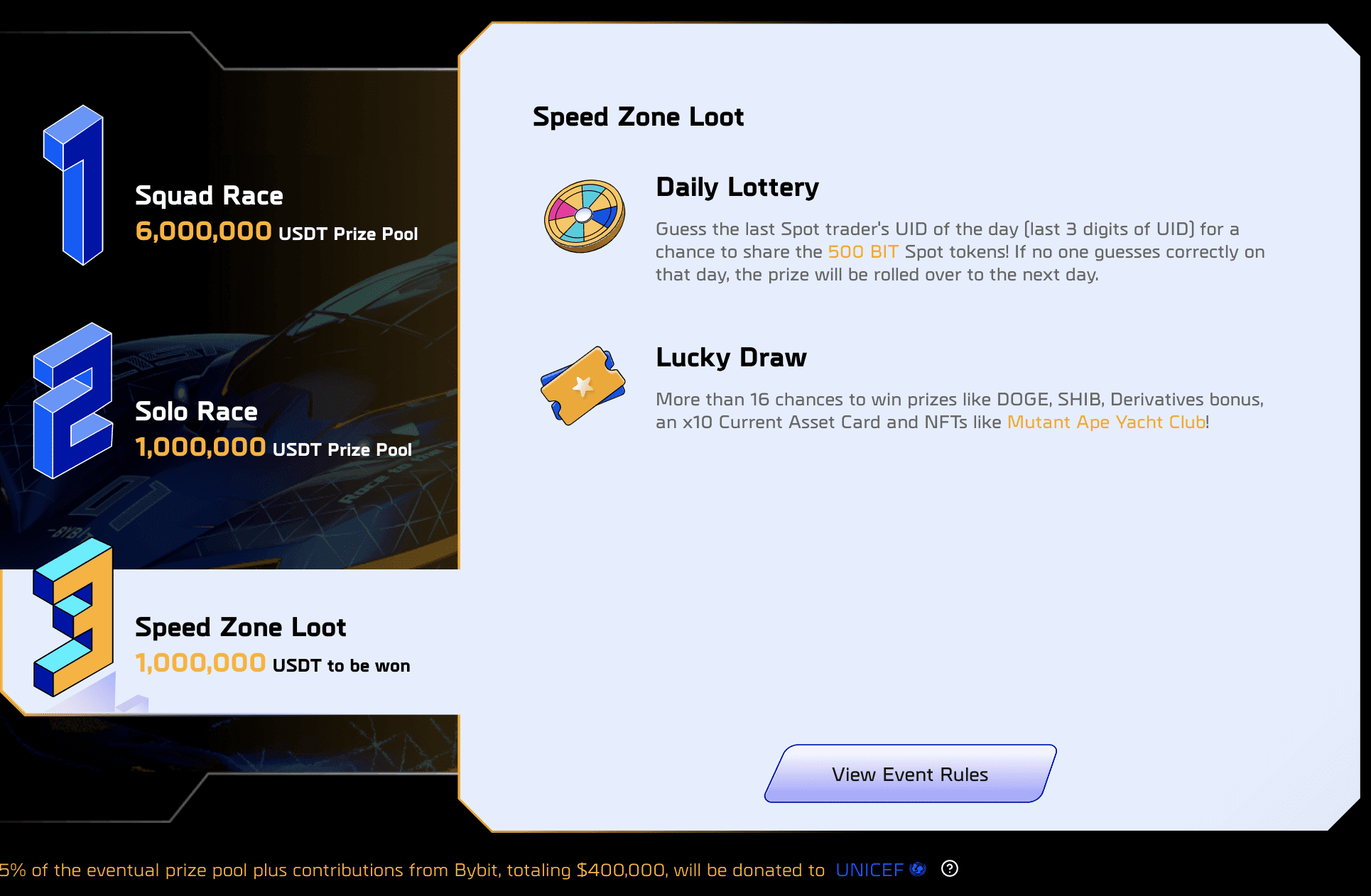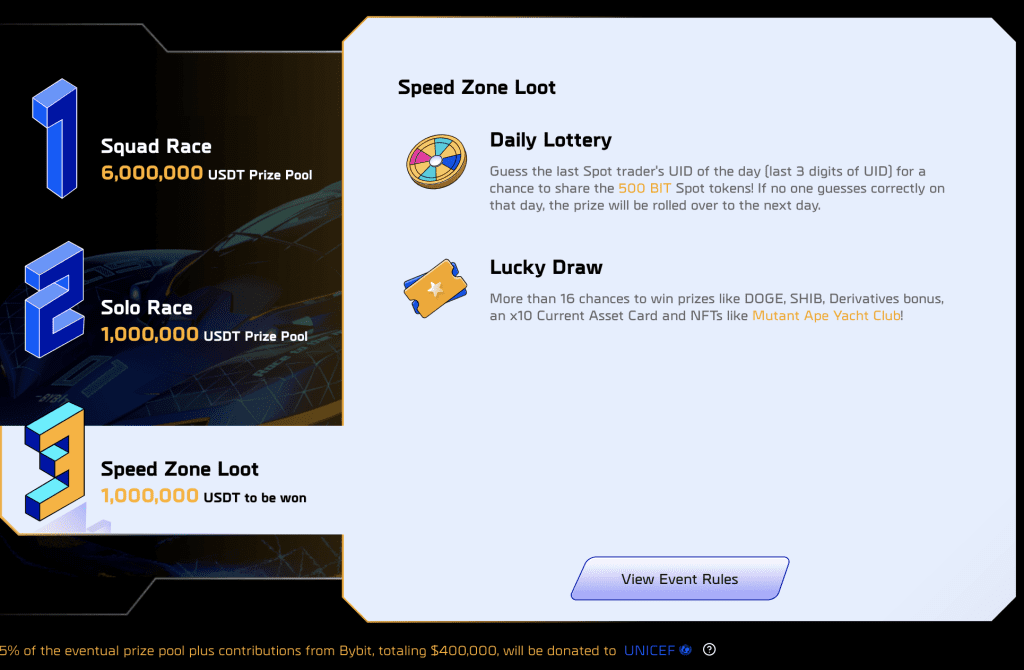 WSOT Key Dates
The world's largest crypto trading tournament, WSOT will be open for crypto enthusiasts and the general public to get registered on June 10, 2022, and continues until July 7, 2022, at 10 AM UTC. 
The Speed Zone Loot starts June 22nd 2022 and the competitions also run from June 22, 2022, at 10 AM UTC to July 17, 2022, at 10 AM UTC