The bear market is affecting the operations of numerous companies within the cryptocurrency ecosystem.
The cryptocurrency space is officially in a bear market. This has seen numerous companies make moves to ensure that they protect their investors and continue operations. Bancor, one of the leading DeFi and staking protocols in the crypto space, announced on Sunday that it has temporarily paused its Impermanent Loss (IL) Protection.
The blockchain project announced this latest development via a Medium blog post a few hours ago. Bancor wrote;
"Due to hostile market conditions, Bancor's Impermanent Loss Protection is temporarily paused. IL protection will be reactivated on the protocol as the market stabilizes. This is a temporary measure to protect the protocol and its users."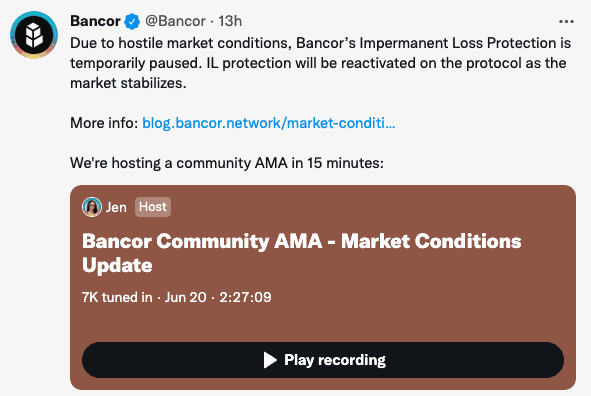 Bancor assured its users that there was no ongoing attack and that their funds were secure. Furthermore, withdrawals performed during this unstable period will not be eligible for IL protection. 
"Users who remain in the protocol will continue earning yields and be entitled to withdraw their fully-protected value when IL protection is reactivated,"  Bancor added.
According to the team, the temporary measure to pause IL protection should give the protocol some room to breathe and recover. 
BNT, the native token of the Bancor ecosystem, is up by more than 2% in the last 24 hours. Its positive performance comes despite the Bancor team pausing its IL protection.
Bancor is a blockchain protocol that allows users to convert different virtual currency tokens directly and instantly instead of using cryptocurrency exchanges. 
The team said deposits are currently not accepted to prevent confusion via direct contract interaction where the information on paused protection is not visible.
This latest development comes a week after Celsius, one of the leading cryptocurrency lenders, paused withdrawals on its platform. Also, last week, another cryptocurrency lender, Babel Finance, paused withdrawals on its platform, citing the current market conditions.
The bear market might still be in its early days, but it has already affected numerous companies. Some crypto companies, including Coinbase and BlockFi, have recently laid off hundreds of employees. 
In other news